*All reviews are based on 5 stars. The review is brief in many respects so it's readable and not over complicated with details. The review can also be based in relation to the category that the item falls under.
This review is for the Hasbro 40th anniversary black series 6 inch figure that recreates the famed Kenner early bird certificate kit.
Darth Vader is the chosen one to pack the Kenner replica kit. The rest of the figures will be sold separately.
The figure is just over 6 inches unlike the 3.75 inch 1977/78 version. After the jumbo Vader Kenner version released in 2011 as well as other takes on the vintage release this is a great addition to a saturated product line of Star Wars merchandise.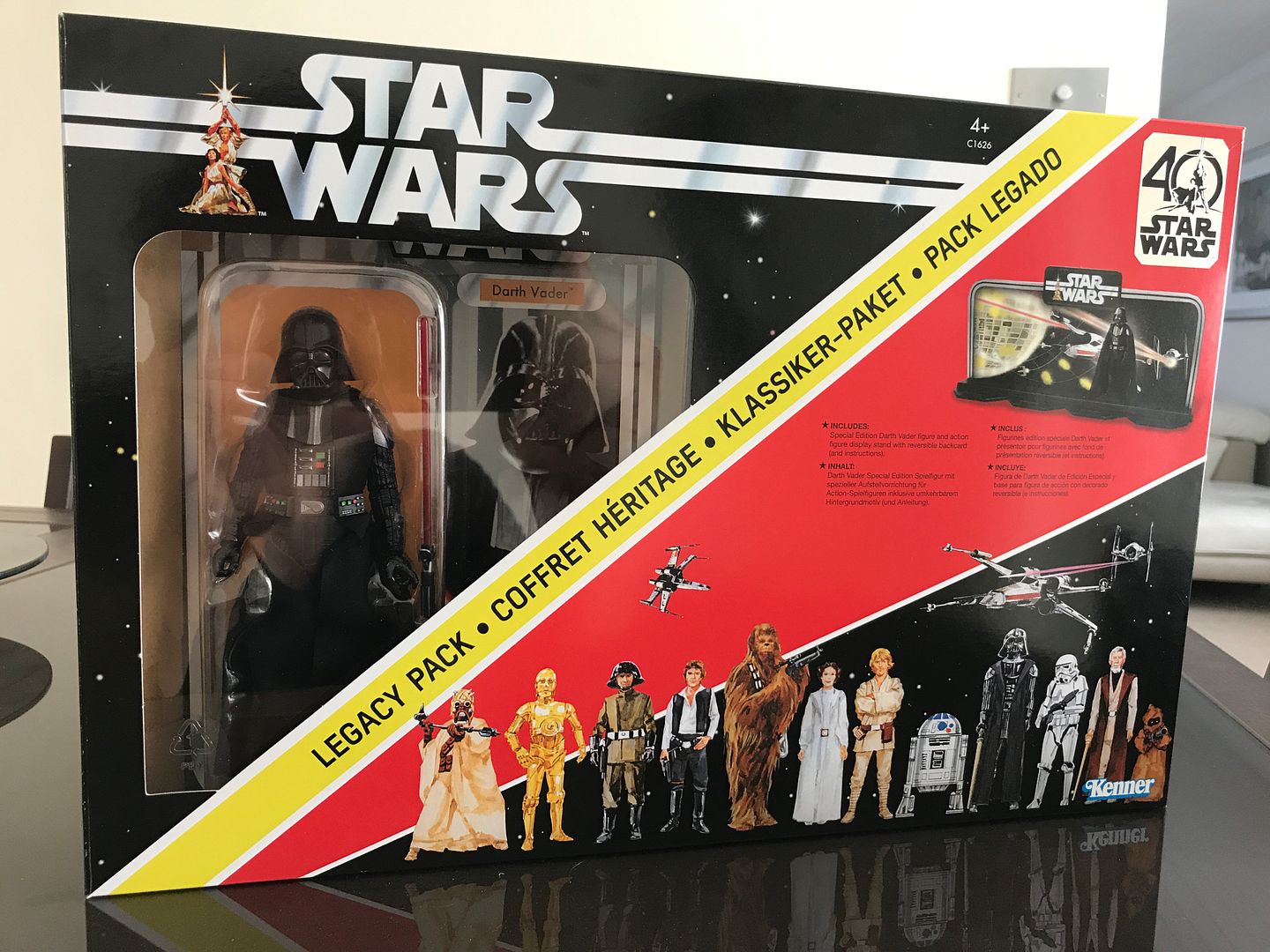 Packaging *****
The packaging is fantastic. This is pure nostalgia for fans and collectors alike. The design and print just works so well with the figure. It looks vintage with a nice modern twist. The width of the box is nearly 17 inches and Vader stands at a tad over 6 inches tall. A rare score of full marks given here.
Sculpt/Outfit****
This is a strong sculpt from Hasbro. It's certainly far from perfect but in all honesty this has to be up there for 6 inch Vader sculpts for this price range. The hot toys Vader would naturally be far superior, as you would expect. Not one aspect is accurate in terms of movie accuracy for this A new hope Vader but It certainly looks like A new hope Vader though, unlike the mix and matches we have had in the past from Hasbro. A strong 4 stars based on the price point for this product.
You do have to watch between the Vader with brighter eyes next to the newer release of Vader with darker eyes. Luckily when I saw the choice in hand I was able to determine what version I preferred, which is the one with darker brown eyes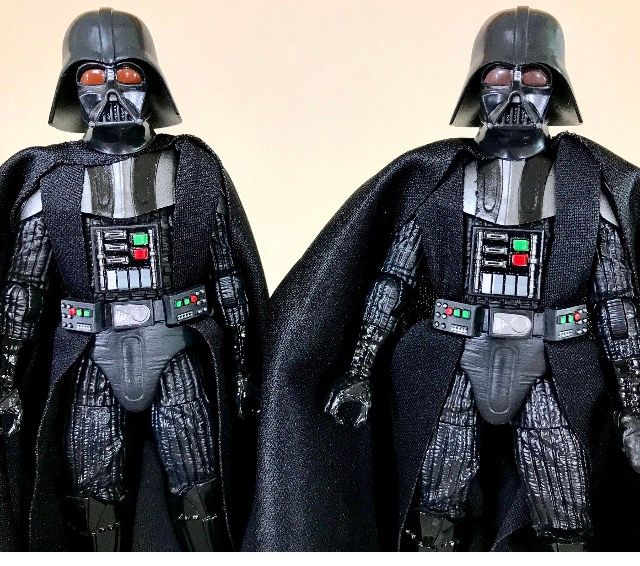 Paint ****1/2
A nice use of gunmetal used on the face which hinders so many Vader products in the past from toy companies. I think the blacks are positive and not overly glossy apart from the gloves. The use of the other colours are good too. I like the colour of gunmetal chosen in general. It works well on the armour as normally they are painted too silver, even though in the pictures it shows up as too light. There isn't really any weathering but I didn't expect any for this product. The tusks and chestbox coins and rods have a darker than expected tone, but it works. Not much slop too, far less than expected. The scheme just looks like A new hope Vader. Great Job!
Pose ****1/2
Figures nowadays are articulated very well. Sometimes at the cost of breaking up the figure with ugly slots. The articulation is positive here and Vader would be able to move into a variety of movie or preferable poses. The figure sits well in the packaging, which would vary from figure to figure so like me if you're not intending to open the product you may be a bit fussy as to which one looks better in it's static form.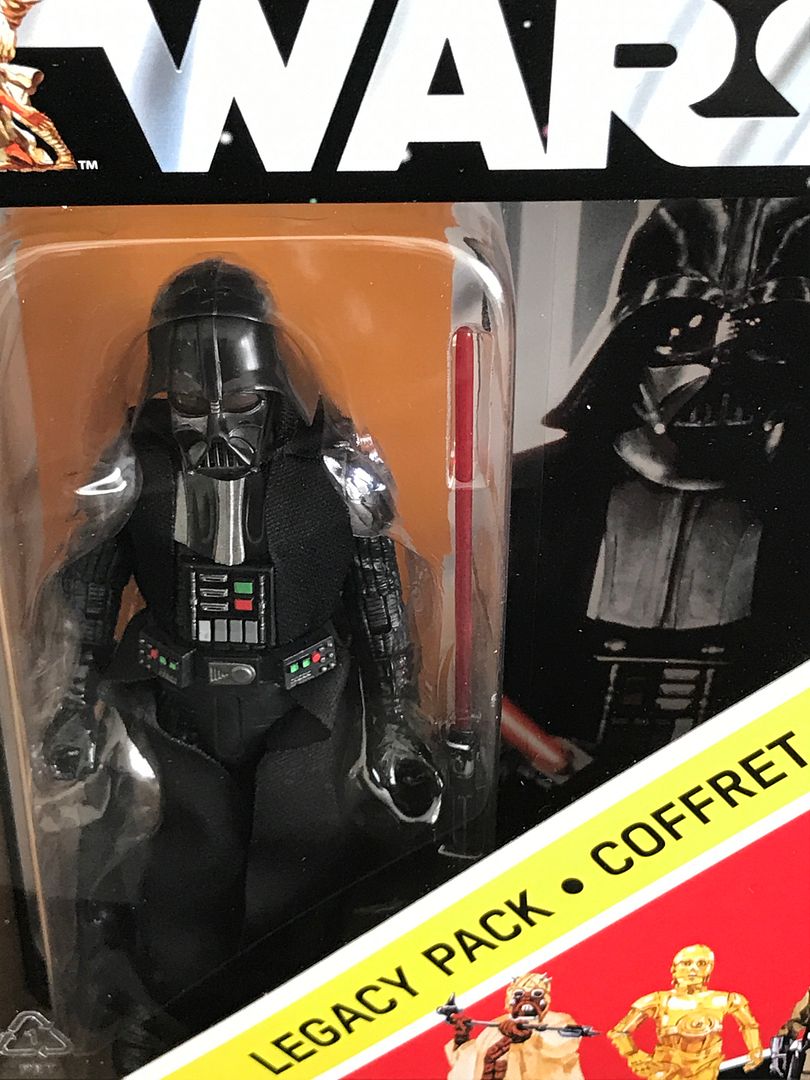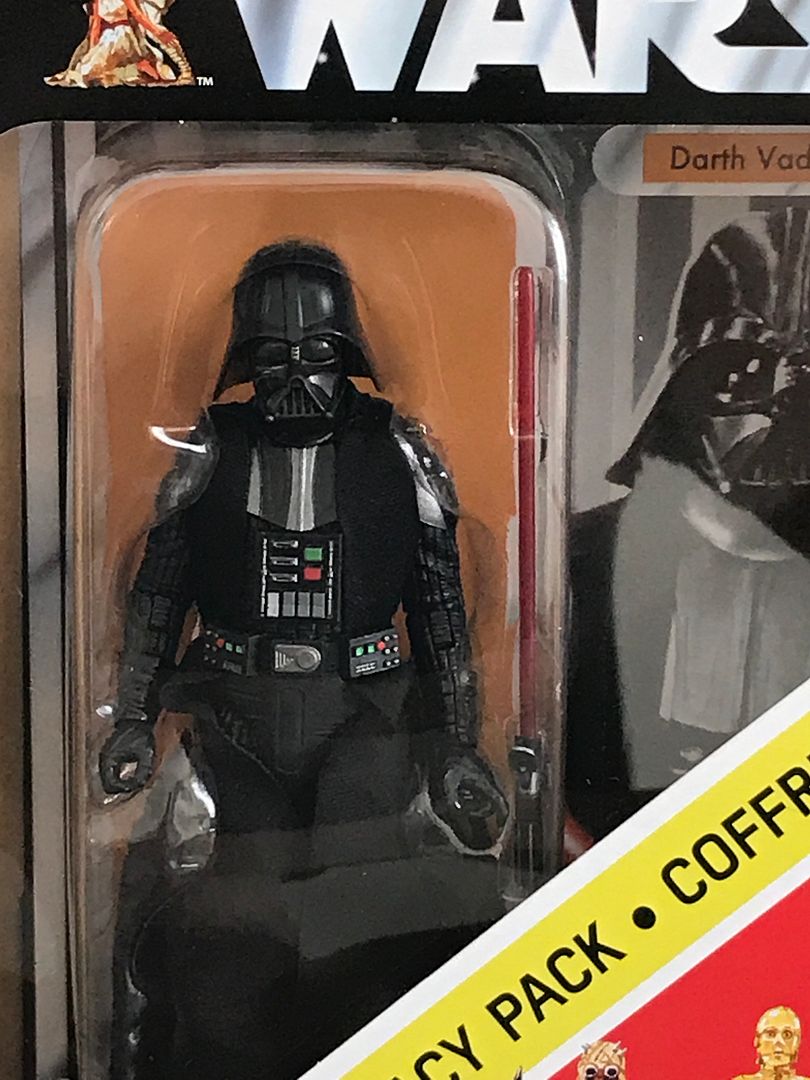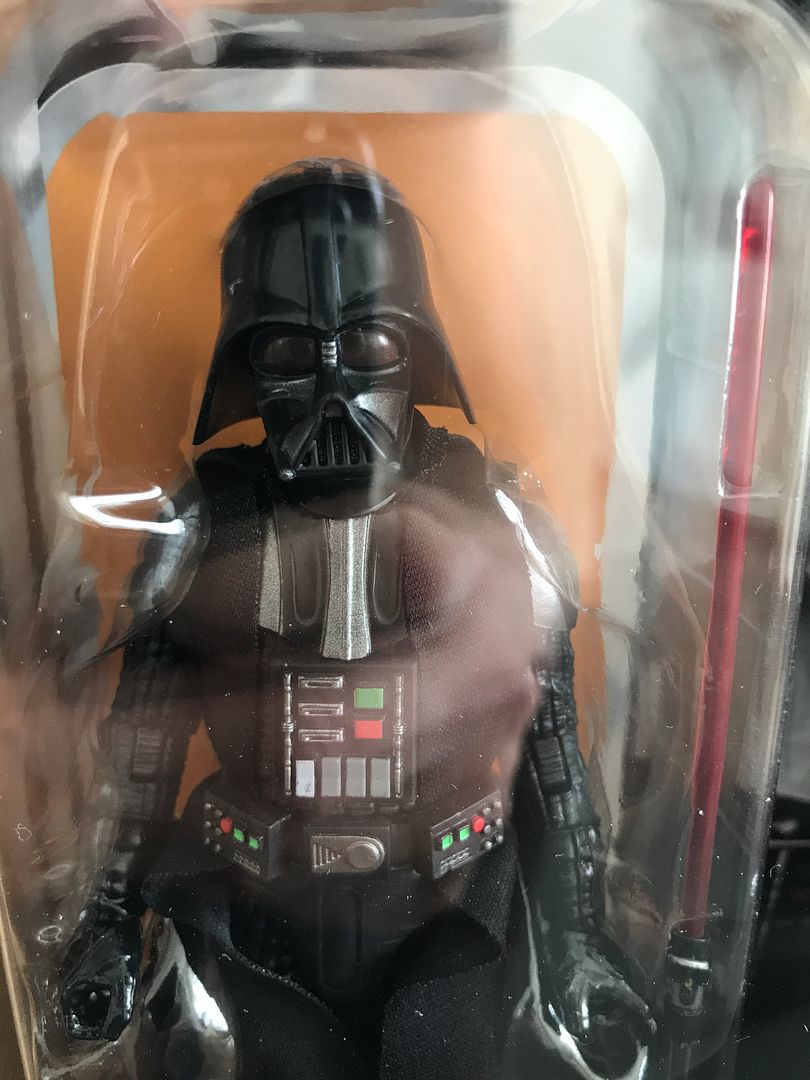 Movie Accuracy ***1/2
Starting with the dome. The shape is good overall. The dome is a tad high, the flanges are not as accurate or as thick as they should be at the edges and the length is a fraction short but it's not too far off the mark. The strip is positive, not much of a y crease indent but an attempt has been made and the strip thickness isn't bad. The eyebrows are a tad off but again these are small nit picks. It's a strong dome and far better than we have seen on most ANH Vader products. In relation to the face it's good. It just sits a bit high on the mask, not by much. I'm impressed though.
The lenses are a good shape and the eye colour on this version isn't bad. Little tweaks and it would be great. The Vader variant with the brighter eyes is too bright IMO. It just doesn't work as well. The nose slots are fine. A little distracting them being painted gunmetal which although correct, the top of the eyebrows are painted black instead of gunmetal. The Cheeks are okay, they turn in a bit, the nose is fine, and while the mouth is fine it's a bit more wonky than needed. The tusks are a little careless. The weakest part of the face sculpt. They are like stumps.
Moving onto the armour. It's size relation isn't bad but the sculpt is weak. The area that contains the centre strip is far too thick. The U shaped armour sections are also a bit naff. It's a good thing the paint colour isn't too bad other wise this would be a real issue for the figure. It's simply not accurate. The shoulder bells are positive enough.
The robes are material and like the cape it's all okay. The suit while not 100% in any sense is well sculpted. The chestbox is another strong point. Not accurate enough in terms of colour but it's really not a big deal. The size, parts and overall look all compliment the figure and take less burden away from the inaccuracy of the armour.
The belt is a bit of a weak point as an overall. The actual belt is okay, as is the size of the belt boxes and buckle, not perfect but again for the price it's good. The real issue I have is with the carelessness of the actual moulded parts of the knobs, lights and mesh. I've seen far worse but it's a shame more care wasn't taken with these details.
The cod, like the armour is really a sore point for me. I've seen better cods on a 3.75 inch Vader figure from many years back. I can't fathom why a decent sculpt has been produced and then they get sloppy with the cod piece. For me, it's poor. The shins and boots overall are okay, what you would expect from a £45 figure. Not the best I've seen and not the worst.
The lightsaber would be fine. That's if it was for ESB Vader... Come on people, a google search of the difference between the 2 lighsabers takes seconds. That's just laziness.
I would say the parts in relation to each other are pretty good. I'm pleased some form of effort has been maintained here because it's so frustrating to see a chestbox that hangs far too low. (Not low enough in this case) but the point is it's all strong enough and nothing stands out as an eyesore. Vader is a tad skinny but again when the cape goes over the shoulders you wouldn't know.
Display Status**** 1/2
This is a fantastic piece. Obviously it is a cheap-ish figure next to a high end collectable but it just works and holds it's own in any high class display room.
This is one of the best put together Vader figures I've seen and the overall presentation deserves full marks for what it's achieved but as a display status it gets a decent score.
Value *****
I paid £45 in ToysRus. Some are going for a variety of prices on ebay so shop around. Expect this figure line to go up in value so you may want to rethink opening this? Fantastic value for a worthy figure and a great display. 2 words, get it!
Overall *****
This is perhaps a 4 star figure, at best. The armour is weak, the cod is poor, the belt box details are sloppy, the gloves are too glossy and you get a careless ESB lightsaber. So why 5 stars? The reason is simple. It's actually a fantastically well put together item that for me personally I had to have the moment I unexpectedly saw it.
I was waiting for a friend a few days ago and popped into ToysRus to kill some time. It's the first time in years I've been there. I was thinking how poor and cheap looking the basic Star Wars figures are today and seem to of suffered a set back and then I clocked this 1977 looking Darth Vader just staring back at me. It took me back to being a kid for a spilt second. There were 3 of them, I checked the differences and wanted the one with the least flaws. One was the bright eyed Vader but I passed on that.
I looked at the box and I have to say, perhaps because I haven't kept as up to date on merchandise the last couple of years, I felt a great sense of nostalgia and I had no idea something this good was out there. This comes from someone that doesn't even get excited about much at all. I'm not made that way but this piece of plastic gave me that kiddish feeling for a few minutes and transported me back in time 30 plus years.
If I knew this was around online, and 2 clicks later I bought it, the feeling would be slightly different, no doubt.
This pales in comparison to something like a hot toys Vader but as mentioned we are talking a massive difference of price range.
it's a really worthy Vader though. Combined, for me personally in what I consider a fantastic throwback to the vintage figure line, done in a unique 6 inch format that is a must have. It's better in person than what pictures show.
Well done Hasbro. Out of my statue and figure collection there is something about this 40th anniversary set that puts it amongst my favourites. Great product with the packaging to enhance. The vintage reissue, the later incarnations and jumbo Vader didn't quite work for me even though I bought them, but this works...