Although many people own the MR Falcon I have found it difficult to find a decent review without reading pages and pages of discussion on the pros and cons.
Hopefully this review may help some people if they are thinking about the purchase?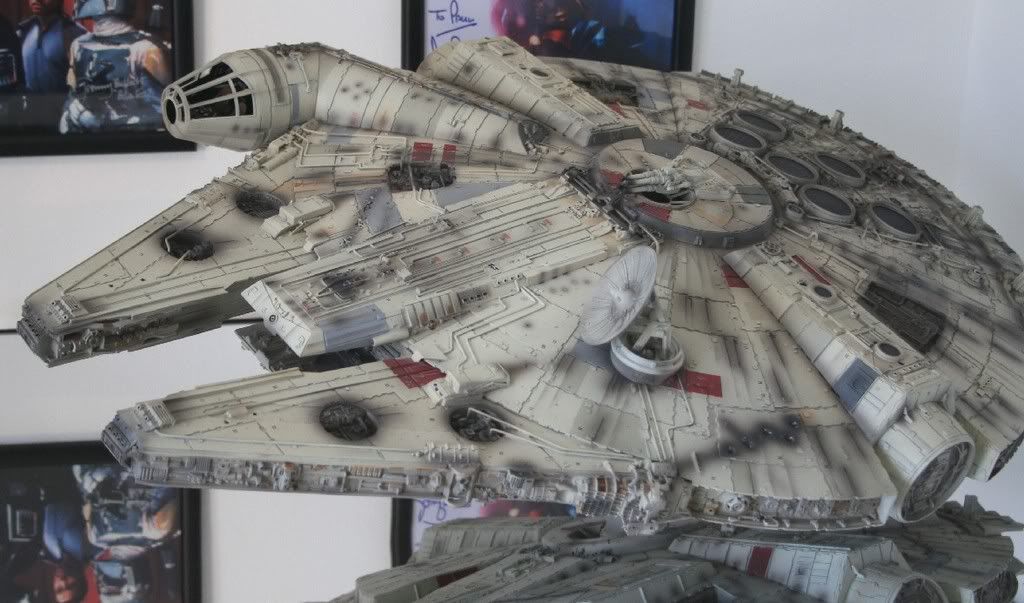 Sculpt........... 4.5 out of 5
The sculpt is fantastic and it does resemble what we see on screen. Mostly all the little details and then some that only the die hard fans notice are present on this version. Although the MR sales pitch will have you believe this is exact in everyway it is not perfect, however it is almost there. Definately the best available version of the Falcon to buy.
Paint............. 3 out of 5
Arghhh
this IMO is where the MR suffers badly. The Falcon is painted great, no doubts there a pro job was done but the colours are not consistent with the real studio model and someone has gone a little crazy with the spray gun here. Many people are doing their own repaints with great success and the MR Falcons are benefitting greatly as a result. It's only a matter of time before I get my hands dirty and re-paint this thing. However, I may leave it so it holds it's value.
Light features...3 out of 5
I have yet to buy an adapter to convert the US plug. The light up feature from what I hear is pretty average and MR could of done alot better on this front.
Display factor...5 out of 5
This is where the MR Falcon is at the top. Quite simply put it looks fantastic on it's mirrored display base, a real touch of class to the point where you can put it in a tasteful room with no Star Wars props and it carries itself off well. Many of these models and toys in general can be displayed with good results but the Falcon carries itself off better than most pieces and the great thing is even if my Mother comes to visit she even knows what the Millennium Falcon is
so this prop really can be displayed in a variety of rooms.
Moveability and function...N/A
Size................4.5 out of 5
Based on the ESB 32" inch studioscale model I think the size is perfect. I mean the 5ft version would be even better but that would also limited your access and take up a vast amount of space. This is big, grand in some respects but not over the top.
Fun factor........4 out of 5
Well there is not alot of fun other than turning it on it's display base to be honest. So why 4 stars? Well, as it is a pricy replica that weighs a ton, you are hardly going to start flying it around the room making noises with it. The fun factor comes from the fact you can look at this thing over and over again to see all the work involved. The cockpit is a place that really comes to life. I have read some negatives on the cockpit design for the interior and yes there have been talented people such as Gunpowder on the RPF to make better modifications but all in all, to me, it looks like what I see on screen with some great detailing. The fun factor is being priviledged to own such a piece without you thinking, damn, did I really just spent that much money on a model.
Accuracy..........4 out of 5
Okay, this is where opinions may differ, especially those die hard fans of the Falcon that know every intricate part of her. IMO, the accuracy is great, not perfect but for 95% of the part I love how everything is done to resemble the studioscale model. The reason I didn't give 4.5 stars is the biggest flaw with the MR, yep, that over worked finish with too much emphasis on the darker colours and weathering. The ports etc..could all do from being a benefit lighter, they are more grey in colour than black in real life but still a little over the top.
Price.................3.5 out of 5
If you look on ebay for a few floating around they are normally around the £1,500 mark, more with delivery and delivery is very costly as the box I got states this thing in total package weighs a massive 93 Lbs (42.27 kg) and the size of the outer box is just too big. That aside I got a great deal and purchased mine brand new for alot less after waiting over 18mths of wanting one so badly. I know you US guys can pick this up cheaper as I have seen some go for way less than the above prices. The price is steep. My Girlfriend always turns a blind eye when I say I dropped a large amount of money on a Vader helmet but this time I think it registered that this was a costly purchase.
Overall.............. 4 out of 5
I think the whole MR Millennium Falcon has been really well documented now, so this is old news to many people. I definately sat back and waited until the time was right so they dipped in price but they are also holding their money due to them getting good reviews and the LE factor of just being 1500 available, so you need to get a little lucky.
For those who want a perfect replica of the Falcon you may be disappointed but it does have the most potential out of anything available and to be a masterpiece it needs a repaint and a few mods here and there.
There are those fanatics that know every battleship and model piece used to create the original but if your time or brain does not allow for that and you still want a great replica than this is it. Costly whichever way you look at it but well worth it everytime you look at it. The Falcon as mentioned previously also brings a touch of class to a prop room.