For a while, many of us have seen a very nice looking helmet kit on eBay being sold by a Seller going by "newimage58." When I contacted newimage58 last year and asked him regarding the source of his casting, he said that he was unsure of the origins but he significantly modified a kit to make it far more accurate based on his extensive study of screenshots.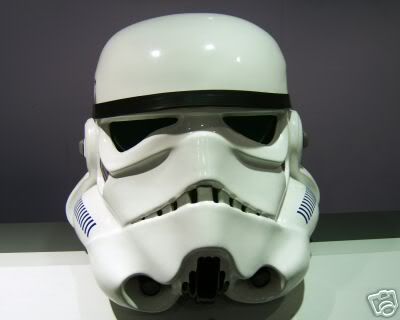 (Above two shots: The newimage58 fiberglass helmet, finished).
Most recently, one of our fellow Den members and I were discussing AP helmet kits on eBay when one particular low-res photo of an AP (AuthenticProps) kit stood out. The eyes were not yet cut, and there was a distinctive rough pattern of dips/holes of the "placeholder lens" of the wearer's right eye (camera's left).
(Above: AP's kit)
This Den friend remarked that it dips/holes in the placeholder lens of the AP looked identical to that of a newimage58 stunt Stormtrooper helmet he recently acquired several weeks ago from a community member who never worked on his newimage58 helmet but instead wanted to trade up to something nicer. This is what his acquisition looks like:
(Above: Photo of the newimage58 fiberglass kit)
There was indeed a crater/hole pattern in the wearer's right eye's "placeholder lens" and thus an opportunity to compare it against that of an AP. Photos of AP's eBay auction were small, so I contacted AP who graciously sent me hi-res images.
(Above: Photo of AP's kit)
I asked the fellow Den member to photograph his helmet to match the angle and distance of the AP as closely as possible (as you've seen in the previous shot).
Here is my photographic analysis. I've merely cropped the newimage58 and adjusted for hue, contrast, and I sharpened both images:
(Above: AP's kit on the right with newimage58's helmet superimposed on the left).
I'm always one to give a vendor the benefit of doubt. I had previously thought that newimage58 started with an inaccurate kit and applied a lot of clay and sculpted a lot of detail. When I examine this, I cannot see any appreciable difference between the AP (right) and the newimage58 (left). The crater pattern in both placeholder lenses are identical.
The newimage58 appears to suffer from a loss of detail around the mouth and chin area, as the AP is clearly sharper and superior. The teeth are in identical proportions. There are various subtleties of the AP that were reproduced in the newimage58, but I'd prefer not to disclose them as we rely on these subtleties to track for recasting.
Here are two other comparisons in hi-res:
http://i18.photobucket.com/albums/b138/ ... 8_ap_2.jpg
http://i18.photobucket.com/albums/b138/ ... _vs_ap.jpg
Could newimage58 have taken an AP and made significant structural modifications? There have been people in the fandom who believe it's okay to recast someone's work so long as you put significant modifications (this is, of course, a gray area. However, I need to point out something black and white: there is a difference between doing minor mods such as sharpening detail versus uber mods such as altering the actual structure of the helmet). If vendors do not approach responsibly and honorably, they can use trick-logic to give themselves license to steal from other fans who go out of their way to purchase props and to make affordable kits available to fellow fans.
Well, here is the newimage58 helmet in transparent overlay. It's not perfect due to differing angles of photography, but I must say that it almost perfectly matches up feature for feature, especially the eyes.
Based on this overlay - which confirms the side-by-side analysis - there does not appear to be any modification to the structure and shape that could be construed as an improvement over the original AP.
I've since contacted AP and forwarded the analysis to him. I asked him to consider that newimage may have indeed modified a kit whose make he was unaware of. AP's reply to me was, "Looks like a recast to me, especially the face plate and ear pieces. I don't see what he modified as it looks identical, you can clearly see the same exact tells in the eye sockets, it's a exact imprint."