Here are some notes I've taken on a fact-finding mission to TAP Plastics. When I explained that I was gathering information for fellow Star Wars fans, the manager was kind enough to cut me various samples and explain to me in layman's terms what the pros and cons of each type of fiberglass they carried.
For those of us who are newcomers, it's easy to hear how strong a certain fiberglass (FG) is and not realize that there are other parameters to evaluate FG against. In our application which is primarily prop helmets and armor, we don't necessarily use the same kind of FG that are used in boats. Boats may call for cost effective weaves that are very strong and just moderately flexible to handle stress against their hulls. However, in our hobby, the thinner and more supple the fiberglass is, the better it will lay up against the subtle details of a mold.
Basically, we need fiberglass that is supple, that handles corners and contours well. The more supple the material, the better it will form to the details of a mold (think silk versus a floor carpet). Those qualities are found in fiberglass mat rather than cloth. Fiberglass cloth is a dense weave where the woven structure will make it less supple and it may not contour or corner well when laid up within a mold. In the case of one of my very first fiberglass and resin kits, the FG used was cloth (possibly S-series), which left many areas plain resin because the thicker cloth wasn't flexible and supple enough to form the essential details of Vader's face. Some of the better Vader FG kits I've seen use a short, thin strand of FG mat instead of woven cloth.
Those of you who are more experienced, please feel free to chime in. This post serves merely as a starting point to give a basic exposure. It is by no means intended to be authoratative or comprehensive. Also, do realize that these strips you see are just small samples. You can basically purchase them in large sheets by the yard (except for Tape which is whatever widths they come in).
Mat Glass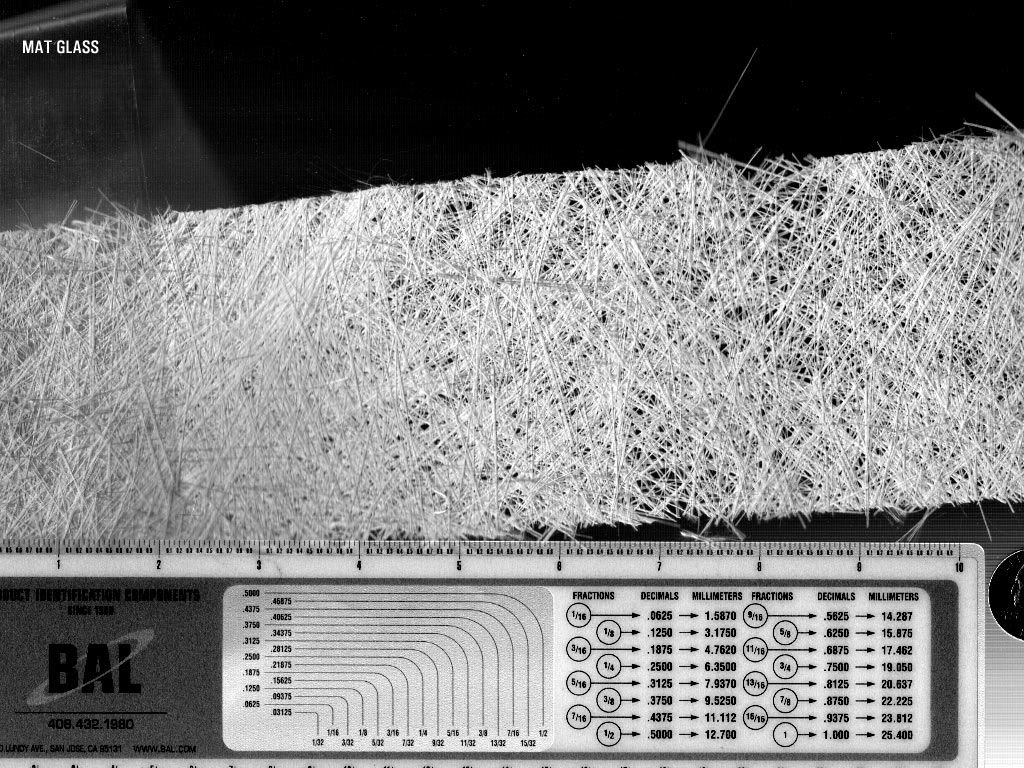 Featured above is 0.75 oz mat glass. The TAP Plastics Manager knew I was talking about Vader helmets as the appication and related that this type is good for compound curves and tight corners.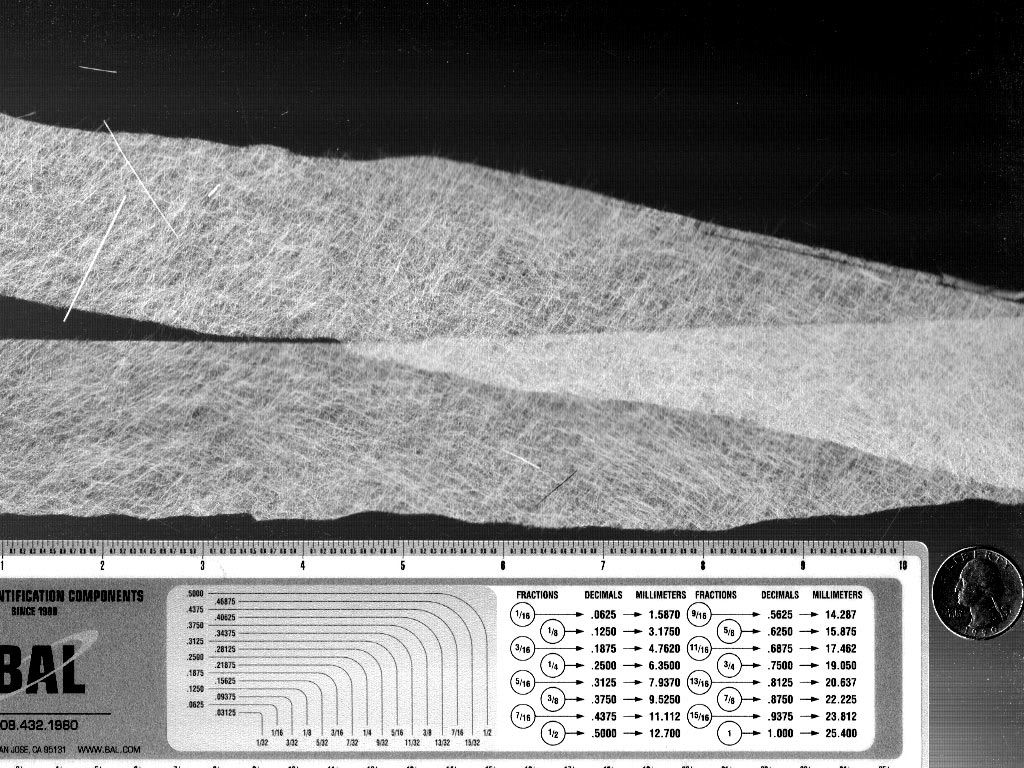 This one, above, caught my eye. This is an ultra-thin surfacing veil mat. As many of you have experienced, the standard mat glass functions well unless one single strand of glass lifts and pokes you in the face like a needle. This veil mat reminds me a lot of the FedEx white colored packaging (you can see reinforcing fibers with in the paper). It appears to have a lot of potential as the final layer(s) of FG to create a subtler texture.
E-Glass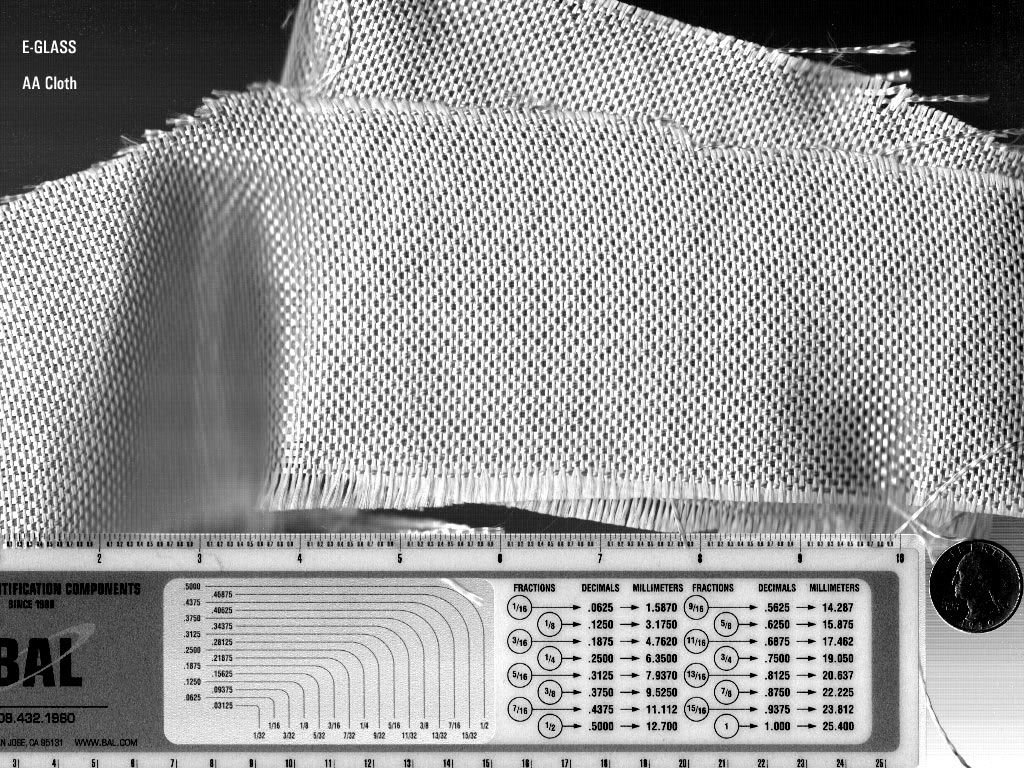 The "E" in E-Glass stands for "Economical". E-Glass comes in lightweight, midweight and heavyweight cloth weaves suitable for boat hulls. In our hobby, from just personal experience, cloth as a weave is a bad choice for helmets where you need a lot of flexibility and cornering for all those facets and corners of, say, Vader's facial features.
I can imagine someone might try using this kind FG for Vader's chest armor and possibly shin armor where you are covering large surface areas with no significant structural detail. For Vader masks and the like, this is not the way to go. There are some "studs" on the shin guards and subtleties on Vader's chest and shoulder armor. Mat is preferable for costume armor, but if unavailable, S-Glass might usable for armor.
S-2 Glass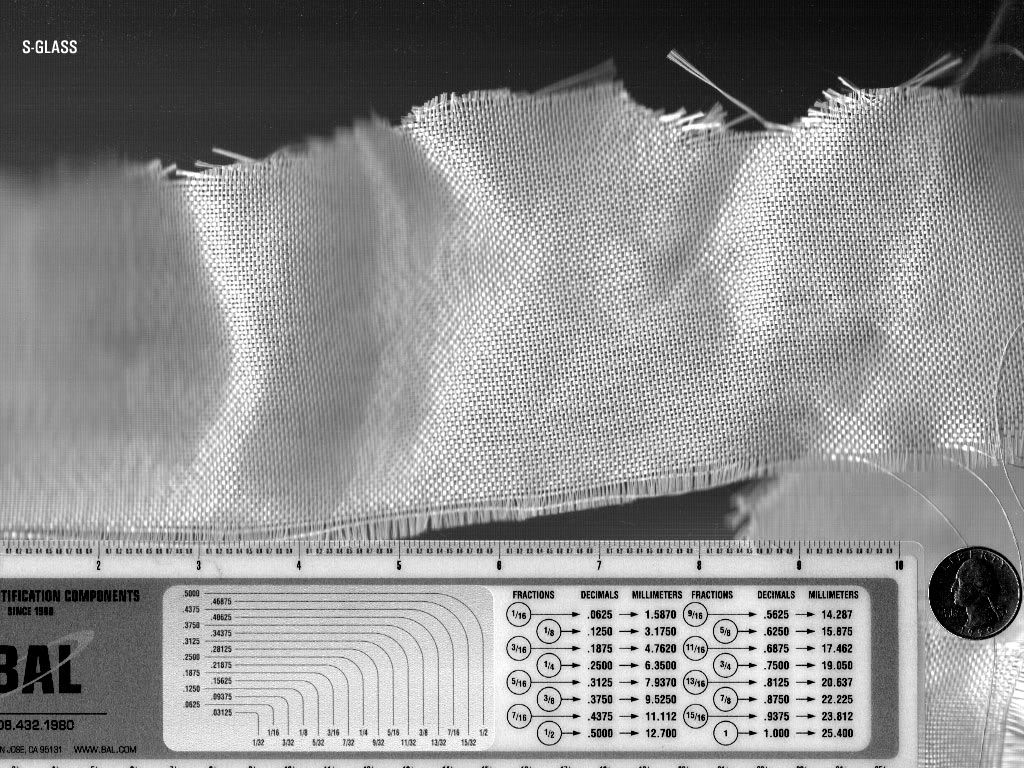 The "S" grade seems to be good for surf/sailboards. It's 30% stronger than E-Glass and 15% stiffer. This might be a better choice for armor if a good strength-to-weight ratio is needed. My experience with this in a vendor's helmet kit was abysmal. The cloth of that kit was in patches and caused the interior to look very cheap. For some reasons that vendor's FG didn't form seamless layers with the resin in that it created massive air pockets which means there was structurally no protection for large areas and so the FG in that vendor's helmet was utterly useless. This is not to say S-2 Glass is useless for our hobby if used properly. Helmets may do better with mat, as I have been told by experienced prop-builders.
Fiberglass Tape
This one is interesting because this comes as a roll of "tape" (no adhesive). Featured here is Knytex tape which is basically fiberglass mat and fabric woven together. It's very strong and good for repairs, but it's stiff, doesn't stretch, and is not supple at all.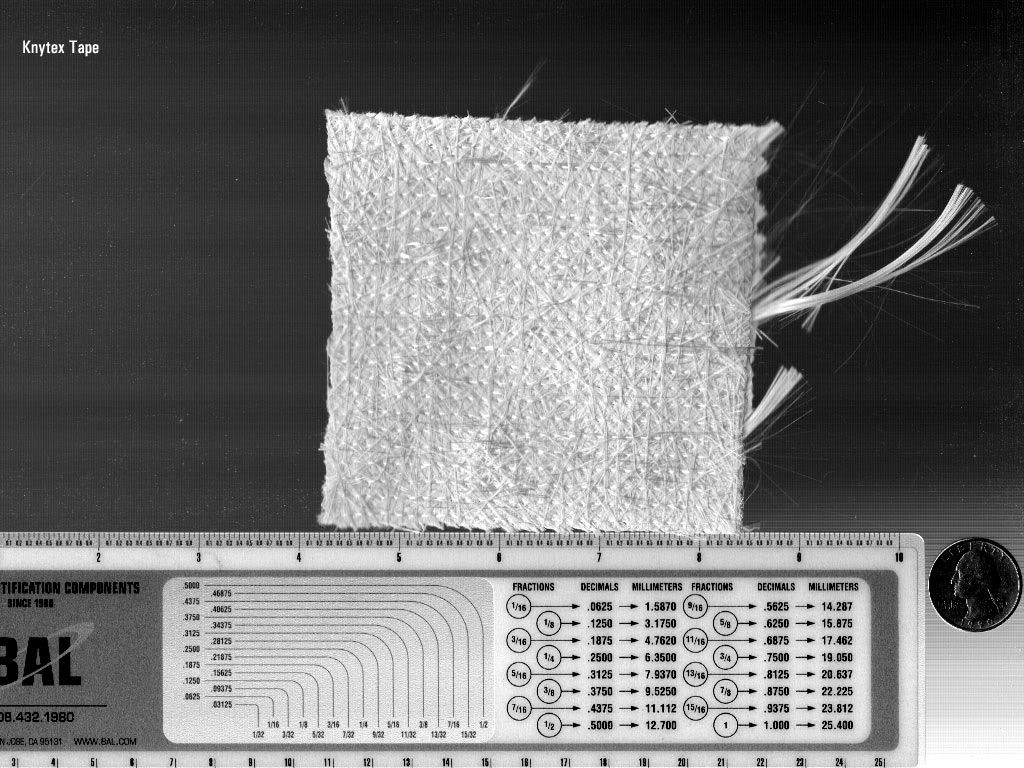 Above is Knytex Tape. This is basically two different kinds of fiberglass: mat and fabric. This is good for applications where you need a good deal of strength. It's possibly stronger than E-Glass, but because it's not supple at all and is a poor choice for Vader helmets.