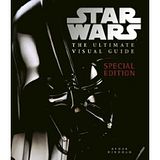 Review
This particular book is a total study of Star Wars, from the history of the universe, the events featured in the six films, the expanded universe, behind-the-scenes features & more. It's slightly more advanced than the visual dictionary editions and is of greater interest as an overall.
Verdict
Good value for money, can normally be found online for around the £10 mark and while nothing new features in this edition it's a nicely put together book for the generalised Star Wars fan.
Rating-: 4 Out of 5- Recommended
Brief Description:
It's time to read the whole Star Wars story... take a journey through the entire Star Wars universe from thousands of years before Episode I to three decades after Episode VI and right up to the present day. Fascinating features, rare behind-the-scenes photos and pre-production drawings cover all six films in one epic guide. Meet the characters, explore profiles of the Jedis, Siths, rebels, and aliens. Revisit the movie storylines, then go beyond to the continued Star Wars adventures in comics, TV specials, and novels. Explore Star Wars today: take a look at fan conventions and 30 years of merchandise, from toys and video games to poster art and more. An out-of-this-world addition to any fans collection. And don't forget, there's a galaxy-full of DK Star Wars books to collect.
by Daniel Wallace (Author), Ryder Windham (Author)
Hardcover: 160 pages
Publisher: Dorling Kindersley (3 May 2007)
Language English