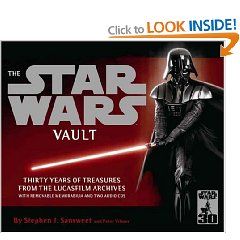 Review
Fans always want more but back in 2007 this was a welcomed novalty to a degree. A well put together book filled with reproductions of items from way back which gives you some insight on a physical basis looking at a photocopied print. The inserts are fairly inexpensively done and people complain of them being cheap or of bad quality but all in all I found them to be fine. Visually it's another great book but the content is widely covered and not focusing on anything much as perhaps it's intention. It's more of a scrap book glossy style layout and it's been met with fairly mixed reviews when it first came out but as prices have dropped in some places to under £20 it's definately worth a grab in my opinion.
Verdict
I may be in two minds at it's RRP value but I bought a copy when it first came around. Visually it's a nice book with some clever inserts. I think it caters well for a general fan, the die hard fans may love it or find it of average interest, it's one of those split opinion books.
Rating: 4 out of 5 - Recommended
Price Approx £20, Amazon, Ebay, play.com
Brief Description:
When the first Star Wars film was screened in 1977 it changed the face of intelligent adventure blockbusters forever and defined the cinematic experience of a whole generation of moviegoers. The industry that followed - two sequels, three prequels, an entire book publishing programme, dedicated magazines and comic books; toys and figurines, plus sell-out conventions where fans could meet the actors, writers and film-makers - turned the Star Wars phenomenon into the most influential and commercially successful entertainment franchise of its kind; one, moreover, which is still going strong after 30 extraordinary years. Now, to commemorate its thirtieth anniversary year, comes the ultimate Star Wars collectible keepsake book. In these lavishly produced and designed full colour pages fans will find a treasure trove of never-before-seen letters, photographs and other material connected with the films each of which has been lovingly reproduced from the originals. In 30 years of Star Wars publishing there has never been a Star Wars book like this one - a must-have purchase for every Star Wars fan.
by Stephen J. Sansweet (Author)
Paperback: 128 pages
Publisher: Simon & Schuster Ltd (1 Oct 2007)
Language English