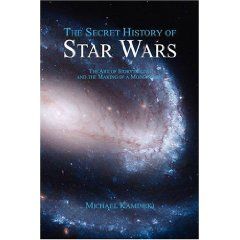 Review
This is without a doubt the best paperback available in my opinion based on Michael Kaminski's wonderful research. He sets out to solve a vast and complex puzzle and he uses every reference in his arsenal to prove Lucas wrong or at times misguided that he always planned his saga to be the way he claims now. Thoroughly researched, insightful and a must-read for any fan of the Star Wars series. Kaminski looks at the 12 piece intended saga, debunks the Journal of the Whills treatment and gets to piece a great defense against any aspect he tackles.
This book is really quite a piece of work. It's methodical to the point of being long-winded in places, particularly in the meticulous summaries of the various drafts and their differences. He repeats himself at times to give the viewer brain wash syndrome so things sink in. But it's all in the service of creating a clear and concise step-by-step overview of a piece of film history that by now has become so muddled that no one really knows what happened. The 600 pages plus keeps you busy for some time and if you can remain alert you will find it easy to read for such a complex book. The Author tackles everything down to the old misspelt annakin and brings everything up to date as it's needed . A vital book in understanding the history and it makes Star Wars even more interesting. He even covers all the drafts and treatments throughout Lucas's journey. There is no messing with the no holds barred Kaminski who is on course to prove a point, one that is completely valid.
Verdict
If you can get over the complex aspects of the book this is the definitive version for any fan in text form looking into the history of the scripts, the actors and most of all the journey of Star Wars with added interesting facts with resources drawn from every point to tell a story just how it is or was at that point in time, he isn't out to discredit Lucas as some have claimed nor anyone else for that matter but just to state facts and go through all the finer points with such precision, passion and an overwhelming desire to reach a goal.
Rating: 5 out of 5 -
Highly Recommended
Brief Description:
Star Wars is one of the most important cultural phenomena of the Western world. The tale of Luke Skywalker, Han Solo, and the fall and redemption of Anakin Skywalker has become modern myth, an epic tragedy of the corruption of a young man in love into darkness, the rise of evil, and the power of good triumphing in the end. But it didn't start out that way. Michael Kaminski presents the true history of how Star Wars was written, from its beginnings as a science fiction fairy tale to its development over three decades into the epic we now know, chronicling the methods, techniques, thought processes, and struggles of its creator. In this unauthorized account, he has pored through over four hundred sources, from interviews to original scripts, to track how the most powerful modern epic in the world was created, expanded, and finalized into the tale an entire generation has grown up with.
Price Approx £16-25 - Amazon, Ebay
Michael Kaminski (Author)
Paperback: 626 pages
Publisher: Legacy Books Press (18 Nov 2008)
Language English