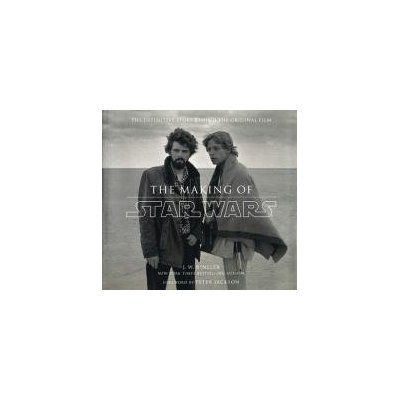 Review:
This was a very long time coming and Empire fans should be in line for the next treatment this May. Back in 2007 this was a much welcomed addition to the world of Star Wars books and it lived up to expectation. It was well researched and well covered for the most part. Fans of the props still wanted more depth regarding their favourite characters but as a general book looking into the making of the iconic movie rave reviews were given. A very well put together book that managed to create some nostalgia and bring back childhood memories. The later released Paperback while slightly different to the hardback version is also worth a buy, just for convenience if nothing else but if there is one version to get the hardback is the better one to go for.
Verdict:
A must have for fans, not only of the original but it sheds much light on some interesting topics and overall it's reasonably priced.
Rating: 4.5 out of 5 -
Highly Recommended
Brief Description:
Price: Approx £25-30 - Amazon, Ebay, Waterstones, WHSmith
"Star Wars" was released in 1977 and went on to earn almost $775 million at the worldwide box office. It would change film making forever. Published for the 30th anniversary of the original "Star Wars" movie, this is a must-have book for all "Star Wars" fans and movie lovers. Lavishly illustrated with hundreds of images spanning the creation of the film, and including previously unpublished interviews and stories, "The Making of Star Wars" is a piece of cinema history; and the story behind the making of this book is almost as intriguing. When author J.W. Rinzler heard that a similar book had been started back in the 1970s - around the time of filming - curiosity got the better of him. He was directed to four boxes within the vast Lucasfilm archive. He discovered that over fifty interviews had been conducted between 1975 and 1978 with key members of the cast and crew. These boxes had sat undisturbed for three decades. Until now. The interviews were fresh, candid and - above all - more accurate than many other reported accounts. Interviewees included director George Lucas; producer Gary Kurtz; actors Harrison Ford, Mark Hamill and Carrie Fisher; and production designer John Barry (who died in 1979). Conducted long before the film was released in 1977, those interviewed are completely unaware of the future impact of the film and the direction that their careers would take. Since 1977, "Star Wars" has spawned two sequel films, three prequels, countless books, comic books and video games, television shows, and innumerable interviews. But the original story in its original words has remained hidden, until now. With unrestricted access to the archive, Rinzler has created a unique document that is set to become a seminal piece of film history. It reveals how a small group of gifted artists and craftspeople led by one inspired writer-director overcame obstacles - storms, crises, technical limitations, high stress and bitter disappointment - while enlisting ingenuity, heroism, but most of all dogged determination, to get to the end of their adventure. Lavishly illustrated throughout, this is the true story of human endeavour and creativity that led to the production of one of the most outstanding and innovative films of all time.
J.W. Rinzler (Author)
Hardcover: 372 pages/ Paperback 446 pages
Publisher: Ebury Press (24 April 2007)
Language English