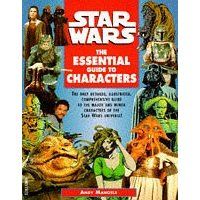 Review
This was and still is an insightful book about the characters. At times more indepth and better than the Steve Sansweet encyclopaedias in some respects regarding character write up. Although the author gets too involved with the origins and back story rather than focus from A New Hope onwards, leaving not too much to go into and there is expanded universe information mixed in with the movies. Some popular characters get 4 pages about them. It's non colour and frankly there isn't anything amazing or glossy about this book other than for old character back story but in 1996 (first printed 1995) this was a good book. Nowadays it's dated as it doesn't cater for the Prequels but perhaps for fans that want to remember it that way this is another one to have.
Verdict:
Slightly dull to look at when compared to the coloured and glossy images nowadays it stands out. It's worth owning at times because while a little sketchy and full of what could be considered a weak attempt into a proper character write up it's unique enough and as this is before the prequel timeline it's worth looking to see how some aspects have changed.
Rating: 3.5 out of 5 Recommended (Just)
Brief Description:
Covering the films, the books, the comics, the TV specials and the games, this is an illustrated guide to the main characters of the Star Wars universe. It describes the history and personality of each character, with statistics, weapons of choice, and vehicles used.
Price £5-£15 Amazon, Ebay
Andy Mangels (Author) Paperback: 199 pages
Publisher: Boxtree Ltd (31 Jan 1996)
Language English