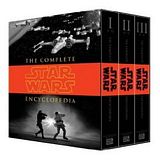 Note: The Prop Den review is based on one person's opinion which can vary. The review is independent as a fan and avid collector.
Review
I purchased my copy several months ago on play.com rather than spend the hefty £75 RRP. Not that the 3 books aren't worth the money because as far as encyclopaedias go this is value for money.
The layout and work involved are Character driven and while these forms of books are not my favourites this issue is fairly in depth in terms of pages but it doesn't lend itself to great detail about each character, more a brief write up and offers a guide into the vast realms of the Star Wars universe and all the characters. It's well written and the layout while in my opinion could be better and offer more it really is a guide on so many characters and at over Twelve-Hundred pages in all I can't claim the Authors have scrimped on material. I just would've liked to see more vibrant colours and better reference material for some characters.
Verdict
As far as encyclopedias go this is the set to have as a Star Wars fan and much better than Sansweet first attempt. It wouldn't be my first purchase if I had £75 to spend in a store but at some point it's worth getting. Detailed for the most part in volume, character driven and you get to learn about some characters that you're not familiar with. Value for money as an overall and it takes some time to read these 3 volumes from start to finish. Other books are better but that's personal opinion for my taste this is more of a 3.5 rating set of books but for it's category it does what it says on the tin if a little shallow with character pages and detail.
Rating
4 out of 5 (for an encyclopedia)- Recommended
Price RRP £75
£42-£75
Brief Description:
This comprehensive boxed set of 3 hefty volumes covers everything from Anakin to Zuckuss (the bounty hunter) in the Star Wars galaxy. Packed with full-colour artwork and photos, this imposing tome takes in every incarnation of Star Wars, from the movies, including The Clone Wars, to radio dramas, comics, novels, cartoons, short stories, and video games, and covers every aspect: the galaxy s renowned, infamous and obscure inhabitants, the science and technology, history and geography, culture and biography, ecology and cosmology. With a treasure-trove of information on over 30 years of Star Wars and a millennia in the galaxy far, far away this is the must-have centrepiece for every Star Wars library
Author: Stephen J. Sansweet , Pablo Hidalgo, Bob Vitas & Daniel Wallace
1232 pages
Publisher: Titan Books (24 April 2009)