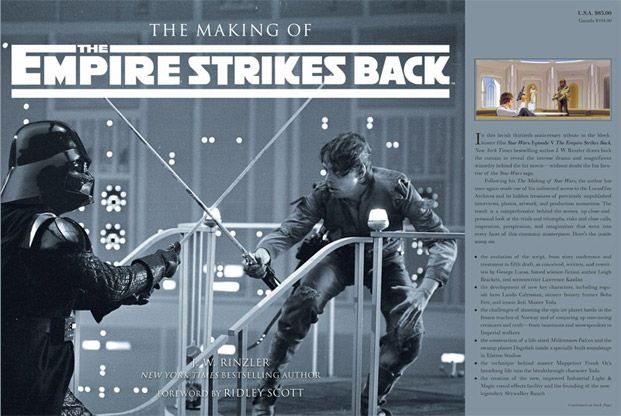 Review:
Following his The Making of Star Wars, the author has once again made use of his unlimited access to the Lucasfilm Archives and its hidden treasures of previously unpublished interviews, photos, artwork, and production mementos. The result is a comprehensive behind-the-scenes, up-close-and-personal look at the trials and triumphs, risks and close calls, inspiration, perspiration, and imagination that went into every facet of this cinematic masterpiece.
Verdict:
4 out of 5
Recommended
Brief Description:£25 - Amazon, Play.com, WHSmith, Waterstones
Hardcover: 372 pages
Publisher: Aurum Press Ltd (12 Oct 2010)
Language English
ISBN-10: 1845135555
ISBN-13: 978-1845135553
Product Dimensions: 29.8 x 26.8 x 4 cm
After waiting 3 long years I was finally able to get my hands on what I anticipated to be a great follow up to Rinzlers previous outing.
The book builds nicely with the ideas, McQuarrie art, drafts, story boards, revisions and more before it depicts what we know to be a problematic picture, full of pressure, delays and a fair amount of drama from the actors at times.
The chapters take us through each stage of the scenes and then finally arriving at the postproduction, score and ILM stages. It then ends with some marketing and public feedback about the movie.
The overall book is nicely done with a thoughtful layout that for the most part has the relevant image to accompany the scene/s described but a huge resource which was taken from Alan Arnolds "once upon a galaxy: A Journal Of The Making Of The Empire Strikes Back features predominately, which naturally is a necessary inclusion but to some degree it's been overused. People who are familiar with Arnold's book are reliving chunks of it again. The lack of prop detail is once again like the making of Star Wars vague at best. While you get the odd image there really is little information to the casual observer as to where some of the props came from or what was the thinking behind them and what was the transition from Star Wars to Empire. The model shop is more detailed but again not as thoroughly researched as it should be. So unless you have the background study to try and track down the prop side of things it is very disappointing. The book may cater for the bigger aspect but it's simply lacking and as the props are no doubt heavily connected to the film that aspect has been pushed to the side. The book depicts from my observation Hamill, Ford and Fisher to be over sensitive at the best of times. The emotions clearly run through them which makes for interesting chapters. Again this has been covered by Arnold amongst past Starlog issues. Hamill is portrayed as someone who takes himself fairly seriously but also someone who cares about his performance. He may come across as a winge at times but no doubt the filming was much harder than he expected and from facing the freezing Finse to the summer's sweltering heat back at EMI along with a newborn in tow it's no wonder that with just a few hrs to unwind each evening he suffered.
Fisher amongst cast and crew was likeable but temperamental. It's been well documented that her use of drugs at the time of filming would no doubt of lent to her mood swings. Sensitive, paranoid and care free at times her main beef seemed to be with Ford and (along with many members of the cast the lack of communication with) Kershner . The carbon freezing behind the scenes show tension on such a dramatic level that it makes for good reading.
Harrison Ford seemed to be in the best state of mind out of the 3 actors. He could cut his emotions off at the end of a day's work, unlike Hamill but he was also prone to sensitive mood swings. Another well known temperamental type, ford still seemed to be the most down to earth but he displayed no abundance of love towards Hamill, fisher and co. Other than the cockpit scenes and freezing chamber Ford conducted himself in his usual manner. By the end of filming though he left barely without a goodbye to the cast and crew as he was burnt out, a feeling that most displayed.
The other actor to be mentioned a few times was Prowse. The author or the author's research on one hand may sympathise with Prowse's exclusion but you definitely get an overwhelming feeling that Prowse had a big mouth and was thus excluded more so for that reason. The author has gone out of his way to use quotes from that time period of his errors and even has a leak count which shows Prowse in a negative light. Grouped with Prowse saying he often replaced lines with childish humour you really are left with a mutual feeling that as either an actor or person you really can't blame Lucasfilm for cutting him off. There is enough evidence even before the Return of the Jedi leak to form an opinion about his character reference. It is a shame as Prowse's heart is in the right place but there is a sour undertone throughout reading from Lucasfilms point of view.
Gary Kurtz is another who as producer while not left out in the cold completely it's documented enough that he more or less became removed from the picture during the end. His no show for Return of the JedI was diplomatically covered up but by all accounts if you read enough material outside this book Lucas was not happy with the lack of control Kurtz should of implemented over Kershner's slow directing techniques which became an escalated budget.
It is also somewhat covered up that while it's all turned out well some 30 years later that Lucas wasn't happy with Kersh nor were many of the actors. His often complex way of shooting and perceived perfectional qualities hindered the budget. He would conduct his manner as a likeable director but often people became frustrated with his lack of communication at times. Overall he did a great job but at the time it wasn't always seen that way. In fact what was left out is that Lucas actually went mad after he watched a cut of the film. Luckily the matter was resolved thanks to the editorial skills from Hirsh, Lucas and input from Kershner in the end.
George Lucas is kept somewhat on the side lines, often frustrated while portraying a cool exterior with the usual faster more intense concept. While he struggles to finance the film at times you never get the real sense of danger of have the detail that other books contain as to just how dire the situation was. Rather than an on your seat drama unfolding as to how one of the up and coming successful director nearly lost the sequeal to the biggest film of all time to fox the book is watered down. Instead in the background is George setting up ILM and the much needed funds of Empire making a profit for his overall dream-The Ranch (Skywalker)
I was surprised in this book to see Leigh Brackett be dismissed. I think it's clear that while George did the right thing Kasdan and co would not give her the credit and I have to say rightly so as that's just not what Lucas envisioned.
The rest of the characters and actors are mentioned although secondary to the ones discussed above. Frank Oz gets a decent mention for his part with Yoda.
The images in the book throughout the some 372 pages are very nice. I like how many black and white nostalgic shots have been used. I would say the duel between Anderson and Hamill has been given some preference. Again, the book lacks rare images which continues to be a point of frustration to the more serious collector but I conclude one simple book can't be everything to all.
Conclusion:
This is a must have purchase especially for those that haven't read Arnold's journal or kept up to date with old Sci fi magazines. I wouldn't say this is a better book than Rinzlers Star Wars but as an overall it is the best book to date for Empire fans. I would've liked to see the author go the extra mile but with a successful blend to cater for the mass market there was probably no need to please the die hards that want that extra bit.