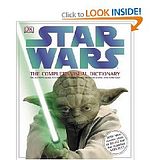 Note: The Prop Den review is based on one person's opinion which can vary. The review is independent as a fan and avid collector.
Review
I have each of these books as they came to publication and they each have a different cover to accompany them. I also have this ensemble of the dictionaries combined but for now I'll cover these as one book to save many separate reviews.
The visual dictionary is a popular option as it continues to cater as a basic guide to characters with little depth given to the write up. It's just a standard marketing book that is good to keep within a collection.
Verdict
No thrills attached visual dictionaries combined into one complete set. I prefer the separate entries but as an overall it's worth having it all in one place instead of several different books.
Rating 3.5 out of 5 - Recommended (Just)
Brief Description:
In a universe far, far away, the definitive guide to Star Wars was created We've storm-trooped our way around Lucasfilm to get the inside and the dark side of all six Star Wars films including incredible behind-the-scenes stories. Meet and greet every character, droid, creature and alien from Obi-Wan, to Yoda, from the Arena Beasts to Jabba-The-Hutt (and his entourage). Explore every starship and get up close to a multitude of weapons in this amazing guide. Includes every planet from Coruscant to Mustafar, plus a close look at Clone troopers equipment and battle tanks. Over 1,000 amazing shots plus never-seen-before material takes you right inside the movies, see the original R2D2, get up close to a Sarlacc from Return of the Jedi, (look into the stomach – it takes 1,000 years for the digestive tract to work – yuk!) and see things from classic Star Wars and Revenge of the Sith as you never have before.
Hardcover: 272 pages
Publisher: Dorling Kindersley (5 Oct 2006)
Language English
Author: Ryder Windham