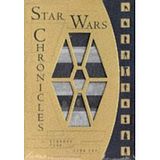 Note: The Prop Den review is based on one person's opinion which can vary. The review is independent as a fan and avid collector.
Review
This is perhaps my personal favourite of my collection. It's still highly sought after and while two versions can be obtained, either version is a must have for any serious Star Wars fan. When it was first released it was amongst the first book that showed us how to combine photography with text in a visually beautiful way. This book looks at the original trilogy and it gives you fantastic reference into the behind the scene props.
Verdict
If there is one Star Wars book to purchase than this is it. Perhaps for the serious collectors instead of a basic level of interest to warrant the price.
Rating:
5 out of 5 -
Highly Recommended
Price: £120+
Available from: Amazon,ebay.
Brief Description:
This volume provides the complete history of the "Star Wars" universe. It goes behind the scenes at the Lucasfilm studios to look at the special effects, the costumes, masks, robots, alien creatures, spaceships and the characters themselves at each stage of their development.
Author: Deborah Fine,Take Shobo
Hardcover: 320 pages
Publisher: Virgin Books; Film tie-in edition edition (16 Jan 1997)
Language English