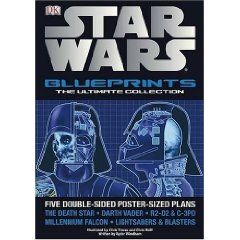 Review:
A1 double sided posters that can lead to disappointment but all in all it's a must have based on these unique sketches that have been well done.
Verdict:
A well put together double sided 4 seperate posters of some of the popular SW characters contains Millennium Falcon, R2-D2 and C-3PO, Darth Vader and lightsabres. The price is fairly reasonable for what it is.
Rating:3.5 out of 5- Recommended (Just)
Brief Description:
Top secret blueprint posters from the Star Wars universe For Star Wars fans everywhere & original A1 double-sided posters showing detailed technological plans of classic icons from the Star Wars films. Get up close and personal with the Millennium Falcon, R2-D2 and C-3PO, Darth Vader, lightsabres and take a walk inside the Death Star. All packed in an out-of-this-world metallic presentation box. An exciting addition to any Star Wars fans collection. And don't forget, there's a galaxy-full of DK Star Wars books to collect too.
Price: £7-12, Amazon, ebay, Waterstones, WHSmith
by Ryder Windham (Author), Chris Trevas (Illustrator), Chris Reiff (Illustrator)
Hardcover
Publisher: Dorling Kindersley (1 Aug 2008)
Language English