After a long time not posting anything major, I'm very pleased to share a tremendous labor of love: Quasimodo V2. Many of you have tracked my work in progress thread of the Quasimodo V1 which, in essence, is a completely resculpted GH ANH face and a remastered Don Post Classic Action dome. The V2 involved yet another slew of resculpting, replacement and original work to over 16 areas on top of the original 16+ areas of heavy rework, thus combinging two generations of working to produce this fan sculpt.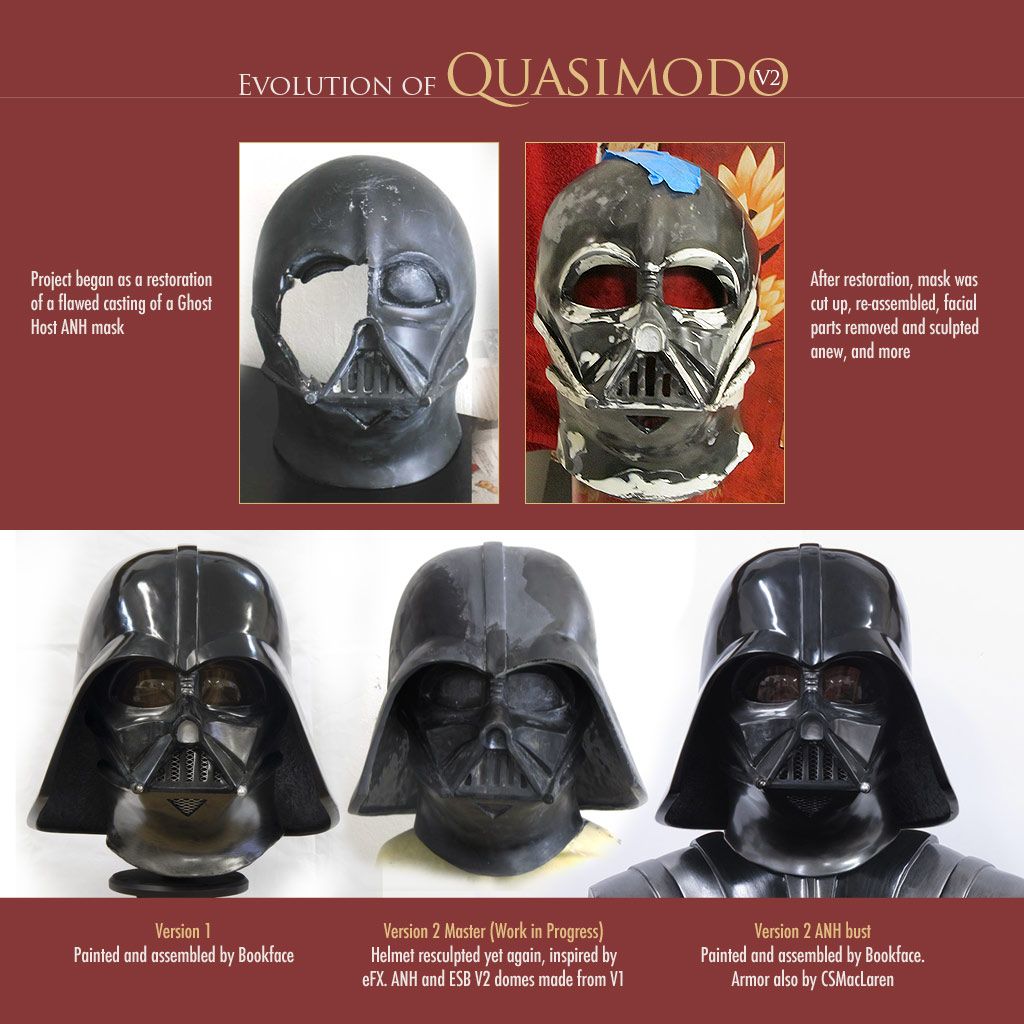 Whereas V1 was bringing a helmet to life, the vision of V2 was to create a full armored bust so that from mask to helmet ("dome") to chestplate and shoulder guards ("bells"), the combination would result in an artistic whole that had both structural and aesthetic continuity, as I felt the combination was necessary to recreate the presence and essence of the character.
Because my work has now been regarded by costumers with the 501st Legion Sith Lord Detachment, I've had to additionally consider funtionality and fit from a wearer's perspective. Whereas so many helmet and armor makes fail because they are piece-mealed and don't work together due to warpage and weirdness, my approach with V2 allowed me to recreate the posture and side profile of Vader, while providing costumers a degree of front-to-back balance and wearing comfort for people of average size (42-44" plus or minus, whereas Prowse was size 50").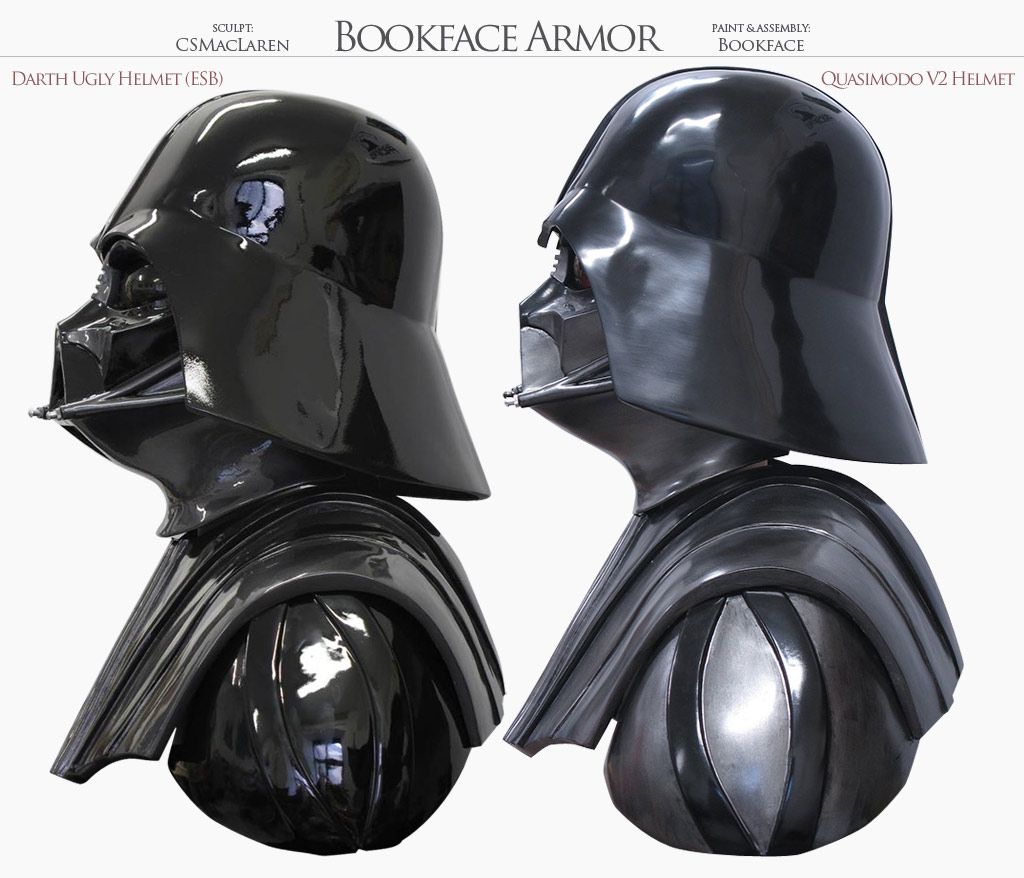 Overall, I'm very pleased with how Quasimodo V2 ANH comes across. The V1 already had a strong ANH vibe to it, thanks to bookface's meticulous paint work. As a fan sculpt, the V2 does fairly well when compared against the original:
It also holds its own against the eFX. The eFX is a great helmet, but due to its shape relies on certain camera distances and angles to realize an optimal look. Overall, the V2 has more of that "stepped off the screen" look that I've coveted when I joined the fan community 8 years ago.
Hope you'll enjoy this as much as I've had fun making it. Making it to work in tandem with the armor was very rewarding. The armor - which we call "Bookface Armor" - also works with my entry level Darth Ugly helmet, the difference being the higher end paint finish to the Quasimodo helmets are extended to the armor, whereas when paired with Darth Ugly, the armor is given the same entery level paint finish as Ugly.
For those interested, please note that I'm only the sculptor in that I'm donating my work to the project. A portion of the proceeds goes to help a fellow fan with disabilities. Please contact propmaker Bookface directly. I'm not part of the financial or transactional picture, but I can answer questions of a sculpting nature only.
Bookface can be reached on RPF here:
http://www.therpf.com/members/bookface/
501st members can reach him on 501stSithLords.com here:
http://forum.501stsithlords.com/index.php?showuser=4230