Guys, I was 38 on monday, and was pleasantly surprised to recieve cash in a few cards, and a cheque off my mam. I got £210 in total, which was awesome for such an old git, who has seen birthdays come and go like they were regular days.
Well...
I spotted this guy on that auction site, and decided to have a gamble. I have always loved this piece, and admired them in shop windows, but the £500+ price tag alaways made my heart sink. In the last four days, we have had some real problems up here with powercuts, and today, as the auction was closing, the juice went. I was livid.
Half an hour later, the power came back on, and i logged on, expecting to see my bid blown outta the water by some rich kid, etc.
How wrong was I??
I won it, for £150, and to say I am chuffed is a mass understatement.
Have a look, and say hello to my latest lodger, without a doubt, a most excellent piece...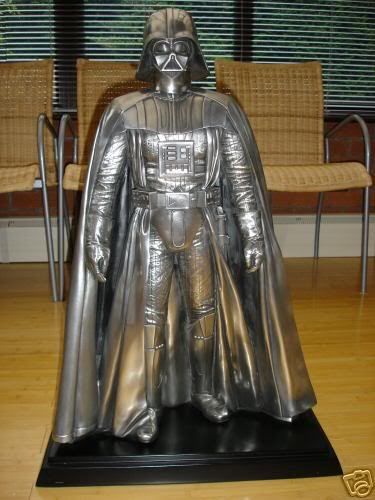 almost three feet in height, and every bit as awesome as he was when I saw him years ago... But which Vader is it?? Esb??