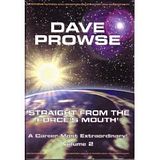 Note: The Prop Den review is based on one person's opinion which can vary. The review is independent as a fan and avid collector.
Author: Dave Prowse
Review
Volume 1:
I purchased these books back in 2005 from Dave Prowse's website. Although I had met Dave Prowse twice I wanted to see what these books had in store. Luckily Dave kept a diary from 1979 onwards and for ANH fans while the section is pretty vague to say the least Volume 1 picks up nicely just before filming commences on The Empire Strikes Back. The book is littered with interesting tidbits. Prowse's memory of events serve him well even if convention accounts differ. The content of the book is not to be taken as gospel regarding the Prop side of things at times but it's how the guy who played Darth Vader remembered aspects from his perspective. I would of liked to of seen more images, better reference and more detailed accounts but overall it makes for a good read if a little self indulgent at times. You get a feeling for the underhandedness of LFL and the guy dressed up in a suit who at times takes himself too seriously as an actor. It makes for an interesting read and a vital book to add to one's collection if you're a Vader fan. Star Wars fans may want to pass up on this as the main focus is either Dave Prowse or Darth Vader.
Volume 2:
Volume 2 is great for one thing….Dave Prowse fans. It gives a great insight covering a visual reference of many photos taken but not as Darth Vader but as Dave Prowse. This volume actually left a bad taste after I looked through it as I still recall it as one of the most self indulgent books, showing Prowse with one celebrity after another. It's tiring, dull and a little too much. It's benefit is you get to look at the physique of Prowse in various forms over the years but other than that it's widely a disappointment.
Verdict
Volume 1: It could've been better than what it was but it serves a good purpose from Prowse's perspective. Well worth having and something I go back to every now and then.
Volume 2: An impressive array of photo's with celebrities but at £20 I think this was overkill and it made you look at Prowse in a negative light, almost as if he attends a party and has to take said photo of himself with a celebrity to boost his appeal.
Rating:
Volume 1: 4.5 out of 5 -
Highly Recommended
Volume 2: 2 out of 5 - Avoid unless you have money to kill or are a Dave Prowse fan.
Price: Approx £20 each
Available: Amazon, Ebay, Dave Prowse website.
Brief Description:
Volume 1:
"I don't know anyone who has had such a varied career, worked with royalty, Presidents, and some of the countries greatest film and television personalities. David Prowse's experiences, especially his association with the StarWars phenomenon, will make for an awesome read. What will he do next? Run for governor of California" Arthur C Clarke "Any book by David Prowse should be a fantastic read. His Darth Vader has made a substantial contribution to the StarWars franchise. And his impressive career as a strongman and a Bodybuilder comes with some equally impressive stories. David has always had a wonderful and successful relationship with fans from around the world. I consider him a very good friend!" Lou Ferrigno
Volume 2:
This book has been over 5 years in the photographing, it shows a career spanning 50 years. While not specifically a star wars book a large part of Dave's career has been affected by the Star Wars phenomenon since 1976 ( when they started filming 'STARWARS - A NEW HOPE at Elstree Studios). As all his fans know Dave is freelance and as such is entitled to give his opinions on things as he sees them or as they affect him, whether or not this occasionally causes offence.
Paperback: 416 pages Publisher: Filament Publishing (Jun 2005) Language English
Paperback: 416 pages Publisher: Filament Publishing (Jun 2005) Language English