Yes, the flange needs to be lowered or extended, but I wanted to try a different route first. Again some people immediately go and try to add an inch or more to the flange and they essentially create a disproportionate dome and make the facemask look tiny. Heck, this is Darth Vader, not Dark Helmet, hehe!
But seriously, I wanted to take a different approach. I am a proponent of dome
repositioning
. Now if the dome is actually large enough, merely repositioning can do wonders, as you can see in my Rubie's thread where I didn't have to add length and yet achieved an idealized dome positioning.
In this case, I studied the rim of the dome and realized it was too short, so I went this route: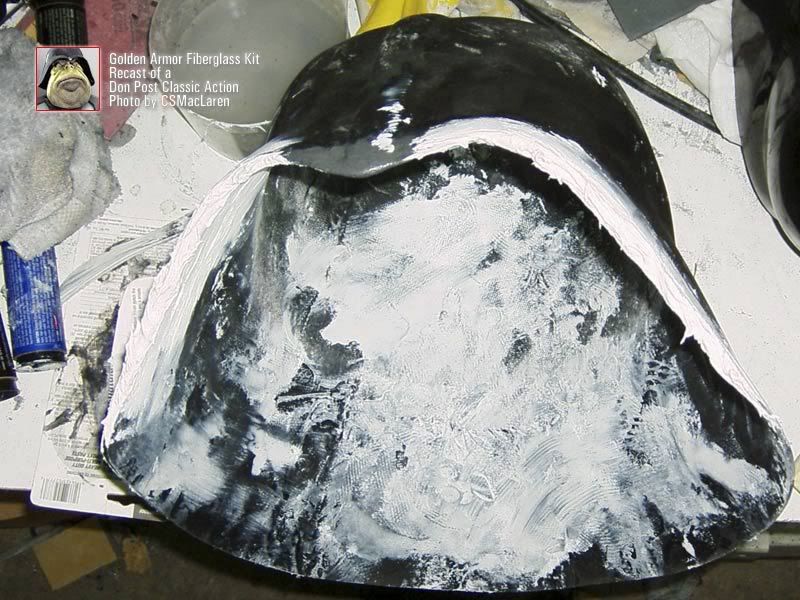 This white stuff is called PC-11, and more information is available in my review at:
http://www.aokforums.com/thepropden/the ... ut432.html
In short, it has an hour-long cure time so you can only add a little at a time before it sags under its own weight. It is extremely sticky as a paste as well as when semi-solid. However, do not touch it with your bare hands because I'm not sure how it will come off of your skin. I used latex gloves.
Now notice that I'm just adhering the PC-11 to the dome. I'm not reconditioning the surfaces much as they are already rough. But it gets everywhere, unfortunately.
You will recall that I had said the GA dome was wider than the DLX. My goal was to use PC-11 to build structure successfully. If I could do that, then I could theoretically line the inside of the helmet with PC-11 to thicken it, and then use a sander to reduce the outside width, thereby making the dome narrower.
You think I'm crazy, right?