originally posted on the SLD forum:
For the past few years I've been researching and improving my ROTJ Vader costume to be as close to screen-accurate as I could achieve. I've looked at pics of ROTJ Vader so many times I can't count and there was always something about the bodysuit I couldn't figure out. 
That is until the "Costumes" book came out and had this pic.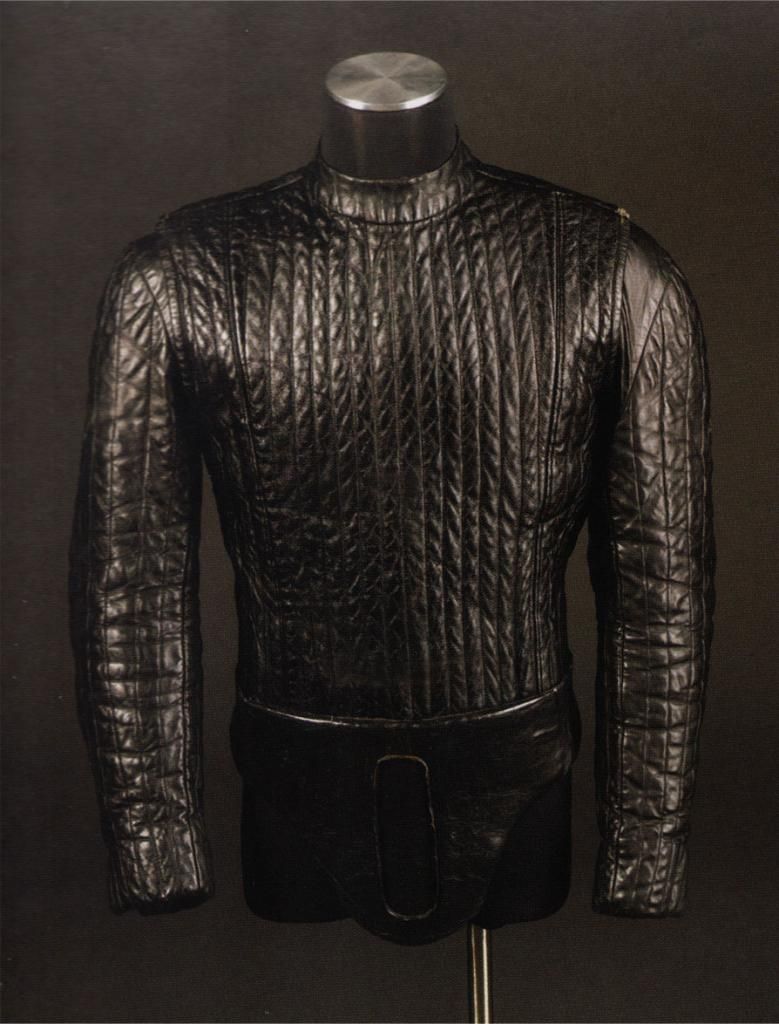 Now, I've seen various discussions on the "seams" on the front of the bodysuit and guys trying to replicate but I actually have a different view on it.  First, I believe the book actually has it wrong, they say the suit in the pic was from "Empire" in the caption (pg. 204), but it's my contention this is actually an ROTJ suit and the details seen in it are unique to ROTJ and never appeared in ESB or ANH (at least as far as my research has seen- but I'm not an expert on ESB so maybe someone can shed additional light).  
What I see in the pic from "Costumes" is directly tied to just about every ROTJ image where you can see the bodysuit details, but it never appears in ANH or ESB (as far as I've found).  I believe for ANH and ESB, the seams on the bodysuit were all uniform and all straight up and down, but then for ROTJ they changed the design and wanted a "V" shape to accentuate Vader's physique.  As a result the seam that everyone has been talking about is actually not just a seam, if you look it's a tapered section that forms triangular patterns from mid-chest to the shoulder to give the suit a "V" shape.  In most pics we only catch the very bottom of this detail because of the armor, but when you look at the pic of the suit from "Costumes" next to the pics you can quickly see this is what it actually looks like without the armor.  So it's not just a "seam" in the bodysuit, it's actually sewn differently with tapered sections in the upper torso that only appear in ROTJ. 
So, here's my "evidence":
The lowermost portion of this tapered (triangular) section corresponds to the same "seam" we see in ROTJ pics. You'll notice in all of the ROTJ pics this seam starts mid-chest (not the full length) and appears to be wider at the top than where it starts. When we look at the bodysuit pic we can then see it's the bottom of the triangle, not a seam.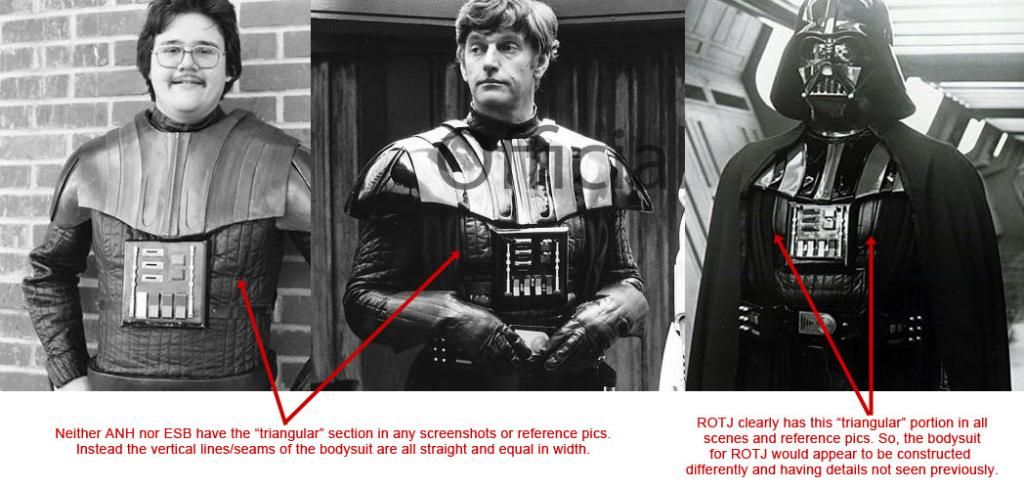 And finally an on set pic from ESB, once again no sign of the seam or the tapered sections (triangle). 
Feel free to share your thoughts (especially ANH/ESB guys). 
e: