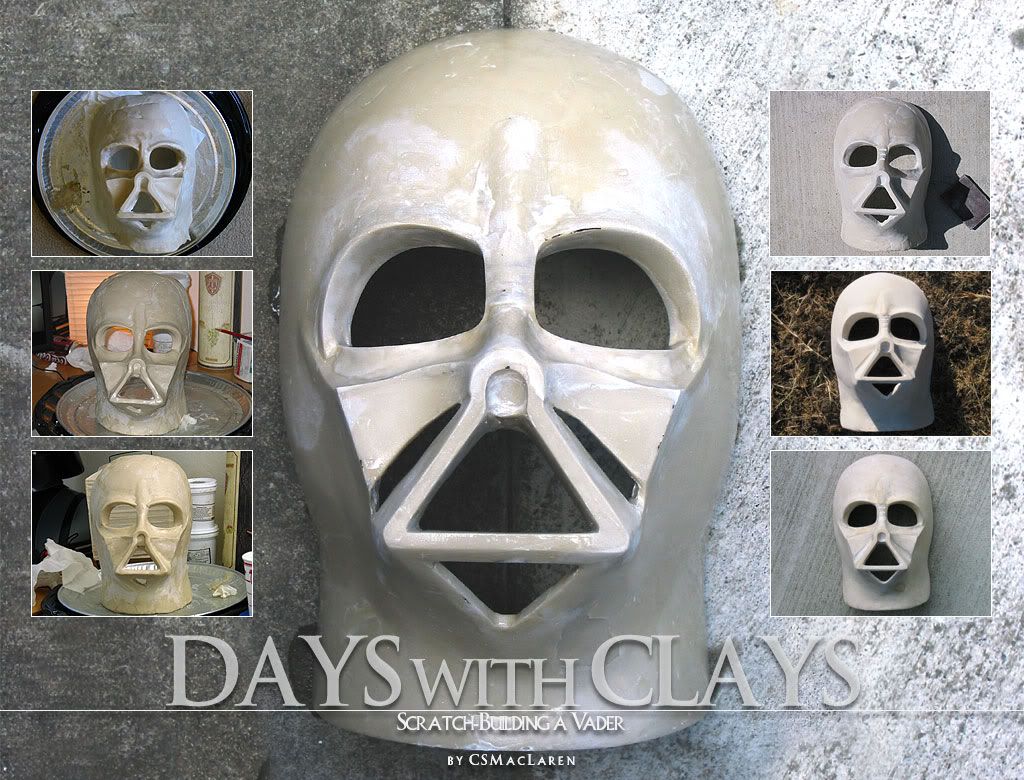 6/8 Update - Based on where the project is headed -- successfully, that is -- I have decided to announce that "Casper" (the project name, because of the build's initial similarity to the old cartoon character Casper the Friendly Ghost) is my attempt at and tribute to the ROTS Vader. For those of you new to this thread, what you are about to see is a painstaking uphill climb to achieve a certain degree of symmetry without the use of 3D scanning and CAD (3D computer-aided design) as LucasFilm did. Just the old-fashioned way: eyeballing it with a mirror!
Foreword
So while I went off the deep end trying to fabricate an ANH Stunt Stormtrooper from scratch with photo references and little else, I momentarily got distracted and wondered if it were possible to do a Vader in clay.
Of course it is! Others, I'm sure have done it. Vader was originally sculpted in clay. However, with the various modifications I've done over the past 5 months, I needed to creative challenge. It's been raining intermittently here in California, and due to remodeling by the landlord, I lost use of the garage as my shop, but I managed to set up a small outdoor bench under the overhang of the roof on the side of the house. I also built myself a new glovebox using a Dell computer box (nice THICK cardboard) and this time I cut the arm holes smaller so that the dust doesn't come out of the arm holes as easily. I also began wearing a raincoat and rainpants to keep the dust from getting over me.
I initially did a very, very crude armature out of air drying clay. It took four days to dry, which in my lack of patience was difficult to endure. The result was -- can you believe this -- UGLIER than ol' Ugly? Also the clay started to sag here and there under its own weight while drying, so by the time it fully hardened, it looked nasty.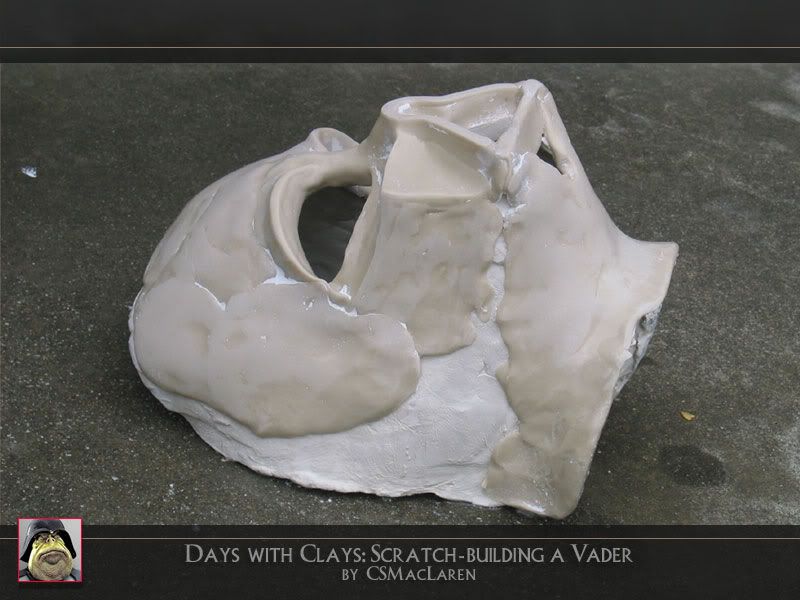 I began applying some "A+B" type of clay. Now the following photographs will show the initial stages. I know they are crude. I know the eyes, nose and mouth shape are wrong. It will take time and careful comparisons to get it "right". Let's see how far this goes. I'm not making any promises that it will look good in the end, but then again I am going to look so bad if this doesn't look right. So I know beforehand there is no way this is going to look like an original prop because it's an amateur first-time scratchbuild, so please go easy on me!