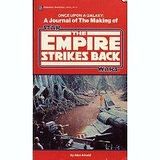 Note: The Prop Den review is based on one person's opinion which can vary. The review is independent as a fan and avid collector.
Once upon a galaxy: A journal of the making of The Empire strikes back
Review
I purchased a copy of this book via eBay a few years back and while it stunk of old moth balls as an Empire fan it's a vital edition in my collection. Alan Arnold sets out to portray a book which is not under the bright and shiny LFL glamour. He has his own opinion of situations and isn't afraid to say what he thinks. He portrays a decent backdrop to the making of Star Wars 2 and at times gives good depth to certain aspects in his book. Character and detailed reference still remains vague but he captures many things fresh from 1979 and this is what makes this book quoted in various others as a source of reference as it features some great interviews with Lucas and Irvin Kershner that remain to this day some 30 years later as amongst the most quoted as these interviews were conducted while on the set of Empire or during.
Verdict
Well worthy in any collection. Once it was a rare book but has since been on eBay several times and is normally at a low price of around £10, sometimes cheaper. This book hasn't been tarnished by LFL bigwigs it just is written by a man who see's things for what they are and you get a good insight into the actors perspective at times fresh from 1979 while on the set of Empire and not a recount some twenty years later of events. It could always be better given that the characters are very loose and that some details have been either not mentioned or hurried over but all in all this is a must have based on a very eager Star Wars fan and not a casual observer who may find the book lacking.
Rating: 4 out of 5- Recommended
Brief Description:
Alan Arnold (Author)
Paperback: 277 pages
Publisher: Sphere (1980)
Language English