Foreword
I was going to initially PM this to Jez but then decided that if I opened this discussion up to the community, more information might come forward.
In my early days joining the Vader community, Jez' site - starwarshelmets.com - was of course the de facto "Wikipedia" for Vader helmets. The following excerpt has always been interesting to me.
Quote:
CKing's sent me some photos of his Excellent low-numbered Deluxe Fibreglass Vader. This particular helmet is especially good as its a low number (see plaque photo its numbered just 86), and therefore benefits from an overall better shape (later ones had additional warping as the same mould was used again and again, as was not effectively cleaned over the production run of 1000) Source:
http://web.ukonline.co.uk/bingo275/helmets.htm
The CKing has wonderfully straight teeth, the correct paint scheme, and the neck was not warped or flared, supposedly because it was a low number.
Over the past two years, I've scoured the web looking for low number unmodified Don Post Deluxe Vader helmets. After landing #188 and a second mask I "rescued" off eBay, I found that all DP DLX pictures showed consistently flared/warped necks and teeth - from numbers both earlier and later than the CKing. This leads me to think that the CKing was perhaps modified. It's correct paint scheme differs from the entire DP DLX line, which has a reversed scheme.
Here are my findings:
YakCam's #17
(Now cookman's)
The #17 is earlier than the CKing which is #86. The neck flare is present in #17, leading me to think that the reduced neck flare of #86 is a modification and not the result of it being a low number.
Photo courtesy of Yakcam:
Mac's #188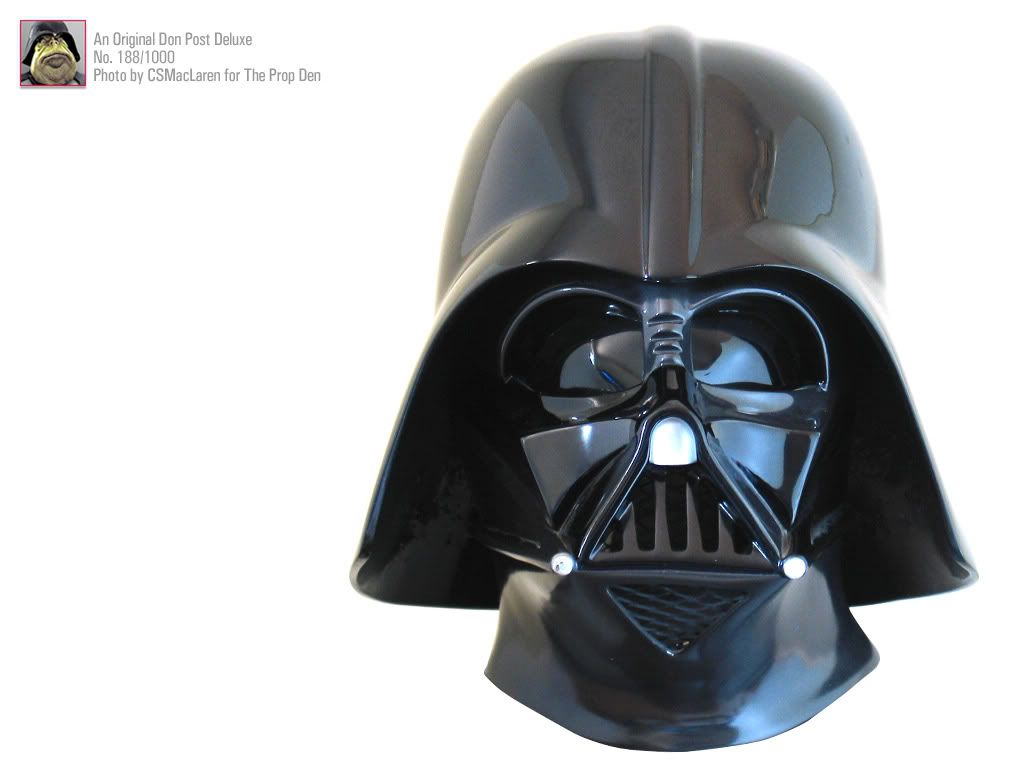 Mac's "Rescued" mask - Number Unknown
I once "rescued" a DP mask from eBay. No lenses and dome, and the brass number plate had been removed. This unnumbered mask's shape is not dissimilar to the #188 (right).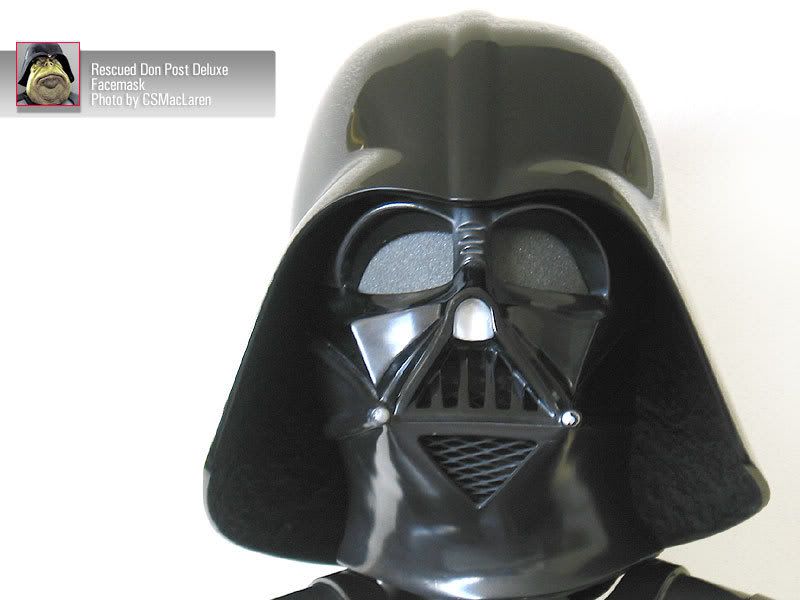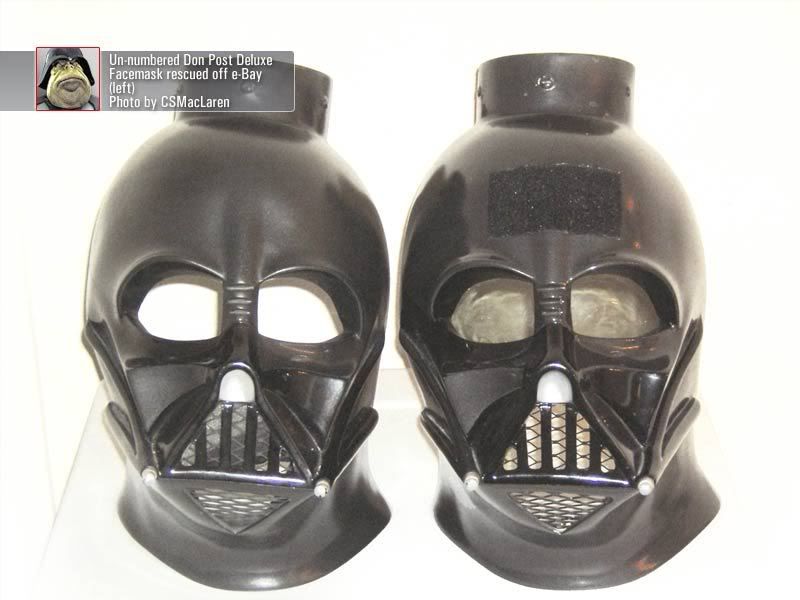 We've never been able to properly identify if the brass number plates were applied in the very same order as when the helmets were made. But let's assume they were all made sequentially and in small batches.
Random Original State DP DLX
(possibly Cookman's #17)
I don't recall the number of this helmet, but it's in its original state: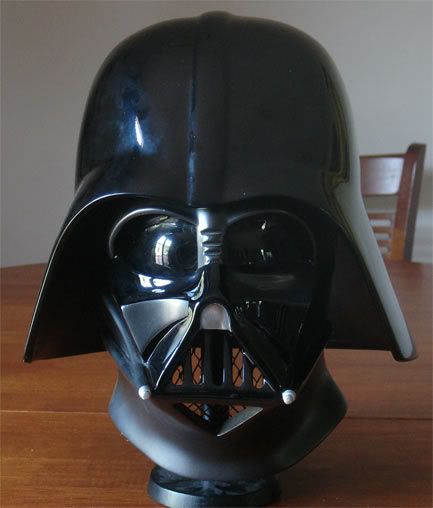 CKing: A modified DP DLX
The artfully reduced neck flare is, I believe, a modification. Another modification that was nicely done was the correct paint scheme. As mentioned before, the original DP Deluxe helmets' paint scheme (the alternating black and metallic gray) was reversed on purpose.
And finally, when we compare the teeth holes of the CKing and an unmodified the Don Post Deluxe, we can see that CKing has done some good work. The CKing mask is notably different: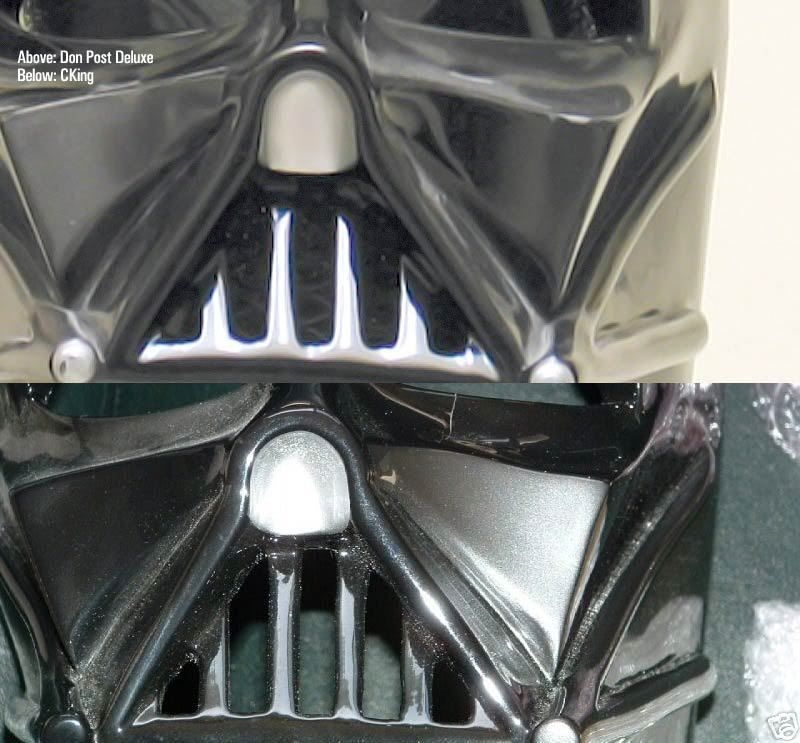 Conclusion
I'd like to open this up to anyone who has a low-number Don Post Deluxe helmet to verify if the shape of their DP DLX is in fact consistent with the photos represented in this post.
I'd like to suggest the Don Post page at
http://web.ukonline.co.uk/bingo275/helmets.htm
to have an unmodified Don Post instead of the CKing. The CKing could perhaps be recategorized as a derivative but definitely pioneering work. I feel that the lack of "warping" is not due to the CKing being a lower number, as helmet #17 is verifiably warped.