Hello everybody! My name is Dirk and I roam from the land of giants. I bought an efx pcr helmet in December and while I was completing my movie accurate 1989 Batman costume I found myself wanting to do another project in between. I lucked out and found a reasonably priced Supreme Edition vader on eBay.
I wanted to turn it into an ANH Vader as much as I could. When I started I had no idea what had to be changed. I got up to speed very quickly, familiarised myself with this forum and the reference material.
As the costume got here I immediately repainted the chest armor to gunmetal grey.
Long story short here's some pictures.
I still want to change the beltbox a little more. I've gotten so used to working with putty and filler I almost want to try and work a more ANH shape into the Rubies boxes. I hope I can find a lead on more accurate green and red lights.
I opted to get the honeywell caps for the chestbox. And even though they are priced at $ 15 dollars in some places to get them shipped to Holland would have been around $50 per piece. Which I found a bit too much. My goal from the get go was use as much of the Rubies pieces as possible.
And here's me wearing it.
Now this week I started to work on the chest armor as it bothered me.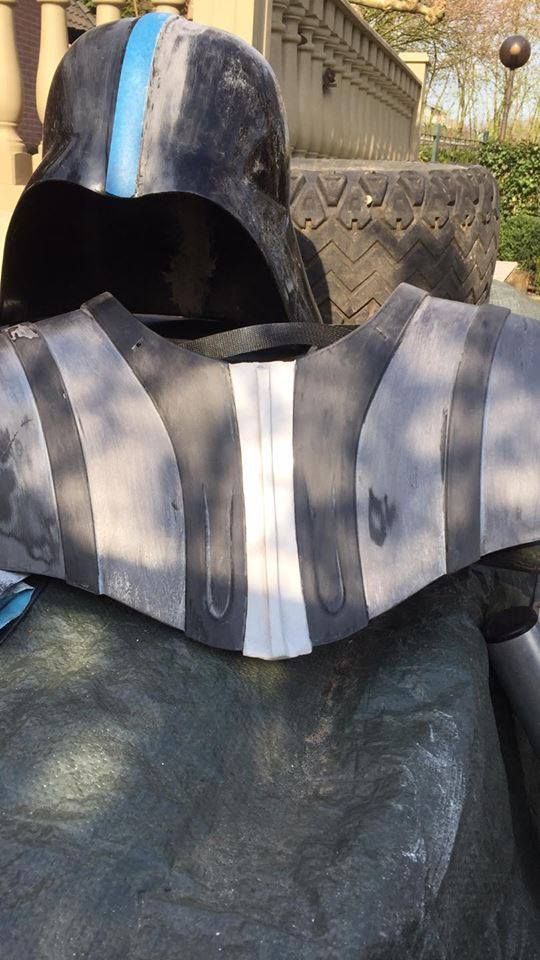 I will also reshape these:
And as you can see in the background I am simultaneously reworking the helmet/dome of the "deluxe" helmet that came with the costume.
Still a long way to go
So far the biggest thing ahead seems to be to get the chest armor to look better. I used two different types of Gunmetal Grey ( Humbrol enamel ) and Tamiya Gunmetal Grey acrylic. Both seem to end up way too light against the EFX helmet. So is there any knowledge on what kind of GMG they used? Or perhaps a different color? And on the ANH chestarmor the U shaped indents seemed to be a paint that is very close to the grey. It has hints of black in it but it doesn't seem as black as any of the other parts of the armor. I've seen some vaders that really nail that part in terms of color. Though a quick search didn't give me any info here.
I know I'm really late to the party on a forum in 2017 ;) but I hope to elevate this project to a higher level with the inspiration and input found here.
Thanks!