"Goldie" - A Tale of Transformation: from Trash to Gold
10/22/2010 Update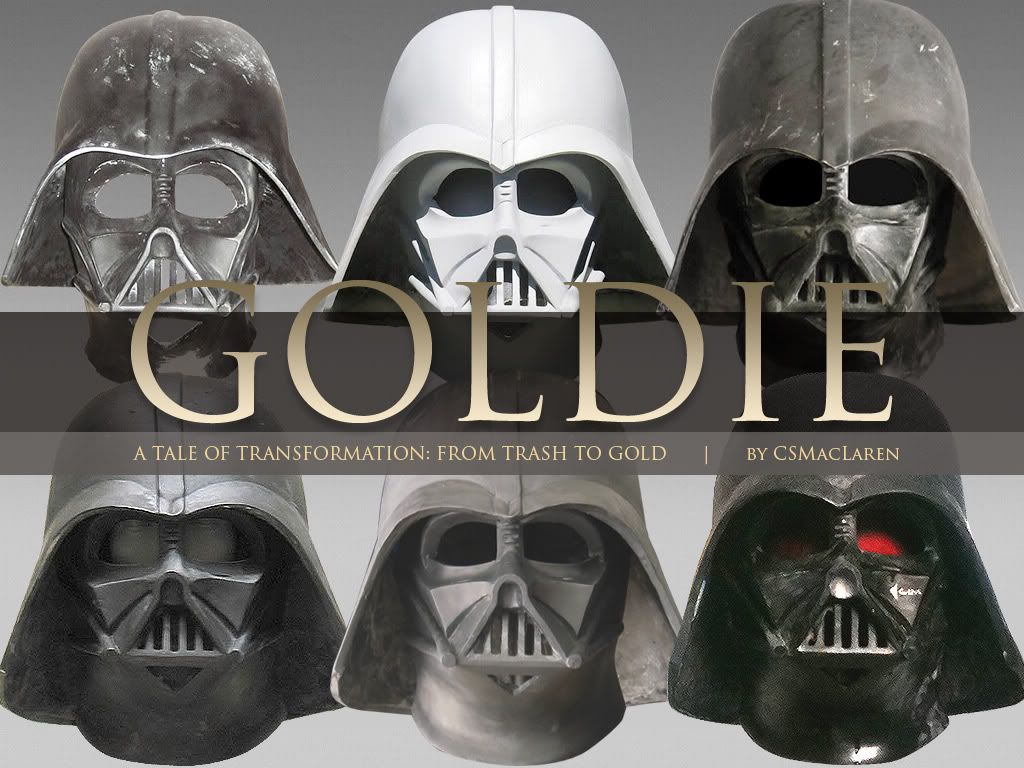 In the latter half of 2006 (gosh, it's been that long?), I joined the community as an individual who wanted to spend hard-earned cash on a nice Vader prop. That sincere desire turned into a nightmare with so much money spent on what, in some cases, turned out to be junk or rip-offs by vendors claiming their work was "cast off the original" or was "Prowse-sized". Like many newcomers, I read various fan websites and forums that seemed to posture themselves as authorities of accuracy and authenticity, but when my Internet mail order props finally arrived, the reality of the purchase was more than often a painful experience. Unfortunately, I didn't always get my money back.
I'm just a guy like you, who knew little about Vader as a sculpture at the beginning of this journey.
This is a story of where after having been taken advantage of or let down* by vendors once too many times, I decided to roll up my sleeves and work on these ghastly kits and turn my fortunes around. What you're about to see is a documented journey.
As you peruse the pages of this long-standing thread, you'll notice that I had never done this kind of work before. I was learning as I began salvaging these bad purchases. I would end up trying one thing after the other, and although promising at first, some avenues had to be abandoned.
I found I was growing and developing as an artist. I'd walk away from the project for months, even a whole year, and would work on other things. I found that what I learned, I could bring back to Goldie, and that coming back to a project with a fresh perspective allowed me to see Goldie's potential instead of what it was.
It all started around February 14, 2007. I originally started with a Golden Armor kit, which is a poorly recast Don Post Classic Action. "Goldie" was named after this vendor. Here's what I had to deal with: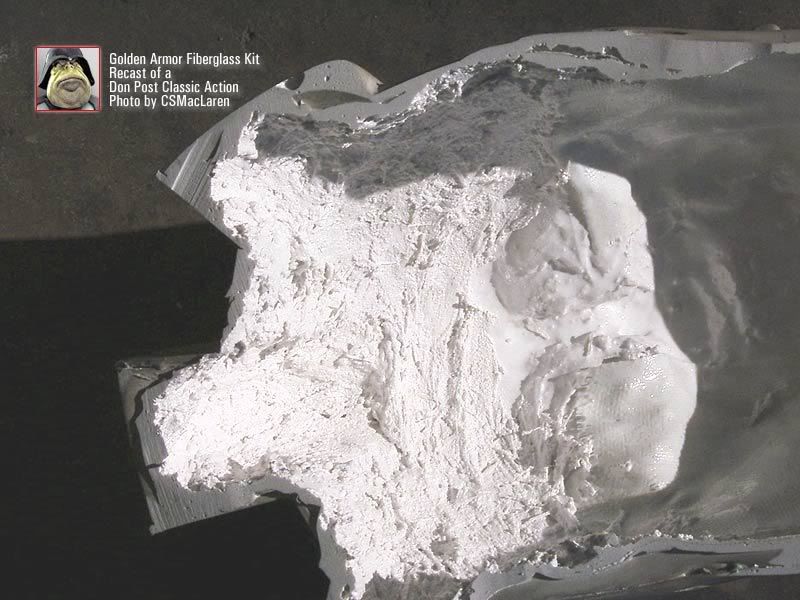 The above was brittle and chalky, with many air pockets to where the fiberglass was completely separated from the resin. There was also short-strand fiberglass used that made the mask completely unwearable.
Now, another vendor mistake came from Armormask, an eBay vendor, who also goes by Nightmare Armor Studios who might be better know for Jihn Roh suits (look him up on The RPF - those suits appear to be made using the same process and materials). He had some nice photos up of Vader but what it turned out to be a horribly disfigured polyurethane kit that T-VIRUS (a fellow victim who eventually became a friend) and I dubbed "Darth Ugly". When I confronted him on misrepresentation by photographing his Vader too close (such that the photographic distortion obscured the horrible shape) he just blasted back at me.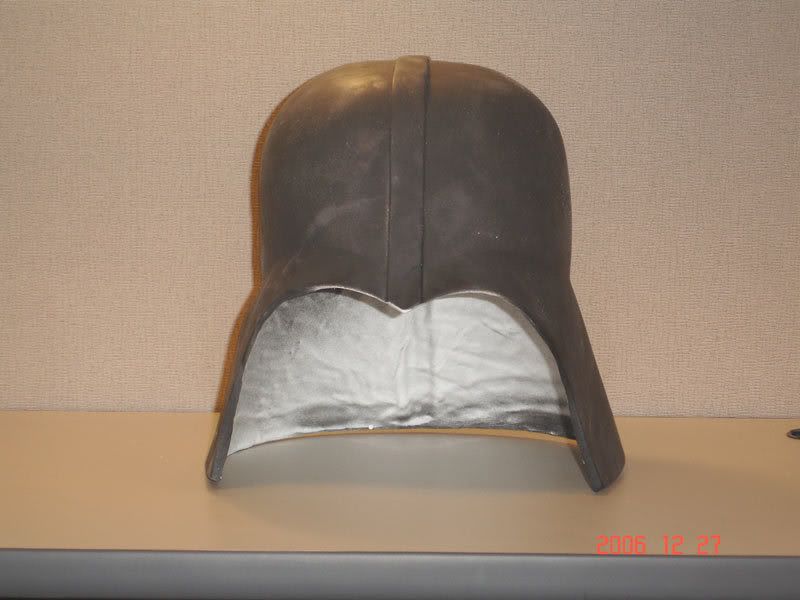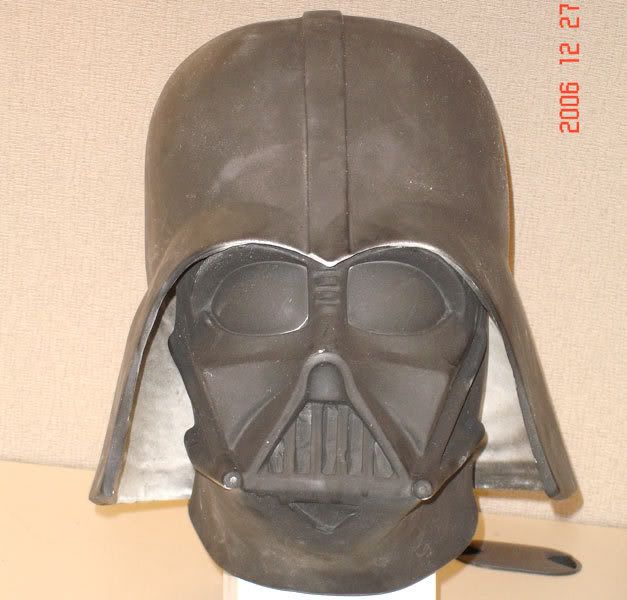 The above mask was cast aside. The dome had some potential. As you will see, the Golden Armor helmet was just too flared and the flange angle was too wide. It was a flawed foundation to begin with. I thus tried to use the Darth Ugly dome with the Goldie mask, but later abandoned that idea. The Darth Ugly dome may end up being paired up with my Scratchbuilt ROTS project.
This is a story that shows how me, a sincere fan, became a victim, but turned this around to make a helmet that would ultimately surpass and shame the quality of the vendors who let me down in the first place. I am grateful for the encouragement of many members of the community, especially NoHumorMan (who now goes by Too Much Garlic) who has encouraged me on and was, in my early days in the hobby, my mentor of sorts. This process has taken me from financial (and emotional) depression to a strong sense of accomplishment. I feel I am more a prop artist and prop lover today than I did at the beginning of this journey.\
At the same time, I hope that others who have been searching for a nice Vader prop but have had made bad investments may become encouraged by this project.
A Run of Goldie
October 2010 update - I have been asked if I'm going to offer castings of "Goldie" to help fellow fans, and I will say this is something I aspire to do. I've spoken to someone for help as I have no means to do any molding and casting. So it will depend on our work schedules, weather, and financial resources. Stay tuned.
* It should be noted that Golden Armor provided additional kits -- howbeit dismal in quality -- as recompense as GA did not refund my money. Armormask (Nightmare Armor Studios), however, was the worst eBay experience possible, and I never had resolution from his misleading sales description.