I had heard there is someone in England who sells piece of grill from the same source they used 20 years ago. But at a price of something like $20, I though it was way overkill.
As I looked at some HD screen-captures, I noticed that in ANH the grill is black (you could see Prowse' skin behind it) whereas in ANH it's brighter but a dull metallic gray.
Regardless, it's one of those things that people aren't going to be paying super duper attention.
This air filter is by a company called Fram that makes a wide variety of automotive air filters. I bought this at Wal-mart for around $9.00.
There are different ways of making these diamond shapes. The way Fram does it is basically take zig-zag wires and join them at the apexes, so it forms little rectangles.
At certain angles, it's not so obvious.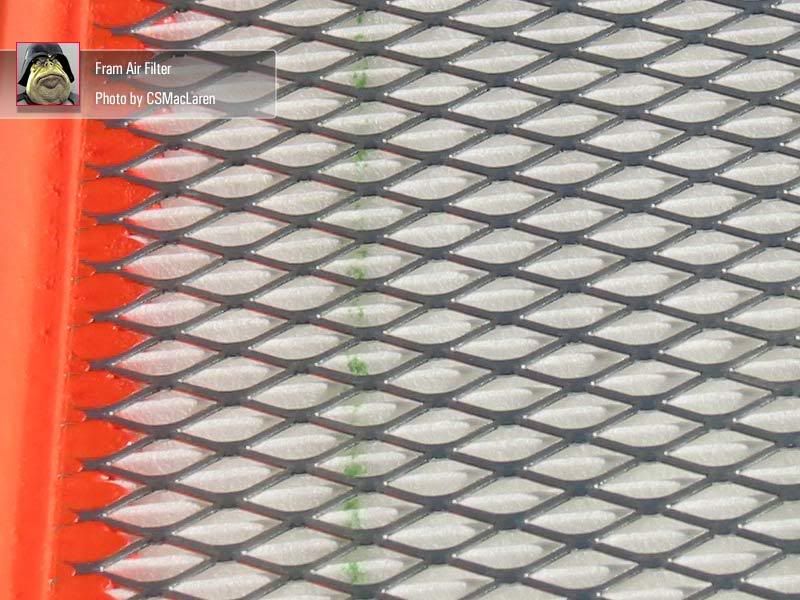 If you get some Ferric Chloride (circuit board etchant) from Radio Shack and dilute it down with water (be careful. I hear you're supposed to pour acids into water. Dilute it down to 1 part FeCl and 4 parts H2O). And then soak the Fram filter. Gun blueing chemical may do the trick also.
Do the diamonds like up with the vents? Well, it all depends on the facemask.
The answer is no for the Don Post Deluxe because its air vents are wider and irregular. On the Don Post Classic Action (I have a recast so I don't know how accurate this is with the original DP CA) it seems to line up a bit better.
I can't tell you what model number this is as I discarded the box. But don't pay more than $9 or thereabouts. The cardboard box contained only this piece (shown in the inset of the first photo). There are more eloborate systems but it's just a waste of money. As the box is not taped up or anything, just find a box roughly the size of a box of chocolates and open it up and see if you see the above filter. If not, move on.