This is a very brief review as to not bog down the reader with over fussy details which would make for harder reading. You can see my EFX fibreglass review here on the Den:
Reviews are based on 5 stars.
Click on images to enlarge.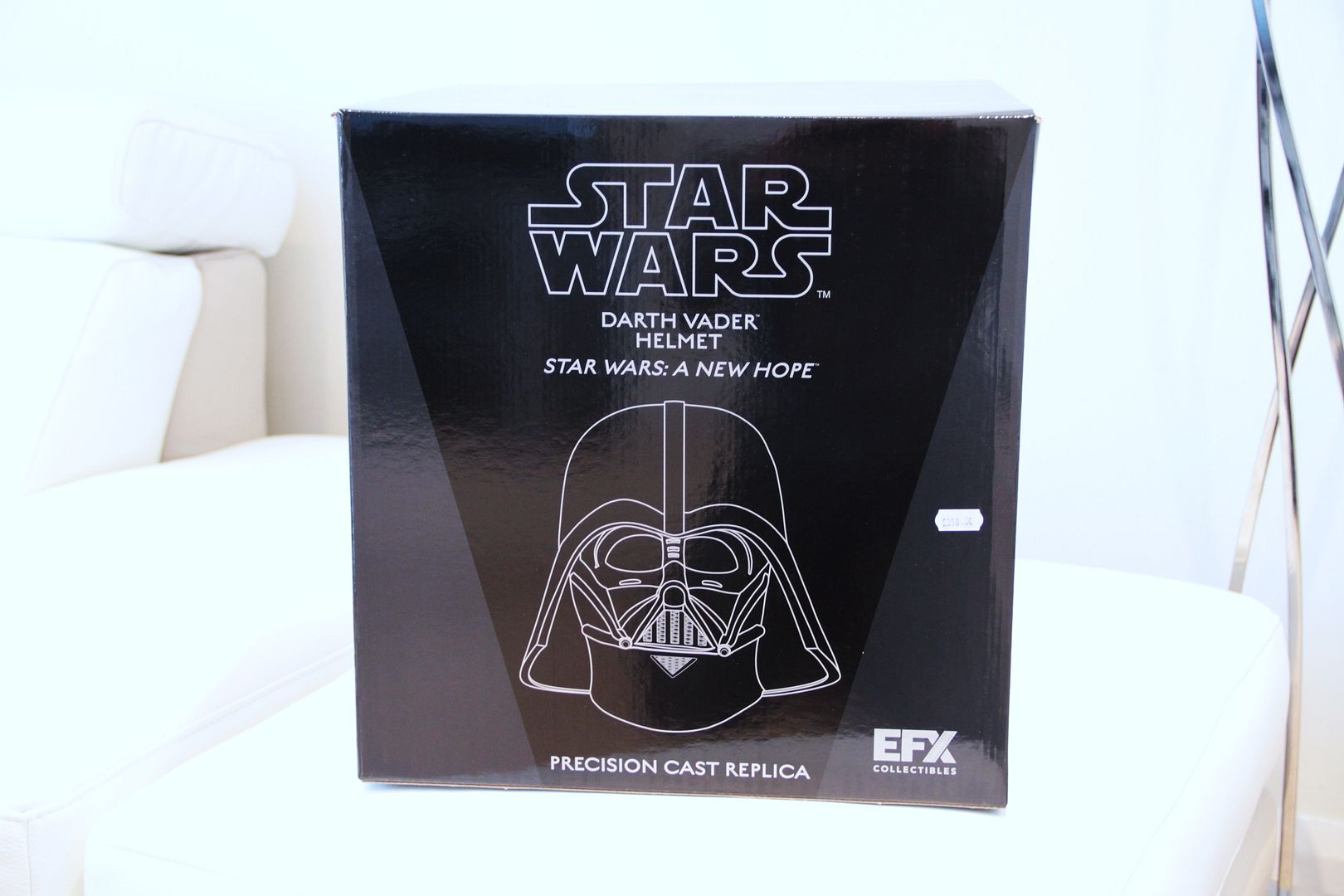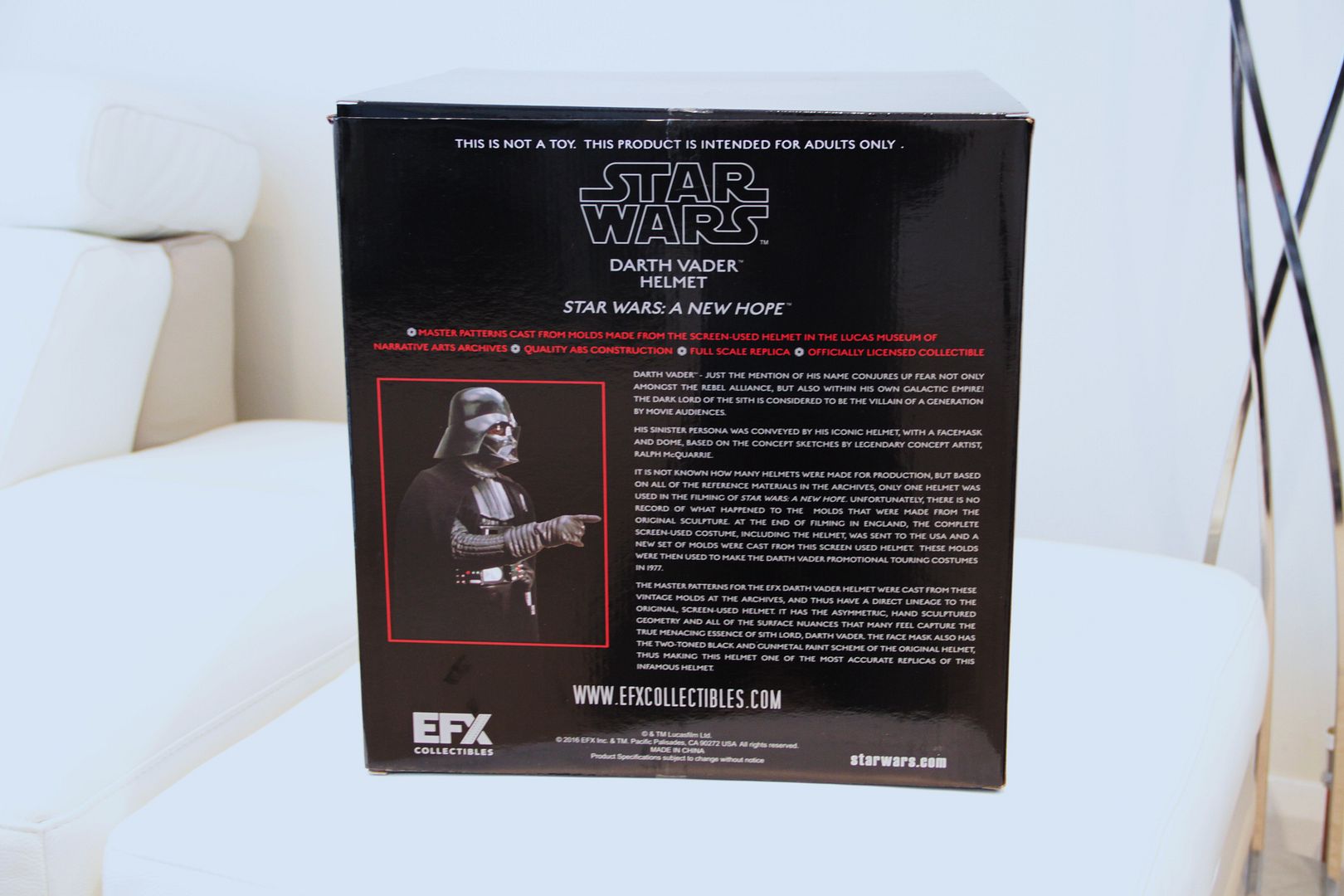 Packaging / Presentation ***
You get an outer EFX brown shipping box and inside that you have the helmet box, depicting an outline trace drawing of a Vader helmet and a visual of Vader from ANH on the back with informed text mentioning how the item was produced. Visually nice and glossy but not on par with the previous EFX ANH Vader packaging, as you would expect for less money.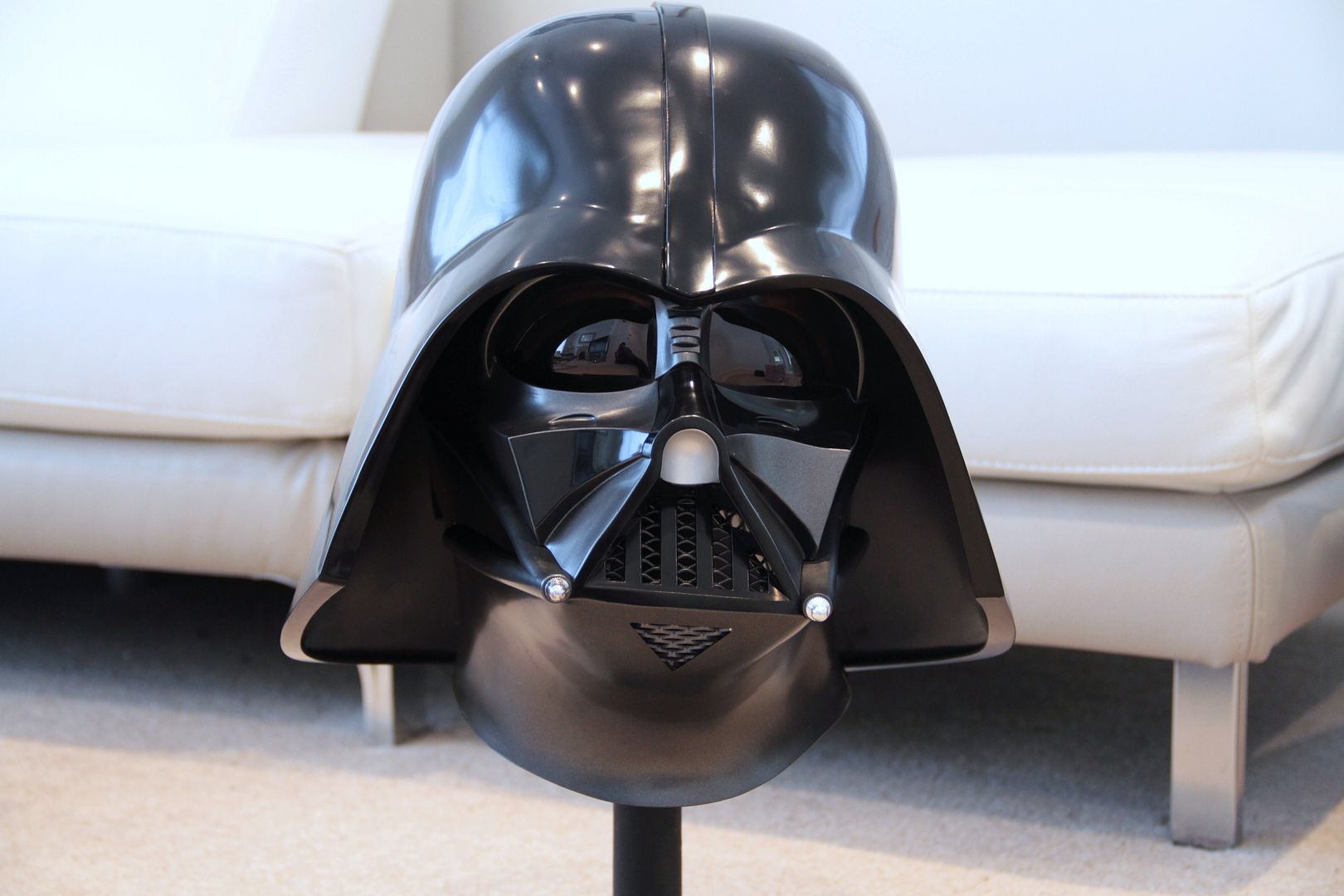 Dome ***
The precision cast replica (PCR) dome from a distance looks much like the fibreglass EFX. Nice, shiny, heavily cleaned up, idealized and pretty. It's not a direct replica that EFX would have you believe to the Rick Baker Molds in all it's glory.
Is this a copy of the dome from the baker molds from the EFX fibreglass version though? Yes and No. It follows the same template no doubt but it's cleaned up to the point where I'm being told 'along with ALL OF THE SURFACE NUANCES' which isn't exactly the case here…
The dome next to a fibreglass casting is toy like, Slightly fragile too but obviously that's in person, in a photo this PCR holds it's own apart from you can see no fibre pattern.
It has also been more or less cut in half and you can see the seems where the strip has been joined, not only inside the helmet but at both the start and the end of the centre strip, no doubt because of the production process, in making these. It's a shame they had to do this though.
The actual dome retains a similar structure to the EFX one, fractionally smaller. Obviously with a lot less detail, imperfect flange flaring but the dome cap isn't bad. Once again the strip is higher in depth than a normal accurate casting due to the join. The right side (Vader's) eyebrow is very soft and distorted at the front, overall though it's all okay, far from perfect and an elitists nightmare due to the joins and clean up.
Face **1/2
No tabs, a dome ring that differs to the fibreglass one and as for 'ALL OF THE SURFACE NUANCES' I'm left once again baffled by the inclusion of these words on this product?
This face has been cleaned up to within an inch of it's life. Little remnants of previous screen marks, scratches or much of anything remains. It's like it was cleaned up 5 times over and if EFX say it's not a digital scan but a hand made casting etc to almost boost appeal then I have no idea what to say?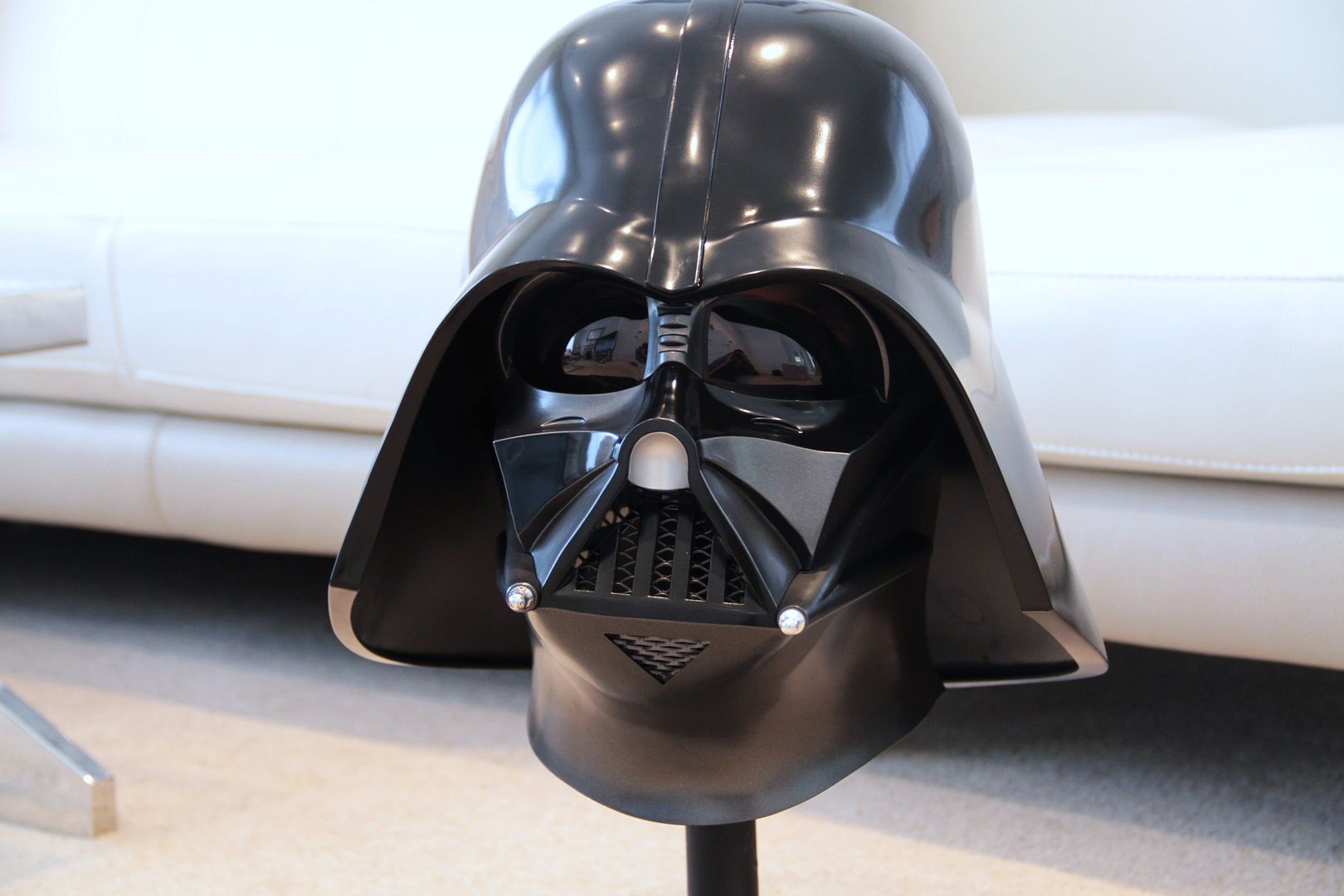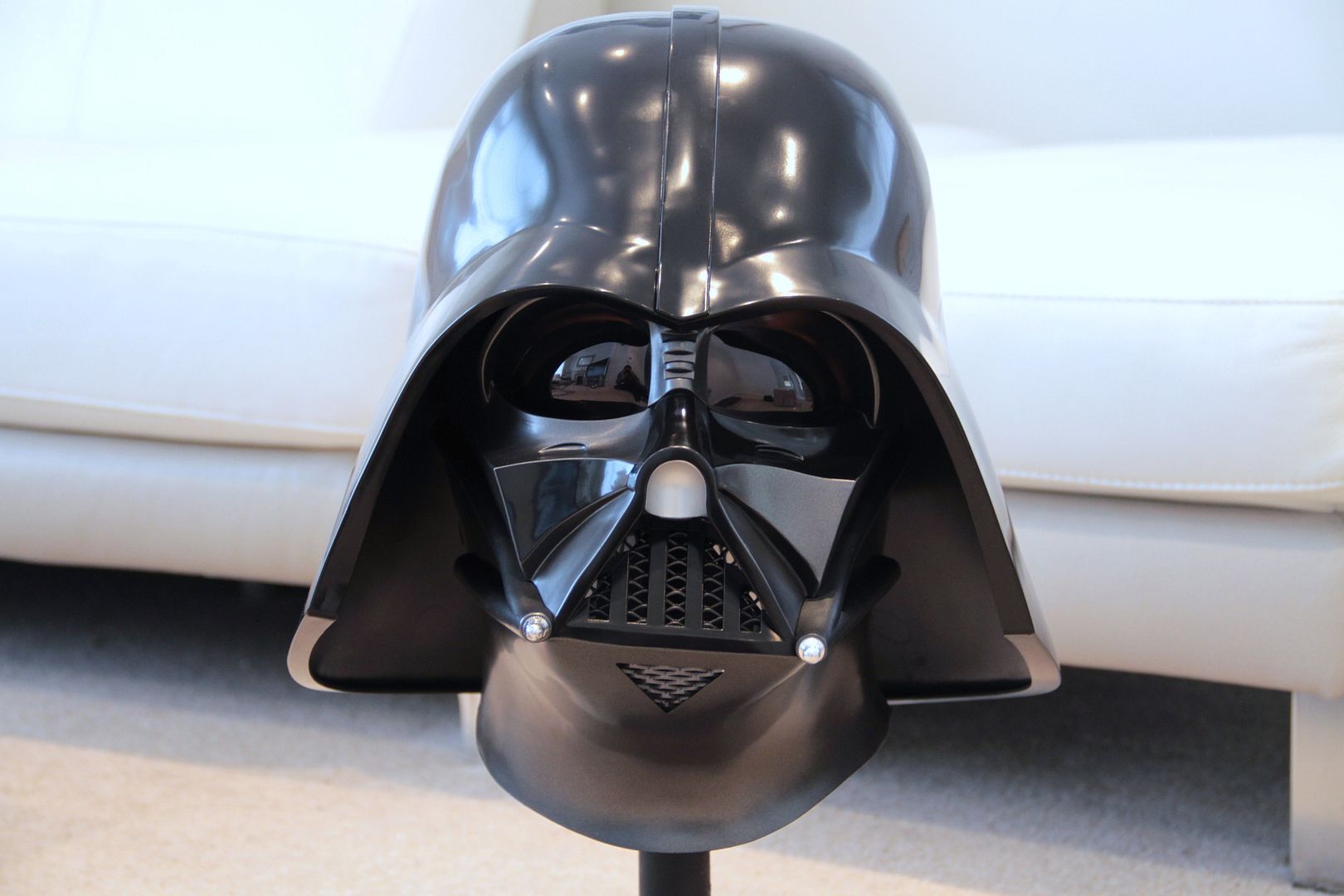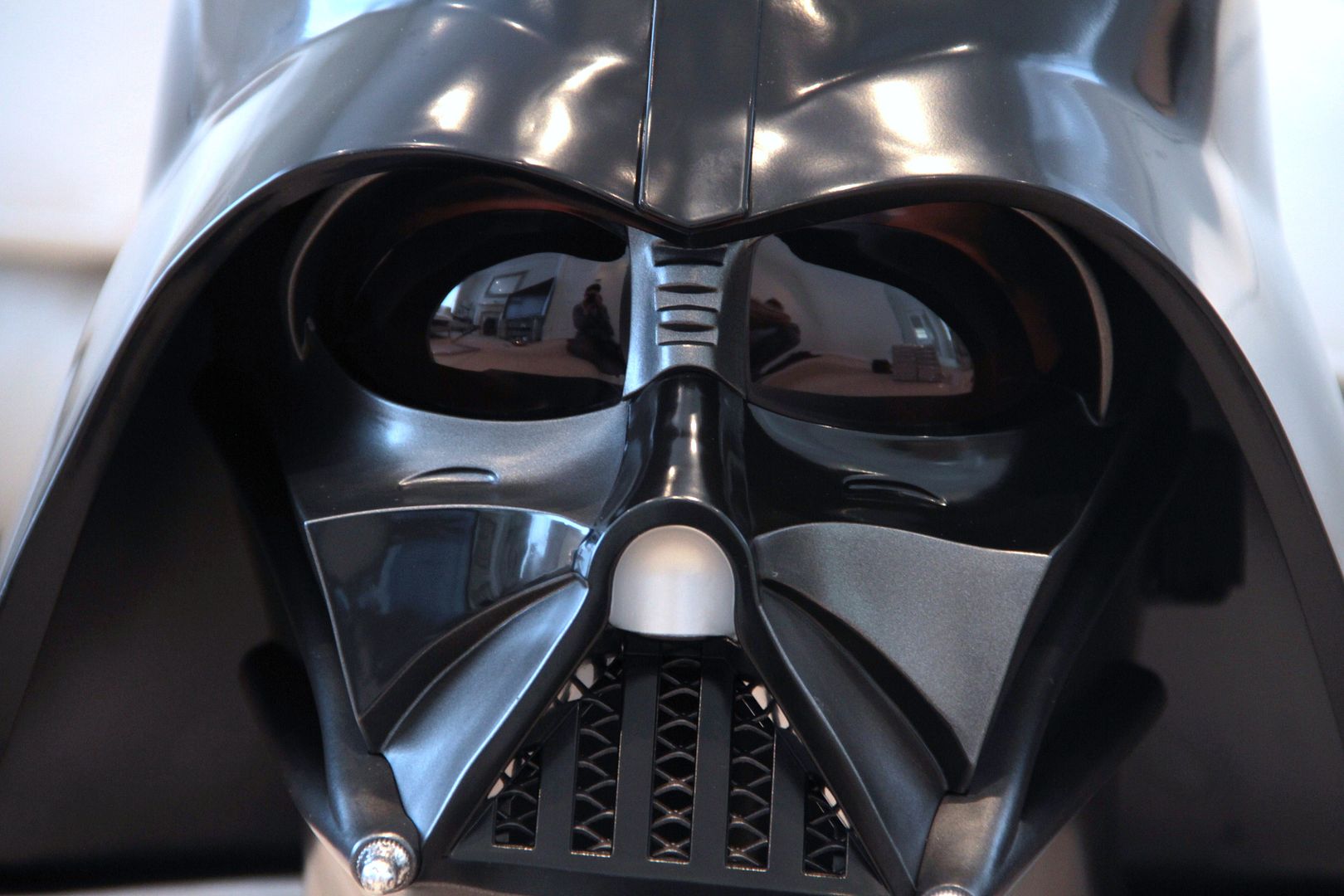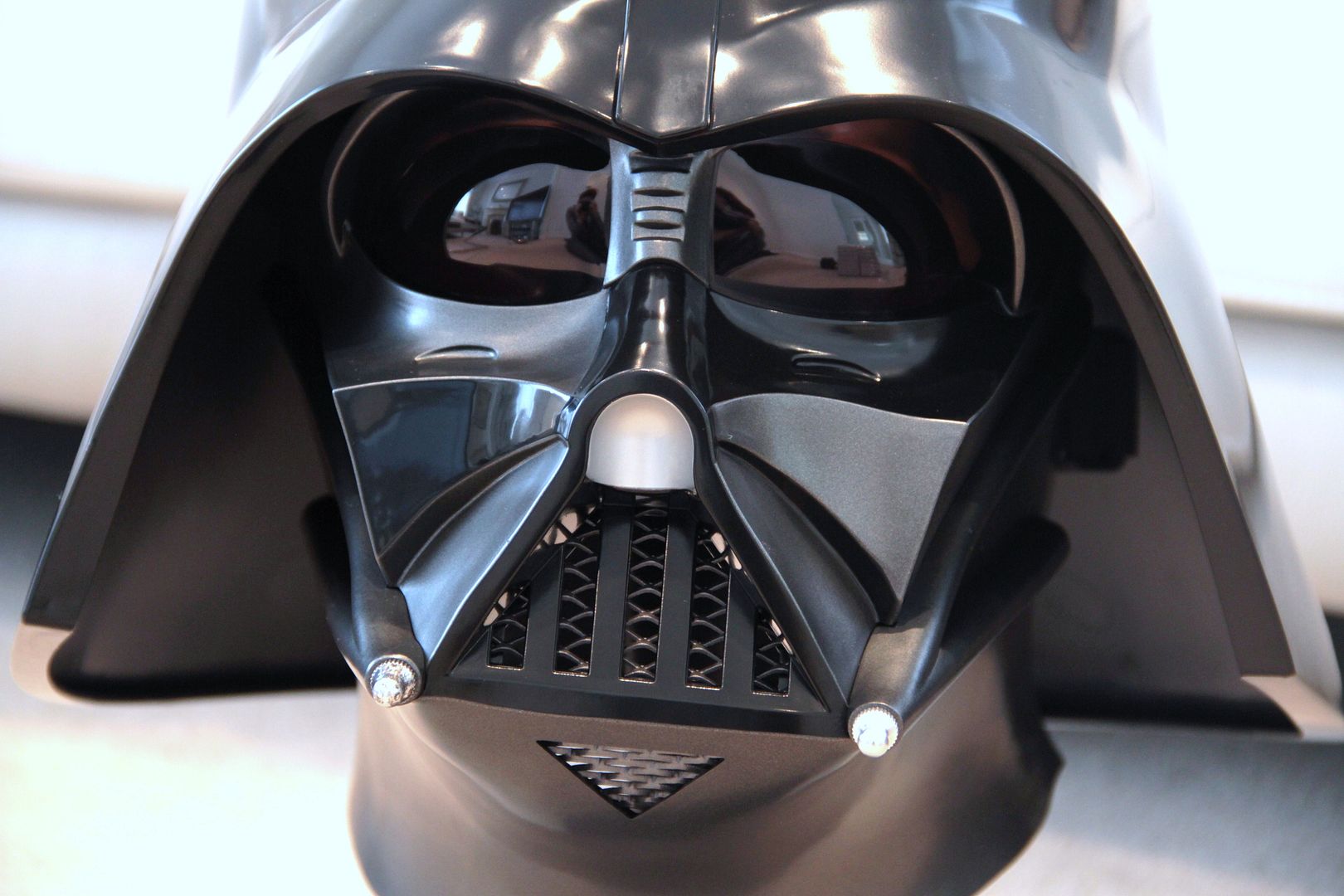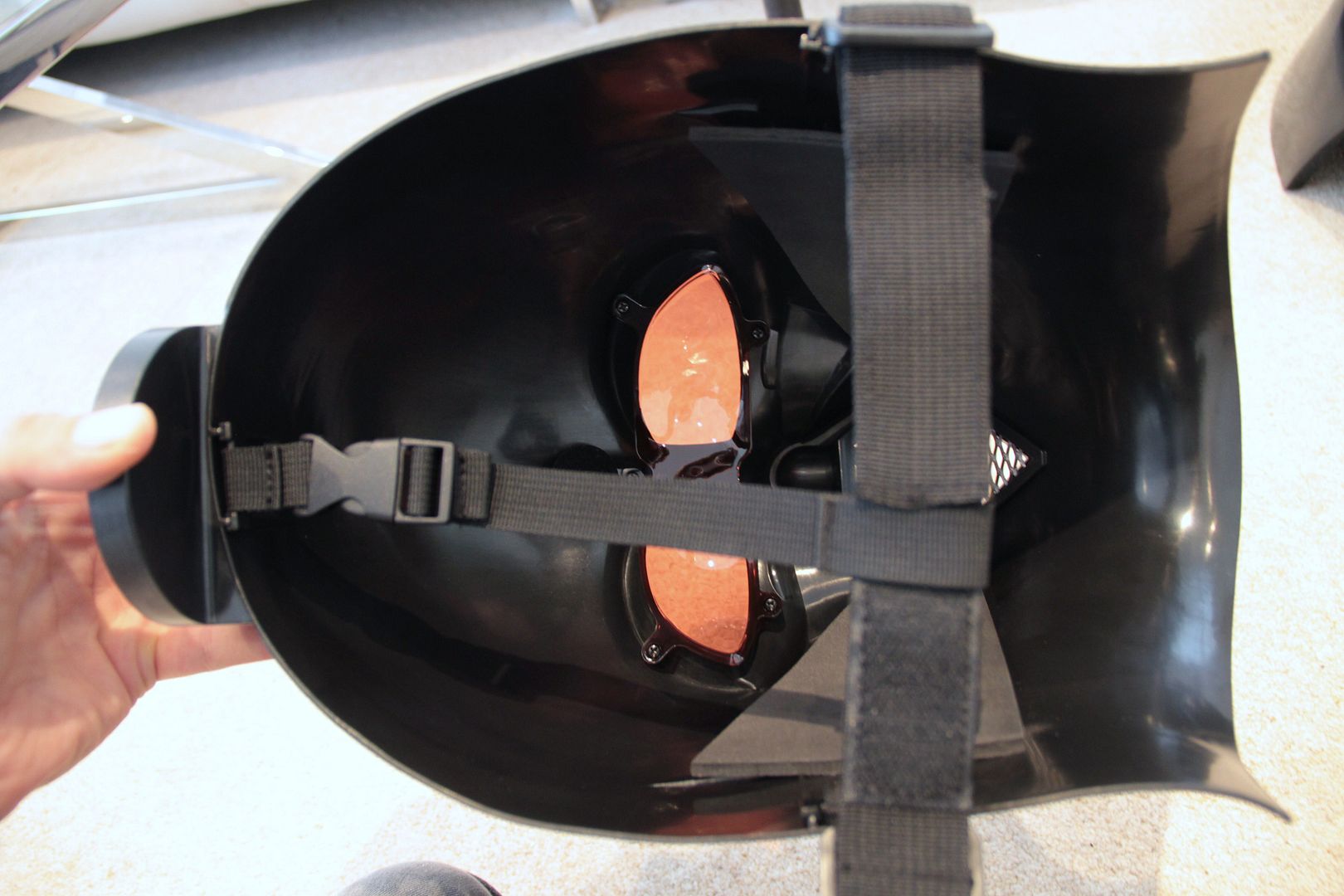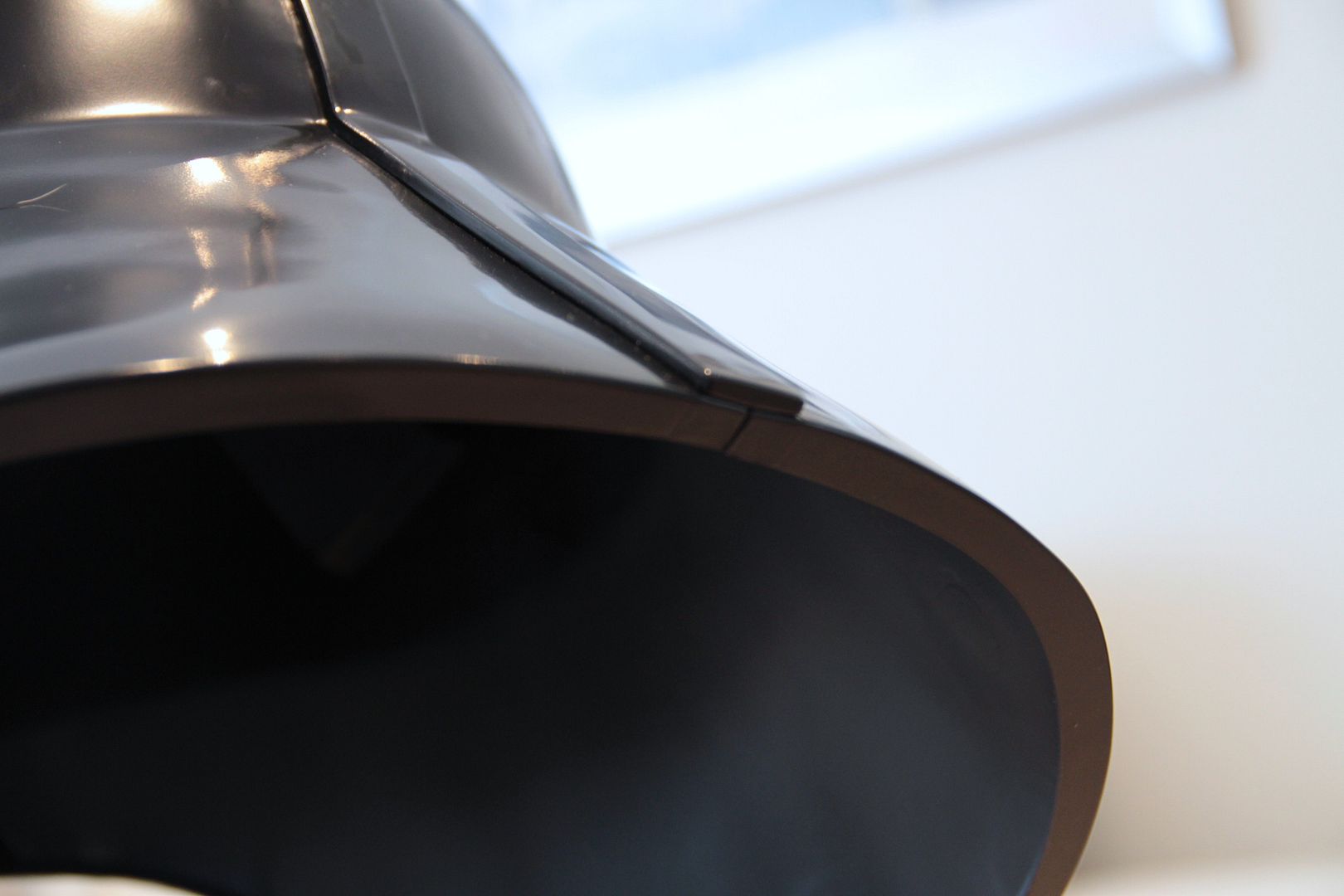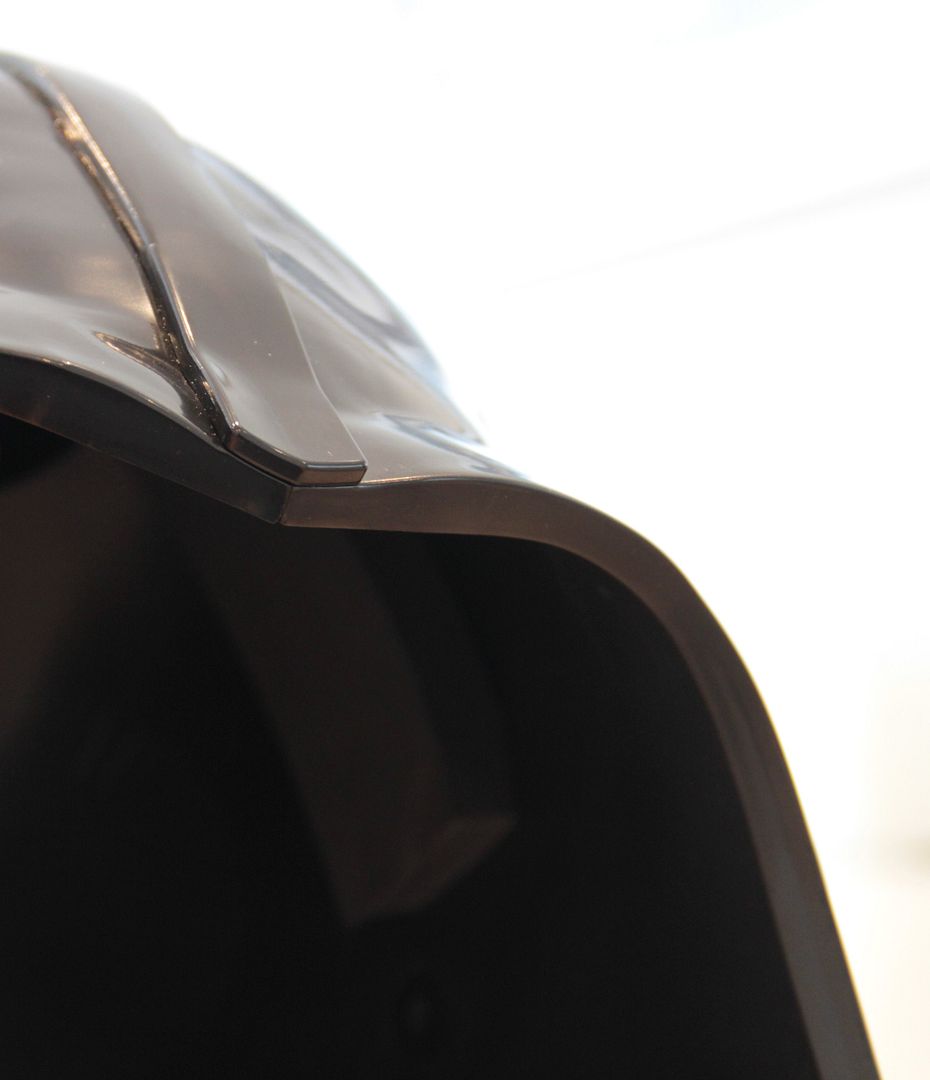 Movie accuracy **1/2
I covered this in depth with the original EFX fibreglass review but this differs.
Okay the dome retains a good enough shape, not 100% like the fibreglass version and the flanges are not perfect in shape, the edges, too thick. The dome is hindered on the centre strip in particular from the underneath of the start of the strip and at the end. The surface details are pretty non existent too. Yes, it could be worse as some imperfections attributed to the dome shape are present as they should be but again it's very heavily cleaned up. The finish is nice and glossy but that's of little mention as Vader's dome is battered in ANH and dulling spray used for the most part in conjunction with the gloss look.
As for the face. It's undersized as is the dome, as mentioned, but together they kind of work. The tusk tubes are without a doubt the biggest flaw here. I have never known a company boasting of accuracy but designed such deformed tusk tubes on the side where the cheeks meet. The shape is unusual to say the least. I understand a trade off with the process of making these may of needed to be done, but still.
The nose notches are altered and cleaned and while they've kept the wonky joining mouth triangle on Vader's right hand side it's all so clean, why were the teeth altered and all the detail taken out? Why did they clean the nose up to such a degree? An unusual shape on the left side of the neck too. Even the tear ducts are inaccurate. Hmm, I really would of altered some of the wording on this item if I was EFX .
The tusks are okay, as are the lenses. Even the paint application is okay. I mean it's not ANH Vader as we know it, but lets pretend he went in for a full scale repaint and polish a few times over.
The basic shape once again is fine for the EFX fibreglass/Baker molds it's meant to be copied from but certainly not perfect. I'm going to be vague here as it's a struggle to get into the movie accuracy without feeling a weight of disappointment other than saying words like from a distance, pretty, or basic shape is intact for the most part in line with the previous EFX fibreglass.
Value ***1/2
I bought this for £399 on eBay. I would imagine the value to the casual fan, especially that this can be worn with some comfort, would be fairly reasonable. It's not cheap and those that are using this as a wearable mask should take some caution as the construction is not immensely solid for durability.
I paid over the odds on eBay and the original £299 or ($299) is obviously better value, so that's what I will judge it on.
As we can see the fibreglass versions for both the legend and limited have gone through the roof so in comparison you are not looking at the £599 I paid for the LE EFX 3 years ago, it's more like £899 plus on eBay, which makes the value difference between the PCR and LE a massive increase and higher again for the Legend version.
In my case, only £200 difference from what I paid between this and the EFX LE fibreglass.
Display Status ****
No display bases or stands, but make no mistake a casual fan, looking, not handling, will think this is a very good ANH Vader in a display room. It's pretty apart from the tusk joins, and in fairness there is no mistaking it's a good Vader helmet from Star Wars. Admire from a distance though as once your buddies handle this it will give the game away if they don't know anything about Vader, as the first question will be the plastic construction and lightness pertaining to a cheap replica. It's very light compared to the fibreglass version.
Overall Summary ***
I had my reservations about the EFX fibreglass versions when they first came out as they were inferior next to a couple of authentic castings circulating in the prop community. However, I was pleased to give it 4 stars because as a mass produced product available to the public, they did a good job. That was a high end display product, not perfect but as mentioned, deserved.
Now, if this PCR EFX had been bought for between £200-250 I'd be happier. I would still have the same issues even if it was £50 through and I'll tell you why.
EFX has worded this item in such a misleading way you would assume it's a direct copy made of the fibreglass version just in molded injection ABS (or lets just call it plastic).
The only trade off should be, no display base, and obviously a weighty fibreglass version replaced, by a cheaper material. That's it! That's ALL they had to do and it's another 4 star slam dunk, simple. Copy the thing they say they did.
That is what the public should be buying because it's okay for me, I have cast off screen products but as a collector, buying this to do a review I feel pretty damn sorry for the collector or fan who buys into the notion it's an highly accurate Rick Baker mold helmet as more or less described on the box. Not only is it very cheap in person when handling it, It's immensely inferior compared to the fibreglass version.
Seriously, can you imagine some fan being at a convention with this helmet, beaming with joy and someone else has a DP deluxe and tells them they have more accurate tusk tubes, teeth, nose and details which aren't even supposed to compare with this A new hope version? This is not accurate. It's actually embarrassing other than using this just like a prop from a distance and that's where it does very well. Don't get me wrong this does follow a degree of lineage and accuracy when compared to official products but it doesn't subtract from what is mentioned.
That said, Many people like shiny new things. They forget Vader was beaten up looking in A new hope and this is a nice looking helmet. It takes some nice pictures and some casual observers may even prefer the look of this idealized new look than the beaten Vader we have come to love. It, in it's own right should be the second most accurate ANH Vader helmet out there though for an official product so what went wrong?
Whatever the reasons, whatever the excuses, whatever the price, I applaud EFX for getting decent Vader helmets out there but even if this was dirt cheap I would still question the decision of some of the joins on this product and the major clean up, in turn sacrificing accuracy.
It's a bit like buying a cheaper replica/print of the Mona Lisa in watercolour, instead of oil, you accept that, but then to find up close she's actually smiling more and all the brush strokes and detail have been removed but you've been told it's an exact replica apart from the materials used.
I've simply never encountered a product with such unusual things going on before. Disappointed, baffled and while I respect the decision to make such an item in ABS, ultimately, it's not the paint or the flimsy materials used or the brand new look, it's the failure to respect the community of prop collectors and fans alike.
Change the wording to suit the product, lower the price and in future, any difficulties that arise in the production process, do not take short cuts like these.
The final verdict is 3 stars, as it's going to sell and as mentioned this helmet looks nice and has an easy ability to look good from distance or in photos as an overall idealized piece and I certainly don't dislike it, it looks like Vader from A new hope. It just falls short of expectation. It may even make for a good long term project for those skilled enough, to re-engineer some degree of accuracy back into it. It will always be hindered but it can be improved upon as the basics, for the most part, are present.
Would I recommend it though? If the choice is £299 (PCR) next to £899 plus (LE fibreglass) and you're not too fussed about movie accuracy with lots of blemishes cleaned up and the flaws I mentioned than yes. It's a nice ANH Vader, it's easier to wear, a nice display piece, and it still has a lineage too despite the flaws and entry into Vader props may make you think a three and a half star review may be more valid. However, while it's a nice addition in any collection the more fussy purists may want to pass this up and save the extra for the fibreglass version.