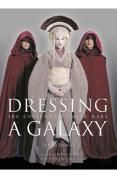 Review:
The focus of this book is on the costumes for Star Wars Episode I, II and III. The amazing variety of costumes were designed by Trisha Biggar, the costume designer for the Star Wars prequel trilogy. There are more than 300 photos included. The book is sought after and has hence risen in price by an average of £20 for the standard issue. The layout is excellent, visually this is a masterpiece in photography and the layout is worthy of the cronicles gold standard. For PT fans this is definately one to own.
Verdict:
This book is now quite expensive. I purchased mine for £40 in Forbidden Planet in 2005 but can now be currently found on amazon or play.com in the £65 region. If your an original Trilogy fan you would no doubt appreciate the excellent costume references from the Prequels but it is a tad expensive. Worth every penny if you want to recreate a costume from the PT or just have a well put together book, this is one to own along with the Cronicle Prequels.
Rating: 4.5 out of 5 -
Highly Recommended
Brief Description:
The full visual panoply of Star Wars regalia is on display - everything from military gear to royal robes to Jedi and Sith costumes are shown from pre-production sketches to artist's renderings to the final filmed version. Actors, including Natalie Portman and Samuel L. Jackson, provide commentary on their experiences during filming, while stunning photographs present the costumes in intimate detail.
About the Author
Trisha Biggar is a renowned costume designer for the theatre and film. George Lucas is the creator of the phenomenally successful Star Wars saga and Indiana Jones series. He has been writing and directing for over twenty-five years and has won a Golden Globe, the New York Film Critics' and National Society of Film Critics' awards, and has received numerous Academy Award nominations. Rick McCallum produced the widely popular Star Wars Trilogy Special Edition (DVD), in addition to producing the newest Star Wars movie trilogy, released in 1999.
Author Trisha Biggar
Publisher Harry N. Abrams, Inc. (United States)
Price:
Year 2005
ISBN 9780810965676
Format Hardback - 236 Pages
Illustrations 300 colour illustrations, / 0 illustrations, / tt300, photos cl / b&w / tt