Check this out.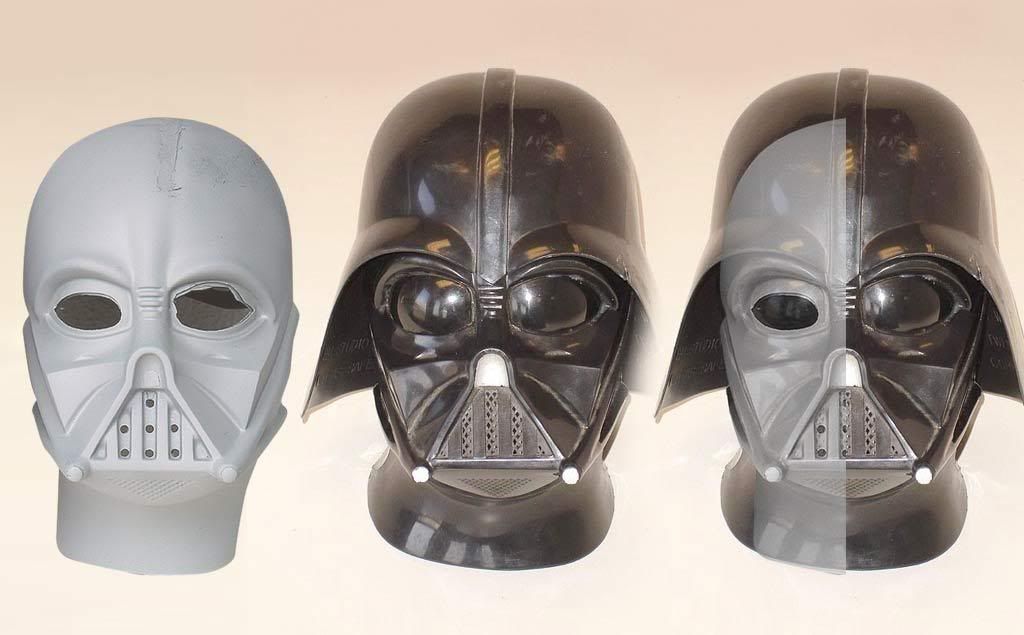 A friend of mine contacted Rubie's today and this is what he learned.
Quote:
Mac-a-roni,

I believe I spoke with the owner to confirm the relationship between Rubie's and Don Post. The only mention of Don Post Studio's aquisition I could find was by a company called CSS, according to an online SEC filing.

In that same filing, they listed Rubie's as a competitor!

I believe I spoke with the owner. He related that even though Don Post Studios worked with an actual Lucasfilm mold, that the mold was still Lucasfilm's property. The person from Rubie's stated that the Rubie's Fiberglass Limited Edition Vader was based on the same mold.

There are many molds, of course, so when I asked him to clarify, he was of the belief that the same mold loaned to Don Post Studios was the same mold loaned to Rubie's, hence the similarities.

I told him I noticed a similarity betwen the Don Post Classic and the Rubie's 2-part costume. He was interested in seeing the similarities himself, so I'll forward your Photoshop pic to him for him to decide.

Could be interesting.
So there you have it. Rubie's didn't buy out Don Post Studios. That was CSS, Inc. Rubie's did continue using that same LFL mold that was loaned to DP Studios.
Anyways, as you can read, I send the same Photoshoped comparison image to my friend. While the LFL mold loan explains the similarities between the DP DLX and the Rube's FG LE, it doesn't explain this above image.