Perspective Distortion
Perspective distortion (PD), according to Wikipedia, is "the appearance of a part of the subject as abnormally large, relative to the rest of the scene, or an apparent lack of distance between objects in the foreground and those behind them." The closer you are to a helmet, its face looks large but the silhouette of the head will look smaller in proportion. Close up, the lens sees less of the sides of the helmet. But if you were to step back to 20 feet and zoom in tight, you'd see a totally different picture. Note production footage of Star Wars and the distance between Vader and the camera at certain scenes of the movies.
Six feet is a good distance that reduces PD. Most cameras with even minimal zoom can handle this. (If you only have a camera phone, then sorry, please consider investing in a nicer camera!)
When it comes to our hobby, accuracy is important to many of us, and thus we will do a lot of photo analysis. The following are of the same helmet in the same room, photographed at different distances:
For a larger image of the above, click here:
http://i18.photobucket.com/albums/b138/ ... comp_1.jpg
With a line-up like the one shown above, you can develop an eye for photographic distance. Then you can examine a photo like this:
…. and say, "Hey, the one on right looks like it was photographed about 3 or 4 feet. This isn't an apples-to-apples comparison" and have the person stand back and re-photograph the helmet at 6 feet to produce some better results. Ironically, these are the same brand of helmet, taken at two different distances and two different angles.
One has to be responsible to take photographic distance is not taken into consideration, as perspective distortion can skew or even bias a comparison.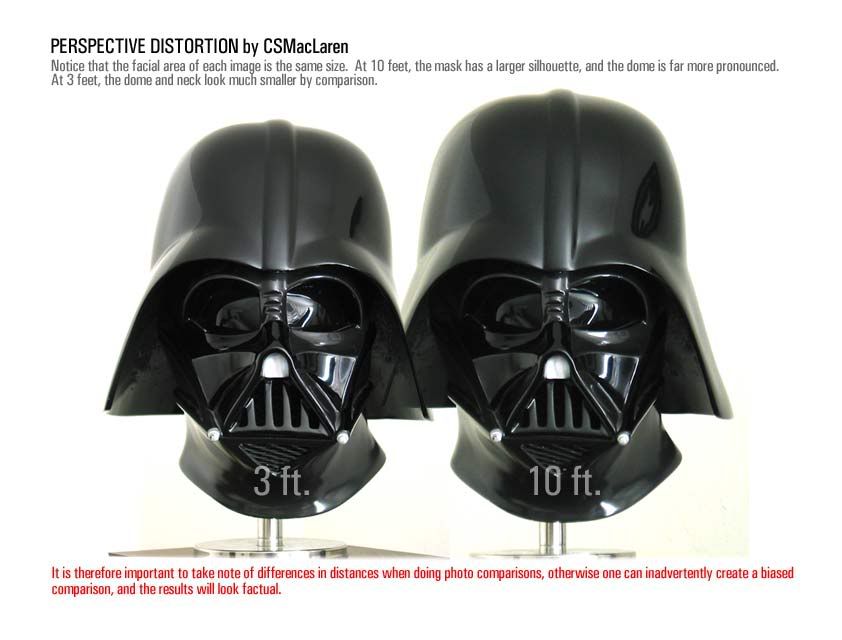 Most often, when comps are done, the one doing the analysis will try to line up the face of pictures "A" and "B". One therefore cannot assume that because the face lines up that all else must be accurately representative of the shape of the helmet regardless of perspective distortion.
The following illustrates the size and proportions difference created by PD.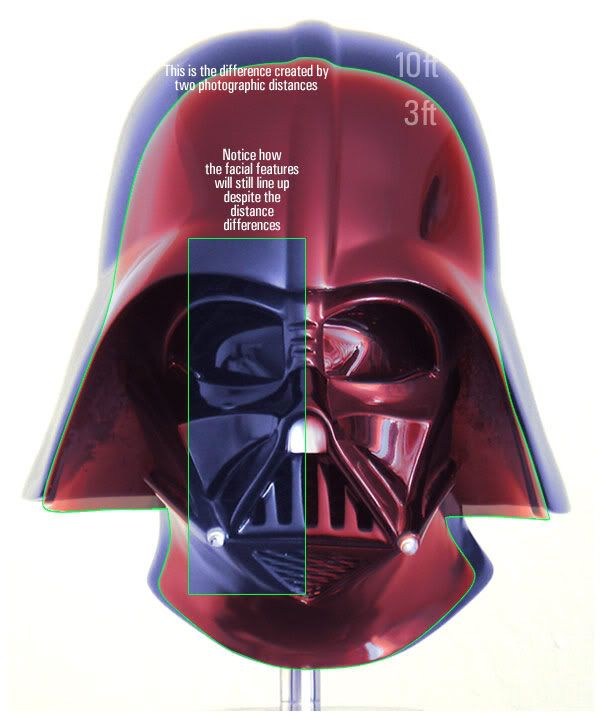 Thus you can see the face matches up in size quite well, but the dome, the mask silhouette, and the neck completely fail to match. As you can see, the size differences, if used inappropriately, can be misleading, and therefore we as a community have a responsibility to recognize the shortcomings of each comp (on a case-by-case basis) when judging whether or not the pictures give an accurate story.