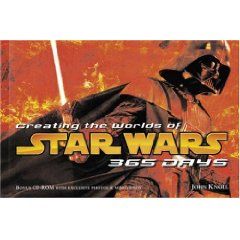 Review:
This is a unique little book that stands alone on a vast bookshelf, mainly due to it's odd design and landscape format, going for width instead of height. The book shows many of the behind the scene sets which has been barely featured in publications throughout in such a well established and organised way. Knoll's book therefore while being a bit on the small side really is a benefit to own for any book buff with 2 added DVD's included. It's a rare insight and beautifully photographed my only snag is I would've liked the images to be bigger.
Verdict:
Sometimes Star Wars books become repetitive and often dull. On occasion you can be lucky to get 2 good releases a year at times but this is a new and interesting take that Knoll had in mind to introduce a book on the behind the scene sets along with some good tidbits in the text at times. Definately worth owning.
Rating: 4.5 out of 5 -
Highly Recommended
Price: £12-20 Amazon, Play.com, Ebay
Brief Description:
Star Wars 365 is Knoll's comprehensive survey of the visual world created by the six Star Wars films. It ranges from grand vistas produced in spectacular matte paintings to close-up views of instrument panels. It shows us Lucas and his crews creating their universe on location and in the studio, in pages dense with imagery and information, documenting a remarkable sustained creative effort by hundreds of devoted filmmakers and craftsmen. Many of the images in the book relating to Episodes I-III were made by Knoll himself during production. Others come from the voluminous Lucasfilm and ILM archives.
About the Author
John Knoll is visual effects supervisor at Industrial Light & Magic, three-time Academy Award nominee, and a creator of Adobe Photoshop.
John Knoll (Author)Hardcover: 744 pages
Publisher: Harry N. Abrams, Inc.; De Luxe edition edition (7 Oct 2005)
Language English