Article: "Bit by Bit: Dremel Tool Bits Useful for Prop Helmets"
Written by CSMacLaren for The Prop Den
Here is an introduction to various Dremel bits that I have found useful in my working on various Vader helmets. Each helmet has had similar and yet different challenges, calling for different bits. The Dremel is an American favorite; it's a variable speed rotatory tool (up to 35,000 RPM). I'm not a pro; I'm a starting-out hobbyist, so this reflects my discovery and is not a statement of professional authority.
This primer will focus more on the different shapes. I do not have specific product ID numbers at the time of this writing. Many of these are easy to spot. I primarily shop at Home Depot, but I've seen Dremel bits at OSH and other hardware stores.
There may also be third party manufacturers who make bits for the Dremel.
There are so many different and wonderful Dremel bits that one can feel like a kid in a candy factory. There are different categories of bits. Some are for engraving, some for cutting, grinding, sharpening, cleaning, polishing, routing, etc. Find out what works for you. The following are bits that have helped me tremendously. However, your mileage may vary based on whatever kit you had. If you want to get a sense of the challenges I've faced, please feel free to peruse any of my Work in Progress threads.
Please feel free to link to this article if you feel it will be helpful to others on other forums.
Mac's favorite 1 of 3: 1-1/4" Cut Off Wheel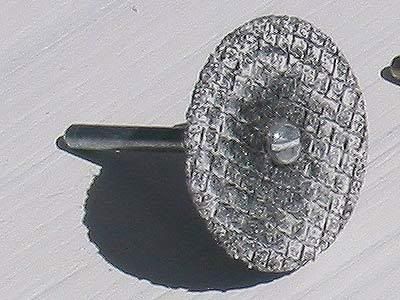 This cutting wheel has been indispensible in my arsenal of Dremel tools, and one of my absolute favorites, so I thought I'd start off with this one. A lot of Vader and Fett kits have the eyeslots filled in, and you have to cut out the eye areas. Because it is reinforced, it will cut through fiberglass and hardened resin quite easily, and it has a great deal of wear-resistance. When cutting out Vader's syes or Fett's "T" slot, I use it to cut out an approximate shape and then I'll use other tools to attack corners and difficult to access areas.
Sometimes I will use this for trimming fiberglass (FG). So if something was cast such that there is fiberglass mat overlapping the boundaries or edges of a helmet, I can saw them off easily.
I also use this to do some sanding of edges, e.g. facemask openings. I'm not sure that's what the disc was made for, but it seemed to withstand such use.
I believe it's called "Dremel Reinforced Cut-Off Wheel #426". It's dark brown. Some say it's reinforced with carbon fiber or with fiberglass. It has a very hard abrasive.
This is one of my Top 3.
Mac's favorite 2 of 3: Rotary Bit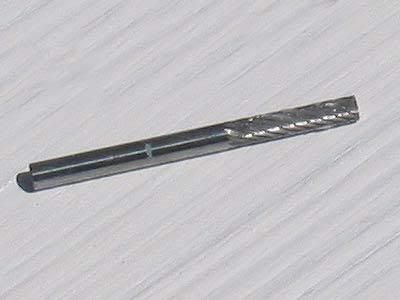 This one is another of my Top 3.
Because the cutting part is part of the metal itself, it is very wear-resistant and will give you good mileage. I use this to attack smaller areas such as Vader's mouth slots, or the narrow parts of Fett's "T" visor where the aforementioned cutting disc cannot reach. You have to have a steady hand, as with any Dremel bit, and I use this to clear out an approximate shape of each of Vader's five mouth slots. I'll then use filework or a finer Dremel bit for more detailed work.
Now these will vary in shape and width. Get what works for you. You have to figure out where you want your material removal with a Dremel tool to end and where handwork with files will begin. You may feel fomrotable with a narrower bit than what I've used.
There are some where the cutting part is not quite streamline with the shaft. The shaft starts to narrow to a point and then flares out to form a cylindrical cutting bit -- I don't recommend those for our kinds of projects. The one I have here is a "Rotary Bit Carbide Bur 1/8" shank #2197" and the cutting end is streamline with the shaft. The length of the cutting area is helpful if you need to go deep, as sometimes you may have a lot of resin to go through, and a short cutting area would be inadequate.
Mac's favorite 3 of 3: Ball.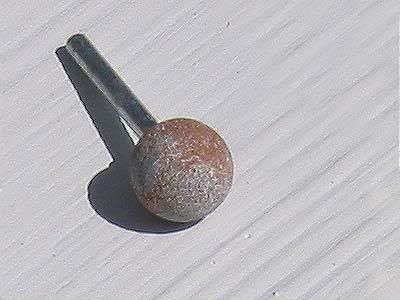 This stone ball is great for -- guess where? Vader's nose! Now there are other rotary stone burrs that will do the job. Some are kind of bullet shaped. Some are upside-down "U" shaped. Some are mushroom shape.
My mounted stone burr ball happens to be about half an inch wide. The inside of Vader's nose is wider -- I can fit my thumb in there and there's still some room left. It's very handy shaping this area.
Now you may happen to have a kit that is very well-cast and you don't need this at all. In the case of the Rubie's Supreme Darth Vader plastic helmet, I have had to widen and reshape the nose. This became invaluable towards those efforts.
Cylinders - Sanding Bands and Grinding Stones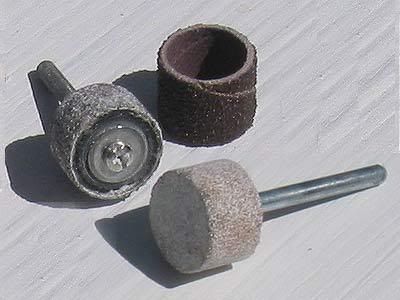 Here are two kinds that I'm condensing into a single category.
The upper is a Sanding Band system. It uses a replacable outer jacket or band coated with abrasives. The lower right is basically a grinding stone of similar shape.
Each has its pros and cons.
When using stone against something like plastic (e.g. the Rubie's Supreme Vader) the heat build up tends to gunk up tools and becomes a pain. Your stone wheel will gunk up into a black plastic ball. You may need to use wire cutters or something to cut off the gunk, but sometimes the gunk is too strong and your bit is essentially ruined).
The sanding band has somewhat better heat dissipation, which may make it better for plastics. If you gunk up a band, all you have to do is replace it.
The stone, however, allows you to do some sanding on its circular face -- something a sanding band bit won't do because there is an attachment screw and there is no sanding surface on that face. In fact, there is no face!
In situations where I've had to clean up the cottage-cheese with short FG fibers interiors of some Golden Armor kits, I've used the circular face to attack those areas.
I'll sometimes use this stone on Vader's eyes and even on the middle part of Fett's "T" visor. But I'm an avid fan of Nicholson files. If you're starting out, you might be overzealous and grind off more than you intended, so experience will teach you when to lay off the Dremels and when to move to manual labor with files.