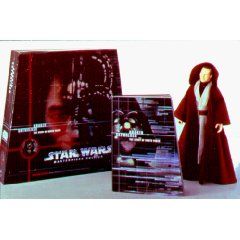 Note: The Prop Den review is based on one person's opinion which can vary. The review is independent as a fan and avid collector.
Review
This was written in 1998 so this book is without a lot of PT meaning and it just hints that Lucas's new vision is in production. The book starts of with the creation of Vader from RM to John Mollo's words later re-used in the making of Star Warsand Ben Burtt's input along with various others, it then covers the people that attributed to Vader such as the actors etc. Once again no mention of Brian Muir which must be a point of frustration. The book builds nicely and then goes into ANH,ESB and ROTJ and the authors go through the motions on screen with the story so it bulks the book out. After that it's on to Vader collectibles and once again Sansweet does his homework. It may be a little dated now but there is something nice about this book, focusing on Vader before the Prequels put a different spin on things.
Verdict
Image reference is actually very poor. Small photos have been used and while the book has a unique shape and of decent size it's neither a big hard back or of paper back porportions. At the time of print overall this is a nice book that covers Vader fairly well in terms of concept/ creation, actors, storyline and merchandise but it just fails to pack a final punch due to it's poor photo sizes contained in the book.
Rating: 4 out of 5 - Recommended
Price:£37-65, Amazon, ebay
by Stephen J. Swansweet (Author), Josh Ling (Author), Daniel Wallace (Author)
Hardcover , approx 96 pages
Publisher: Chronicle Books; Har/Toy edition (15 Nov 1998)
Language English