May 4, 2009 update:

I thought this might help. As fiberglass dust is very harmful to the lungs, any level of protection you can get is an investment towards your health. A while back I invested in a sandblasting box, and love it tremendously. They're not hard to find.

Here's an affordable brand I bought off ebay.

http://www.completehydraulic.com/sandbl ... inets.html
* * * *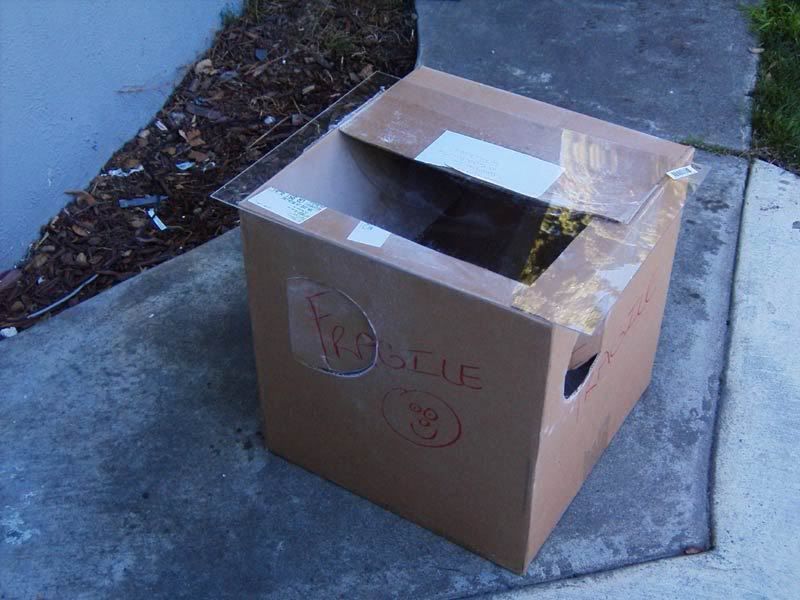 After doing a lot of sanding, filing and grinding on fiberglass kits and having dust all over me, in my clothes, irritating my skin, causing me to sneeze, and being just downright miserable, it suddenly dawned on me that in biology labs where they deal with contageous diseases they have these boxes where they can look into the inside, and the way they interact with the internal environment was these two holes of oversized rubber gloves.
Well, I did the low-tech version. Here's a cardboard box with some plexiglass on the top. This has done WONDERS for me.
In the sides you see two holes. Not shown are rubber sheeting "curtains".
Also, when dealing with FG, I wear latex gloves, and then I also wrap my forearms in industrial sarawrap.
When I grind or file, there is no way little chunks can get in my eyes now. They just bounce off the plexiglass.
You still have to wear a respirator or a breathing mask. But the box contains a great deal of mess.