Well, in order to cover the back of the neck, the dome needs to merely be angled downwards. But the mask needs to also be recessed. So what I did was heat the receiver, and then I push it backwards and inwards into the helmet. Then, holding it place, I cooled it with water.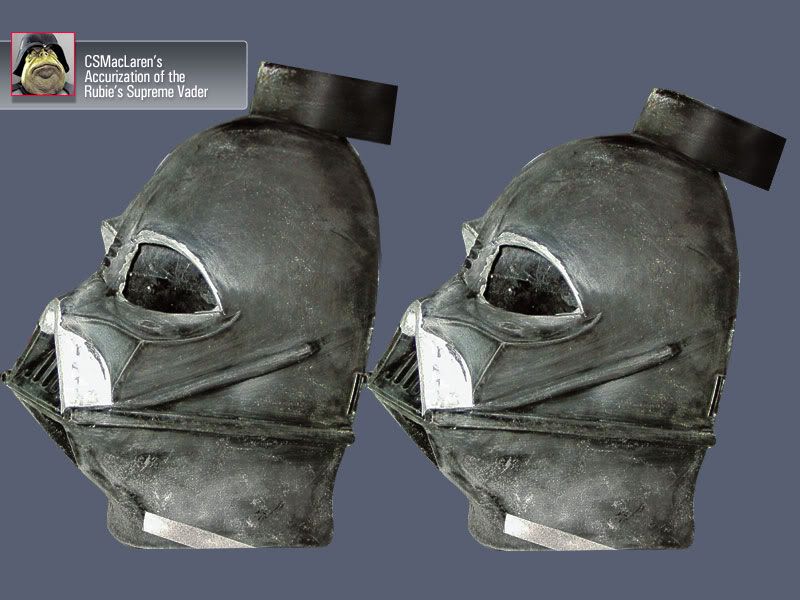 In this photo, the left and right are the before and after pictures. Note that the receiver is not only angled backwards but it's been pushed inwards. This will alter the shape of the skull, but what the hey, it's going to be under the helmet. It's not like it was perfect anyway!
Some people try to add an extra inch or two to the flange of their helmets, basically transforming Vader's flange into Mary Poppin's skits.
Now, on some helmets, you really do have to lengthen the flange, such as the Don Post Classic Action.
On others, if you lengthen it, you run the risk of altering the proportions. In trying to cover the back of the neck in the name of being screen accurate, a flange that is too long is disproportionate to the domecap and thus looks inaccurate.
The problem with cutting the plastic of the dome is that you have to somehow weld the plastic. There are a variety of expoxy products that can stick to and look seamless with the plastic, but if they are more stiff than the plastic itself, if the plastic is flexed, it will strain against the stiff expoxy products and crack at the weld. That sucks.
The BEST thing to do is to not cut up the plastic in the first place but to alter the general shape.
I like the dome positioning as it is right now. I'm glad it worked out.