JediJeffrey,
I thought I'd share some new photos to show what level of work I actually do, in light the recent posts and exchanges on the topic of recasting.
This is my scratchbuilt ROTS sculpt. None of this is illicit, direct duplication of anyone's work or product. This mask is 100% made out of 2-part clay. Whereas recasting may take a day, this has been a process of the last 7 years.
Earlier stage: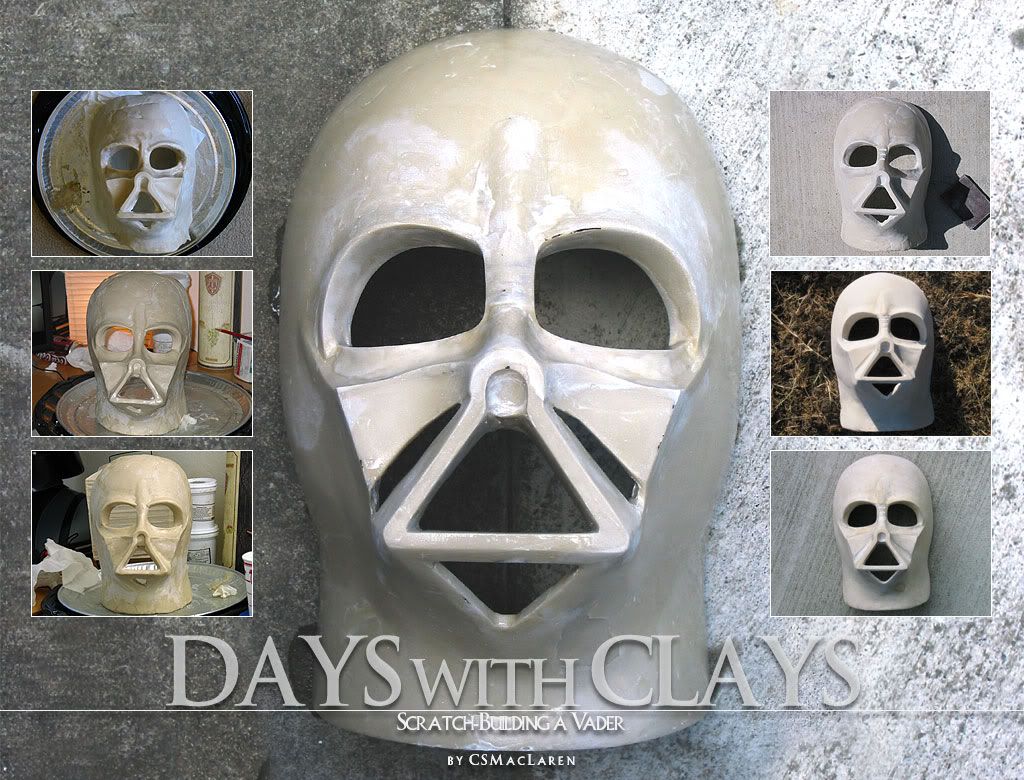 Today:
I started with a taxidermy clay (yellower to approximate bone in appearance and in hardness) but eventually abandoned it for something far easier to sand (white). None of this is fiberglass or polyurethane. I eventually resculpted my original taxidermy work with the new white material but some of the old clay still shows in a few remaining areas. I occasionally paint the sculpt black to examine surface continuity, hence the black streaks.
Another clay sculpt I've done that you had expressed concern for in the past is my "ClayNH". This is another charity project that I'm sculpting for yet another SW fan on this forum called DarthVaderNut72 but it's been so long and I'm a bit ashamed with my lack of progress, but I hope to circle back to it.
Earlier shots you saw: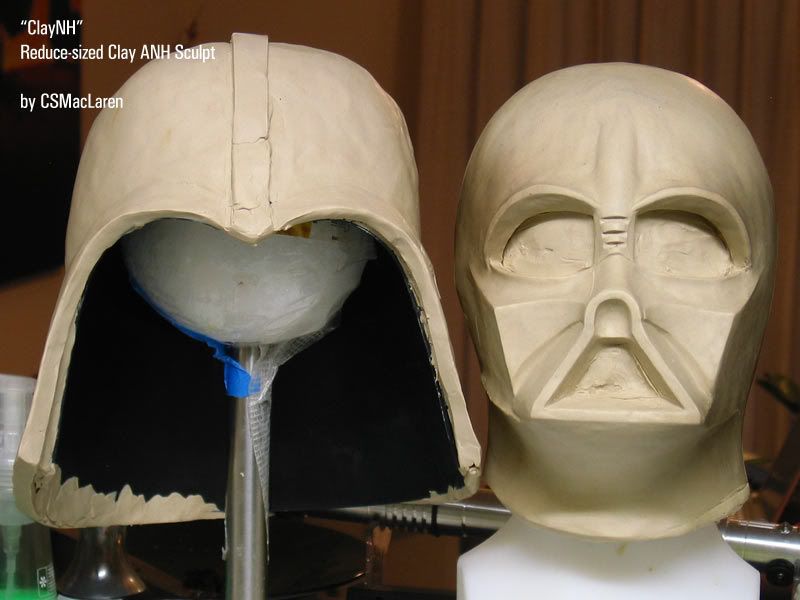 First, the mask may have been sculpted on a small mannequin head, but this does not constitute recasting. When sculpting something for actors to wear, unless extremely oversized like a raptor or werewolf, the Hollywood special effects industry uses a foam bust of a male or female as a size reference before they commit clay, as sculpting out of a massive solid clay block is incredibly heavy and costly.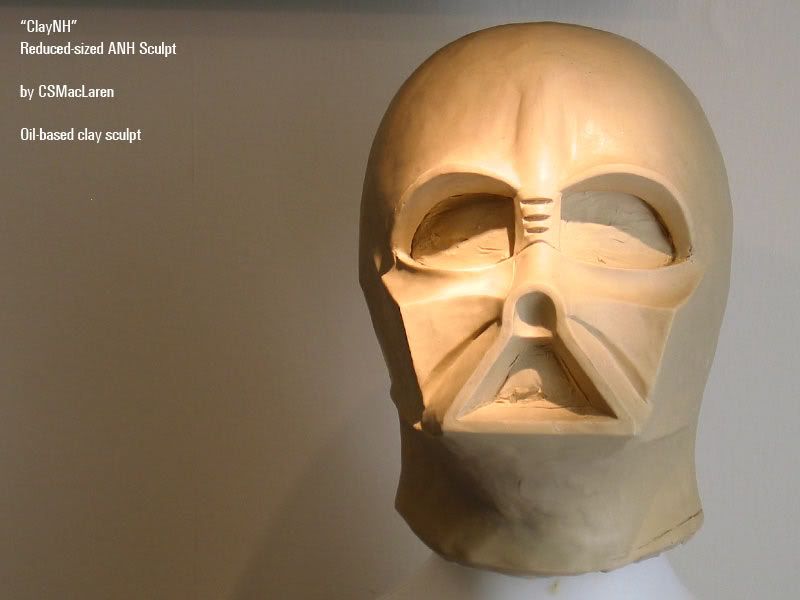 The "ClayNH" here uses none of the underlying surfaces of the mannequin.
Lastly, the dome is a new sculpt. I used a Hasbro Voice Changer as my armature but as you can see in the following photos, there is up to 1"-1.25" of clay over it.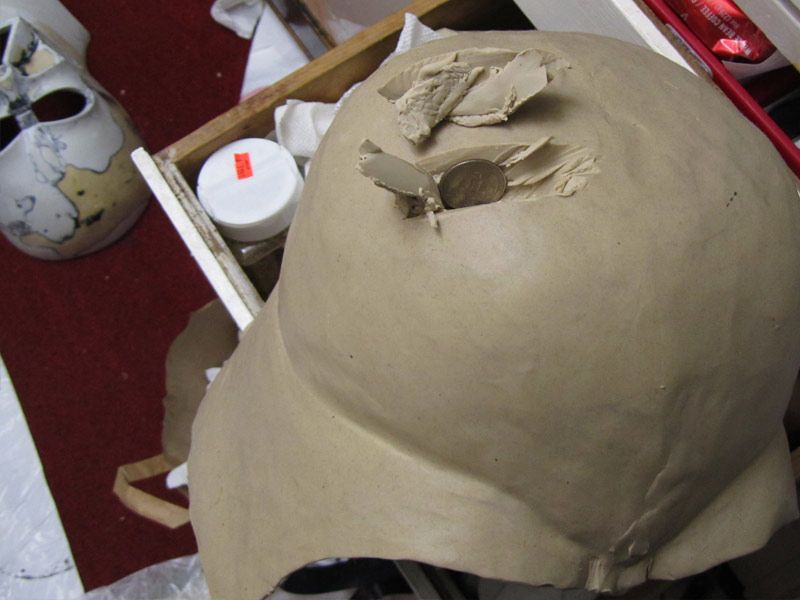 Using a quarter as a size reference to show how much clay there is packed over the original dome: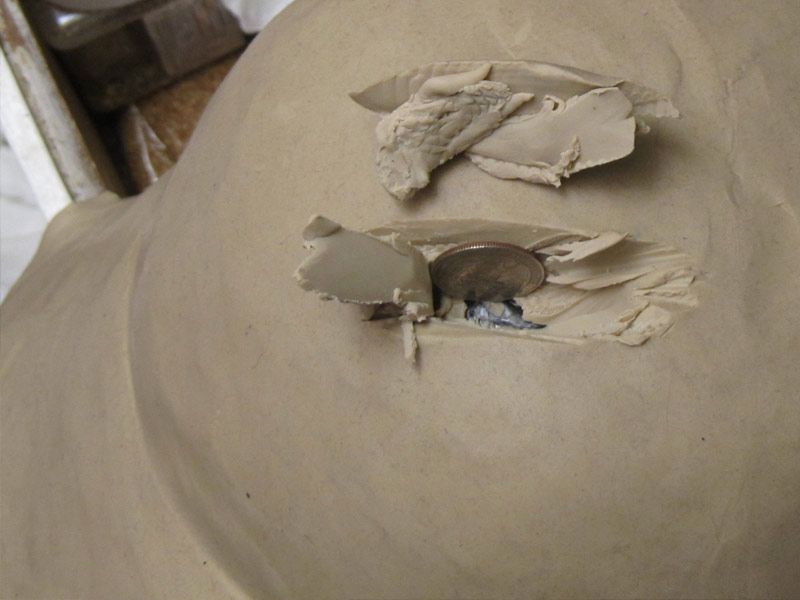 In this case, this is not a modification. I'm not using any of the original dome. In fact, at this stage, I could theoretically remove the original dome but the clay is so heavy the flange would distort, so it needs the plastic underneath to hold it up. And were this a solid block of clay, it would be expensive for me, not to mention quite heavy and unwieldly to work with.
Anyway, I hope we can find some agreement and peace on the topic as we are both fellow artists working on what we love.