Very close.
Because this is a vacuum formed helmet done over something that already had proper proportions, the JJ will throw off my measurements. Things like mouth wall thickness, etc. will cause the formula to not work, hence you will have to "eyeball".
Again, I am using a Don Post Deluxe for these. Simply because the Don Post Deluxe has a right jaw droop and right neck flare moreso than the originals has given it a stygma that I feel is unfair. The same people who adamantly poo-poo the DP DLX will cheer the CKing which happens to be an early number DP Deluxe.
So here is the regular formula: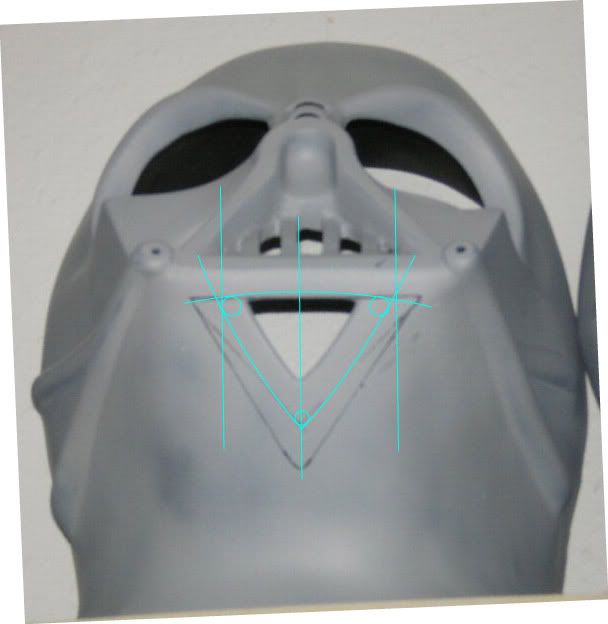 Vader has five vent holes in his mouth. Technically, the triangle is roughly equalateral, but not perfect. There is a buldge on the chin; the left (as you look at it) is somewhat more pronounced than on the right.
The rounded corners cause the triangle to end at the edges of the leftmost and rightmost vents. However, if you were to draw the lines to a fine sharp corner, the lines would have run into the inclined opening of the mouth.
However, this formula is thrown off due to the mouth thickness of the JJ, and the resulting triangle looks too small.
So here comes the "eyeballing".
Note that the left side of the triangle is more curved than the right.
The chin triangle is upside down, so the horizonal base of the triangle is also slightly curved. This gives the mouht a more angry look and the illusion the mouth triangle's base is curved upwards slightly -- this is a very cool effect that I like about the Don Post Deluxe.
Hope this helps.
By the way, if the chin started buldging out moreso than the the castings earlier in their series, the Don Post Deluxe's master may have had a flat chin... and if the lines were done
straight
then a chin buldge would cause these lines to curve.
So proceed at your own artistic discretion!