Thanks, Rich!
On the topic of photo analysis, there needs to be a clear understanding of what Photoshop as a tool can, and cannot do. In this hobby, we rush to conclusions too soon without cross referencing and eliminating false positives. We get excited when tiny features appear to line up, and we don't spend the time to disprove the possibility that the visual phenomenon we're observing is something else.
In the scientific process, you start off with a hypothesis. The hypothesis is not theory until experimentation consistently produces observable phenomenon, and controls are in place to where false positives are not actually providing misleading results. In this hobby, we rush too quickly from hypothesis to declaring "proof" or "evidence". The uninitiated need to understand that those who sound like authorities have to back up their research just like everyone else. We have not, at the time of this writing, fully emerged from the dark ages where internet personalities rose to the top by peddling out rare information that they never had to cite sources or back up themselves.
It's been a year since my last post in this thread, and the use of Photoshop has become popular to analyze the features of masks and helmets. Over the last few years, I've seen incorrect comparisons where, for example, Object "A" is shown to be larger than Object "B" - even though, in real life, "B" is actually the larger object. If Photoshop is not being used correctly to simply determine the lines and structure of a prop, how much worse are things potentially if used incorrectly to compare the minutiae of tiny and hairline details?
Photoshop has been used more and more to compare surface details and to draw conclusive proofs too quickly. I'm concerned that the uninitiated see fancy tools, graphics, outlines, red lines, etc. and take everything as gospel, not being aware of the limitations these tools suffer, and the problems they in turn can create.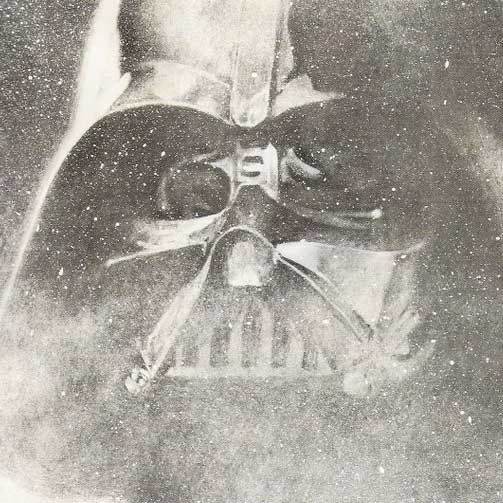 When dealing with an image, you have to understand how it was brought into a computer. Was it a scan off a photo? A magazine? A slide? Then, how large was the image? (Most web images are 72 dots per inch, which is why when you try to blow it up, the image looks fuzzy. You may have noticed that most small- and medium-sized images printed off the web tend not to print sharply. Print quality (as opposed to web quality) tends to be 300 dots per inch and higher.
Because of Photoshop's magnification capabilities, there is a tendency to use it to zoom in on details that are normally more difficult to make out. However, people need to be made aware of the false positives that can be introduced when importing an image into a computer, and then blowing that image up. There can be computer generated or dust-created "noise" that are introduced into an image. Video compression and the like can introduce artifacts that can be mistaken for photographic details or surface details that were never there.
If we are to use Photoshop to compare surface details, the pitch, roll and yaw orientation of the surfaces - as well as zoom, photographic distance, lighting direction, etc. - should best line up as much as possible. Then all the false positives have to be eliminated in order to substantiate a hypothesis based on the study of images.
False Positives Resulting from Being Imported into a Digital Medium
What is a false positive? In our case it's a visual phenomenon that seems to corroborate with our hypothesis and observations, but it's not 100% clear what it is, and there is a strong chance it is being incorrectly interpreted. One therefore has to eliminate the possibility that it's not on the prop but a visual phenomenon created by any of the following:
1.
Film grain
. Here, we're talking about the grain of period silver halide film when the photo was originally taken (many set photographers used ASA 1600 film to allow for faster shutter speeds to reduce motion blur. A lot of set photography does not use camera flash. The set can be dark, so the more sensitive ASA 1600 film makes up for it. And silver halide film today is less grainy than back in the day of Star Wars)
2.
Analog to digital conversion noise
. Each time you scan a photo, there is a possibility of noise and distortion that has to be digitally cleaned up. In the world of video, there are digital errors, signal degradation, bit errors and the like, and there are algorithms that allow for some degree of error reduction.
3.
Dust
. Whether someone is peering down a microscope or using a flatbed scanner to scan a photo, the optics of the scanner may pick up dust that the human eye an barely see. You often get all kinds of white dots and lines in a scanned photograph. Sometimes if a photo is particularly grainy, it may be hard to distinguish between white dots in the photographic paper versus white phenomenon created by dust on the glass of a scanner.
4.
Video compression
. Video compression is lossy, because they have to throw away digital information in order to compress a signal and make it viewable. That is why when you watch a HD broadcast, it may look great, but having a Blu-Ray that's been properly encoded will almost always look much better. The nature of digital compression however is that it creates "artifacts". When you watch a DVD or HD, you may notice a very subtle noise in the background to the actors, even if the actors aren't moving. With poorly compressed or encoded DVDs or HDs, the noise is very noticeable. If you hit "Pause" you may even start seeing squarish or rectangular formations that aren't particularly pleasing to the eye. But un-pause the video, and it goes by so quickly that hopefully you would not notice.
5.
Photoshop
. Yes, as much as we rely on this, it can also introduce false positives.
6.
Light reflection
. White dots on a photograph that are created by light reflections do not necessarily indicate the shape of the surface reflecting that light. Often a camera lens and film grain may respond differently to certain light intensities. If light is intense, you might get a blur or flare that may appear larger than the actual reflecting surface.
I don't want to over-complicate things here, but - no offense to anyone - I want to see people educated on false positives before quickly accepting that looks or sounds authoritative but that doesn't help the hobby in the long run.
Where Tools Alone Do Not Tell The Truth
Let's say someone sees a detail on his Vader mask and compares that detail with a picture of the original. He eventually finds an image like this: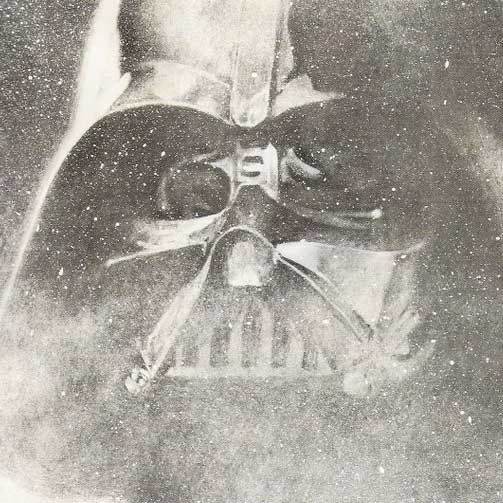 And he finds that a few dots line up.
As Carsten has indicated elsewhere, if you only focus on the dots that line up and disregard the dots that don't, you can't draw a quick conclusion that it's "Proof".
In fact, the above image was used once as proof. Here's the problem: the false positives were not eliminated.
1. Have we eliminated the possibility the white dots that line up are aspects of the prop and not the starfield itself?
2. Have we eliminated the possibility the white dots are not dust from a flatbed scanner? Best of yet:
3. Has it been ascertained that this was a photo to begin with and not an airbrushed and handpainted work of art based on a photo? (Recall, they didn't have Photoshop back then. This was likely not created by reducing Vader to 50% opacity and overlaying him among a starfield.)
The last time we debated over the above photograph, the answers were No, No, and NO. Therefore saying "The dots line up" and concluding "Proof" is premature.
Do we want to agree? Absolutely. After all, we all stand to gain from learning something new. But it must be done correctly.
Where Photoshop can let you down
Now here is where Photoshop can let you down.
Let's just pretend we're comparing the cheek of this painting. Again, the dots could be part of the painted starfield. We can't rush to a conclusion that the Vader is a faded photograph because, unless we can prove they created this image using transparent film overlays, the brushed and airbrushed quality of the image indicates art and not a photo.
Let's darken this and look at the cheek.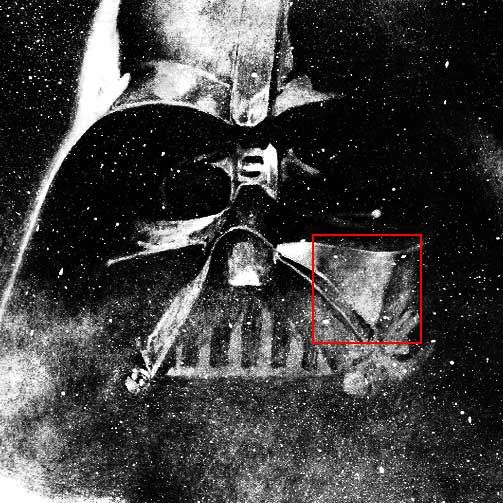 Is the starfield even a photograph? I'm leaning forwards airbrushed art, as I've seen a local street artist paint starfields with rattle cans and they look phenomenal.
Now notice this image has been darkened, but the starting image was also compressed to begin with, so the image quality is not there.
Everyone, please note: You are looking at a 72 dot per inch image. People have the misconception that if you take an image of this low resolution and blow it up, that you'll magnify into all kinds of cool details. You don't. You can't increase the amount of detail by increasing the image size. You only magnify only that which is there.
Now the person using Photoshop would be able to show you an image of the cheek looking like this.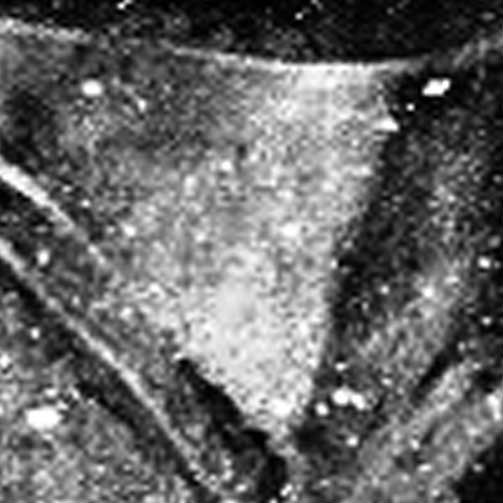 Again, there is NO WAY to distinguish between image noise, starfield "noise" and prop surface structure. Under these circumstances, Photoshop is of LITTLE VALUE.
It can be argued that certain white dots are indeed structures. Before that assessment is made and passed as "Proof" one must eliminate the possibility it's not a starfield, or noise, or dust, etc.
Here is something about Photoshop some people may not be aware of. In magnifying an area so small which in turn contains little graphical information, Photoshop will try to smoothe things out. If it hadn't, the above image would actually look like this: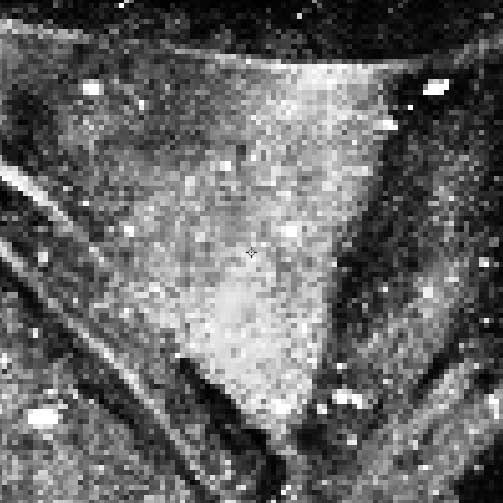 Now THAT is an image that is almost utterly USELESS to work with. A tool is only as good as you are aware of its strengths and weaknesses, and you account for that in your analysis.
See the difference between the above two images: Photoshop-processed versus blown-up in a raw state. When a low-res image is blown up by Photoshop,
Photoshop interprets the pixels and decides what to smooth out versus what to let through
. What it lets through can hardly be a slam-dunk indication of surface details. At best, you can do some line overlay comparisons.
Summary
When trying to prove something, you start with a hypothesis. But you have to also disprove things that suggest otherwise. It's harder to disprove something than to prove something because of the extra effort required to eliminate the false positives.
In the end, we cannot know for sure without evidence, so at best we can move from "hypothesis" to "theory". Otherwise, we create a prop culture where, year after year, people pass on suppositions as facts, and the uninitiated listen to authoritative sounding people and assume they are experts. People also need to be aware of the level of graphical information that exists - or does not exist - in images.
I think we need a little more humility when presenting a hypothesis. Politics are created when people get ahead of themselves to pronounce "I found the Holy Grail" and steps are skipped in the scientific process of investigation. It's probably better to ask people, "I found 'A' and 'B". Do you suppose this means something?" If the relentless shoving things down people's throats is replaced with an approach of humility and respect, then if indeed there is a discovery, the community won't hesitate to credit the individual with that discovery. I think we've grown as a community where I'm confident to state that for a fact!