Looking back at my own mods and that of others, I think that there are some tutorials still floating around out there that teach you to cut the dome mounting system into the crown of the head in order to alter its angle. Any time you cut this plastic and rely on bondo-type substances or epoxies, these things may break when flexed.
I feel that doing so presents new challenges. A lot of stuff sticks to the black plastic, but not many things truly weld and flex with it.
I think it's possible to simply cut the mounting system down to 50% of its original height (on the faceplate and on the inside crown of the dome) and that may help to a degree. But my concern is that the dome not only needs to sit lower but needs to be pivoted away from the face so that the rear of the dome covers the neck.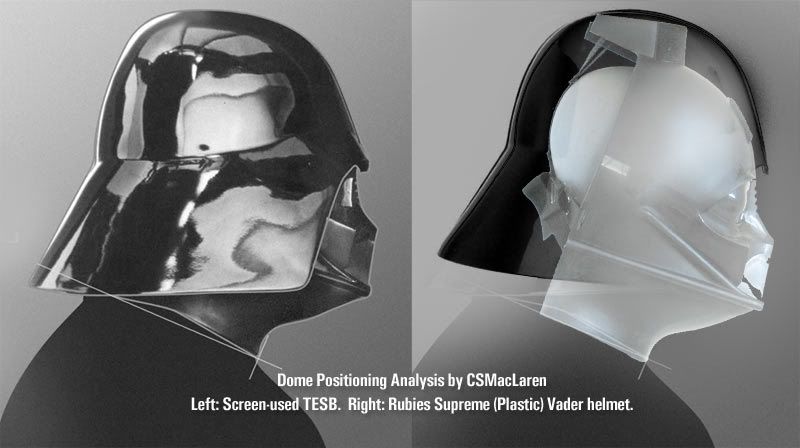 So a possible solution is to cut the mount receiver on the inside of the dome out using a disc, but saving it for later. Then once you've established the right pivot angle, then glue the mount in its new position.
Hope that makes sense. In this way, you don't harm the mask so much.
Another way, which involves absolutely no cutting (but you may not like this) is to soak the mask in boiling hot water as you would to modify the neck (try not to use a heat gun, as concentration of heat can cause plastic to blister). Once soft enough, put the dome on, and then mechanically force the mask into its new dome positioning. This will widen the skull somewhat. You're basically rotating the helmet back and having it sink down. Run with cool water, then find blue painter masking tape to tape it in that position. Use books or weights or whatever to try to get the helmet to cool slowly into its new position and set. Stick it in the refrigerator for a day or so, until you're certain the "memory" of the plastic is overcome.
Now when you pull off the dome, prepare to laugh because your faceplate will look like Casper the Friendly Ghost or a pregnant light bulb. But most won't notice. This heat treat method involves no cutting, and that's the beauty (and ugly) of it.