Ok. Aside from the paint removal, which I will sort out over the next week. The first thing I want to do is sort out the dome position. I know that the front should be roughly inline with the brows but I am unsure of the back. Can someone please post a picture of a side view of where I should be aiming for. I have look for a good esb screen cap from the side and just can't find a good one.
This is the position it sits in on my mannequin. Admitidly the mask could probably do with tilting up a bit.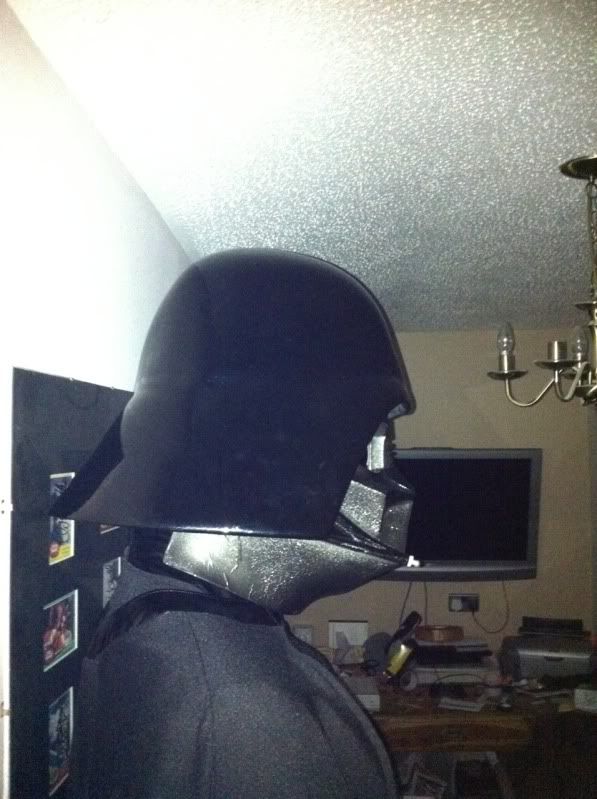 Too Much Garlic wrote:
It's a copy of a plastic DP CA. There really isn't much detail to lose that wasn't gone already.

I was one of those who damaged a helmet by trying to strip badly applied paint. A high end, expensive helmet. Took ages to get it back into shape, but by doing that I lost a lot of original surface detail. THAT was a big loss. The shape was intact and still far better than most helmets, but much of the detail was gone - lost in my stupidity. It has a new good home now and will be transformed into a new beauty, I'm sure.

There is no such kind of detail work on a DP CA or a copy of one, so sanding is the safer bet, imo. But don't worry, I know where you are coming from. I felt the exact same way about my SPFX helmet, when I had to strip that one... even the slightest damage to the gelcoat layer was a disaster and sanding was NOT an option until I got the new helmet and realizing that I was fretting over nothing.

Having stripped a few helmets I can tell you that stripping the paint off this kind of shape is a NIGHTMARE, as you want the stripper to sit on there for a moment and not wash off down the sides... and if you use the gel-like stuff that stays in place and which is also harsher you'll risk ruining the gelcoat.

Since this is not a high end helmet with a lot of surface detail matched to the originals, it will take less time to sand it than to try to strip it.
I might start sanding it tomorrow and see how I get on.
What is a good grit to start on and what should I work down to?
Wet sand or dry sand? Machine or hand sand? Aaaaarrrrggggghhhh!!!! so Many questions! Lol!!
I will be putting details and sharpening edges when the initial sand and prime is done.