SithLord wrote:
CSMacLaren wrote:
While it's interesting to discuss the merits of optical zoom over digital zoom, the thing to focus on with respect to PD is that one's perception of PD is based on the relationship between the Vader mask and its background (i.e. perspective). We like to crop Vader helmets from their backgrounds to create fancy shots -- nothing wrong with that -- but to the inexperienced Vader fan, this alone can create misleading results. When the background is removed, the basis of determining perspective is no longer there to help determine how much lens distortion is going on.
I'll quote your second post as I assume that's the one you intended. The background has nothing to do with the distortion of an object arising from focal length or distance. How could it be relevant and "misleading"? If someone takes a good photo then the background will be either a black, white, or as you say, cropped background. Perspective is how you see an object or how an object appears to the eye, not it's relationship to the background....your own comparisons show that background is not relevant, required or necessary to show perspective.
If you take a moment to look at the link in my previous post, the writer does a wonderful job illustrating PD and how it's obvious as you see the background barn in relation to the foreground truck. If you crop a PD'd truck from its background using photoshop, most people will still be able to tell the image has a "fisheye" effect to it because most people (1) have either seen a truck or (2) are aware of the three dimensional rectangular structure of a truck to tell.
Vader is a remarkable three dimensional sculpture that has no right angles or corners. When a helmet is cropped from its background and placed against plain white, a newcomer has no frame of reference to tell if the photo is properly representative of the helmet's proportions. This is especially true if he does not possess anything accurate. This is why I said "this alone can create misleading results." It does not imply that people posting such shots are intentionally misleading people. Heck, I post with white backgrounds all the time (though they are primarily just standalone archive shots).
The newcomer, however, still might be able to discern if the camera is too close (sometimes camera phone limitations are pretty obvious) or might be able to say, "That doesn't quite look right. I'm no expert, and don't have an eye for this, but something looks... off." But those of us who have studied Vader for a while shouldn't have to wait for PD to become extremely obvious before we notice that something is off.
Many newcomers perhaps saw wonderful pictures of the Rubie's Deluxe / Supreme Vader (same mask) on fan sites, as well meaning fans photographed them at about 4 feet away. However, when their Rubie's helmets arrived, it looked altogether different.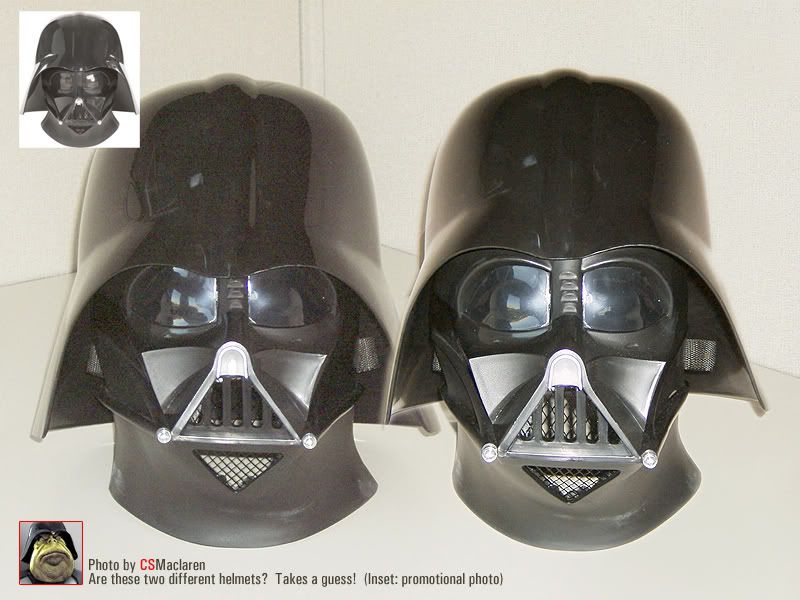 Above is the same helmet taken at two different distances. The one on the right was taken at about 3-4 feet. Here, the facemask seems nicely shaped. But the photo on the left (6-8 feet) shows a thick neck, thick skull and very flared neck corner. With these undistorted proportions, it can be seen that this Vader is less believable than the one on the right, and yet they are the
same
mask.
There are some people who discovered that the Rubie's looked atrocious in real life when you stand back to 6-8 feet. There are others who discovered long ago that the Rubie's is atrocious at any distance!
Photographed 6 feet away: