Had a very successful test pull. Although the helmet had arrived damage when it appeared on the doorsteps of the propmaker in the UK, the propmaker managed to repair it, and did a mold and a pull.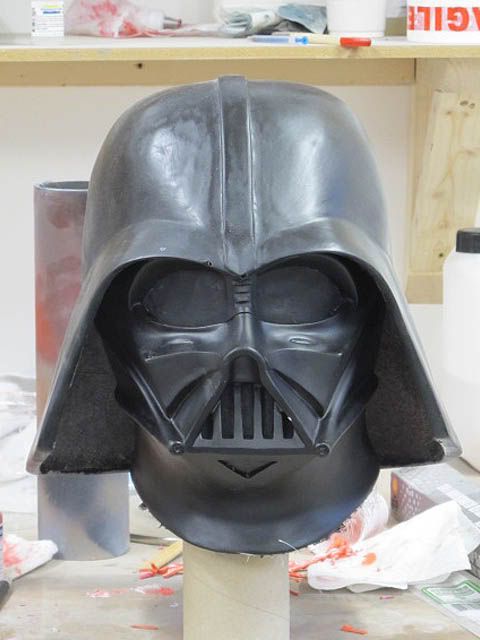 I love how this test pull turned out. For me, I was nervous - there is only so much I can do in the sculpting and restoration process that at some point it's like an act of faith to hand it off to someone else and mold it and cast it. There's always the danger that the apple falls a bit too far from the tree of original intention. In this case, I hadn't looked at Ugly in a few months, and so to look at that first image for the first time, my reaction was WOW!
As you can see from the side profile, it looks like the dome is very at-home with the mask. You've heard me mention in my previous threads that I approach my projects as an artistic whole. I can't arbitrarily combine a random dome with a random mask and force them together. I will modify each until their looks start to converge to not only recreate the character of Vader but to allow the combined sculpt to exhibit its own personality. I'm very pleased that personality has emerged in this test pull -- and better than I had expected!
We settled on a dome mounting system that's roughly ESB style based on locally-available hardware, and the original Ugly was modified so that ANH, ESB and ROTJ would benefit from that hat mount. The dome positionings for ANH, ESB and ROTJ could be calibrated differently through controlling the receiver ring height and position. And don't forget that ESB and ROTJ will be based off of a different dome, with ESB and ROTJ having different mid strips.
We're still discussing lenses, mesh and fabricating tusks for coldcasting. I'm pestering him for a side-by-side shot with the original Ugly.
In the weeks to come, we'll be working finishing and priming the ESB dome for casting, so I can get a first pull to convert into ROTJ (really looking forward to doing that). Also, we're going to work on achieving an authentic handbrushed (metallic gray) look as you see with the screenused ANH prop.
Let me know what you guys think!