To celebrate the return of The Prop Den (AOK Forums sure took their sweet, slow time in "upgrading" the servers, so let's hope it was worth it) I thought I'd post some pictures that are really special to me.
Most of you know that I'm a hardcore Brian Muir | Original Trilogy fan. I probably will never appreciate the ROTS helmet because the Lucasfilm video on the making of the ROTS helmet depicted the original trilogy helmet's asymmetry as a flaw, and yet the monstrosity that was created looked like a Sphynx helmet and such a far cry from the original.
Nevertheless, I am very drawn to this sculpting project. I don't have a laser scanner or a 3D printer like the Lucasfilm artists had. My tools are basically sandpaper, occasional use of a mirror, and a lot of tenacity.
This project has been touched upon on and off for the last several years, and I had only approximated a general ROTS vader look. I found this project very challenging because the sculpt would look great when looking iconically upward, but when looking down, a lot of the asymmetrical flaws really showed, so the last few years was just going back and forth on the same areas until I had to finally dremel stuff out of the way and resculpt areas entirely.
I also decided to work on this project because it would make for another charity helmet like my Darth Ugly project. Darth Ugly was very well received.
I am currently focusing on just getting the proportions of the face right, then will add tubes, teeth and all.
The last time you saw Casper (as in Casper the Friendly Ghost) he looked like this: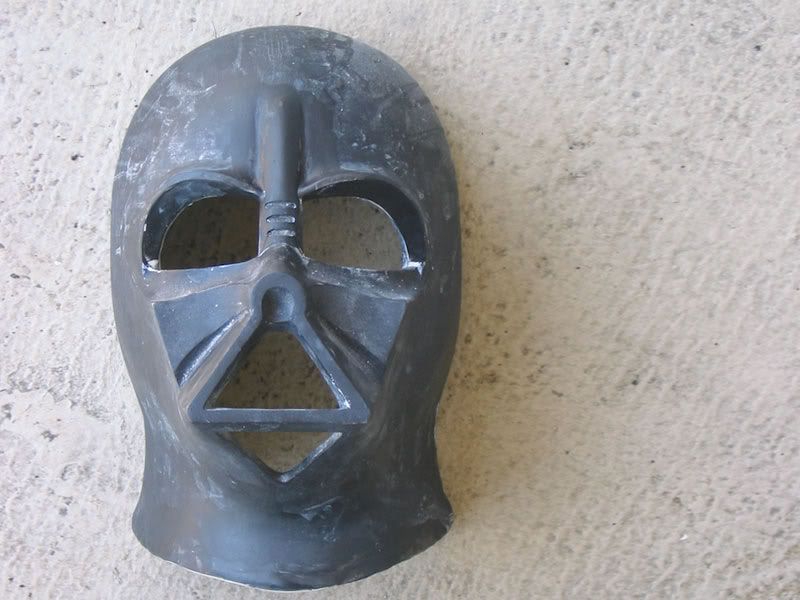 He looked okay from this angle, as I had very limited photographic resources at the time (and remember, I'm working purely off photos. I don't have a ROTS helmet next to me). But when he looked at other angles, he looked really off.
As you may recall, the original two part clay was a taxidermy clay that is utterly bone hard and extremely difficult to sand and work with. I don't recommend taxidermy clay at all. So the white areas show some really drastic changes. In some cases I had to alter the overall surface. Much of the eyes, cheeks and face are resculpted.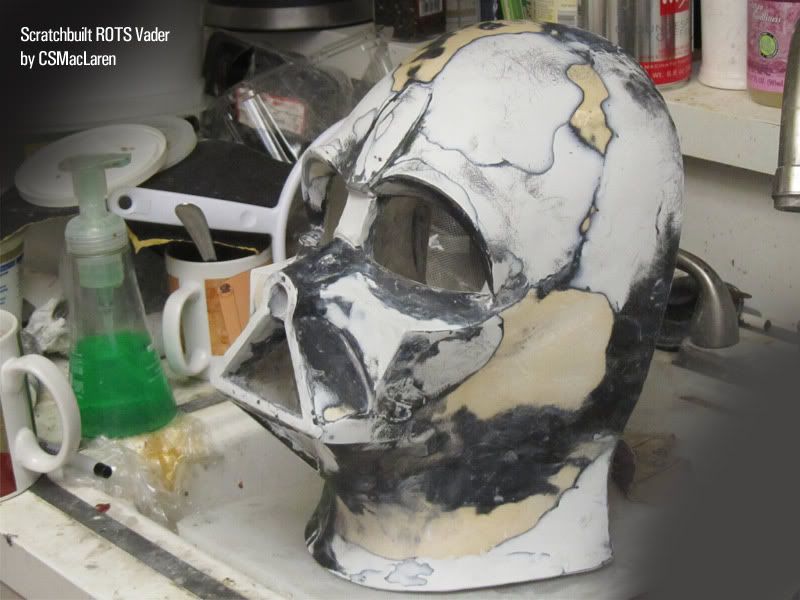 Now, it's starting to look better, but it's all in the subtleties. It might look right at one angle, but change the angle and, shoot, have to reshape. So this took quite a lot of time going back and forth.
Shaping up but needs improvement: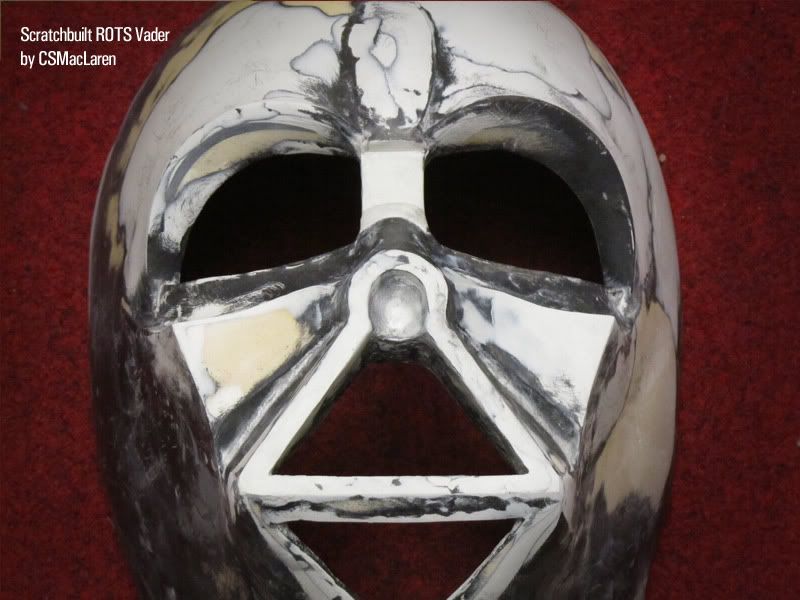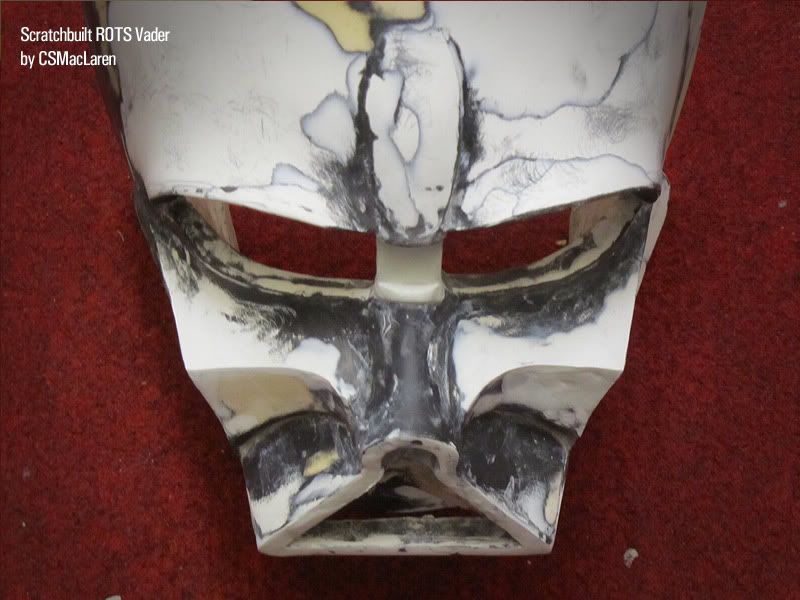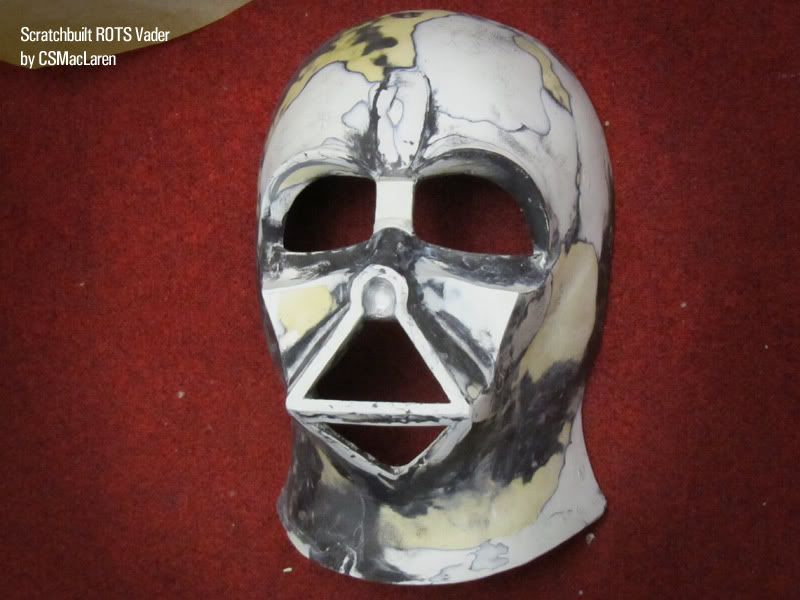 For me, the eyes, cheeks, and mouthwalls have a very bizarre interrelationship. Even though I had a 20th Century sitting on the kitchen counter, there were aspects of the sculpt that remained an enigma. It wasn't just about it being symmetrical but also about the taper and overall structural flow from front to back.
But the breakthrough for me came just within the last 2 days where the eyes really started to look nice to me.
And now the mask is starting to move out of it being a generic Vaderesque sculpt into something that is starting to capture the essence of the character. Of course, this is my interpretation of the ROTS. After studying photos of the MR ROTS versus the screen used, I noticed subtle differences and thought I'd do my own take.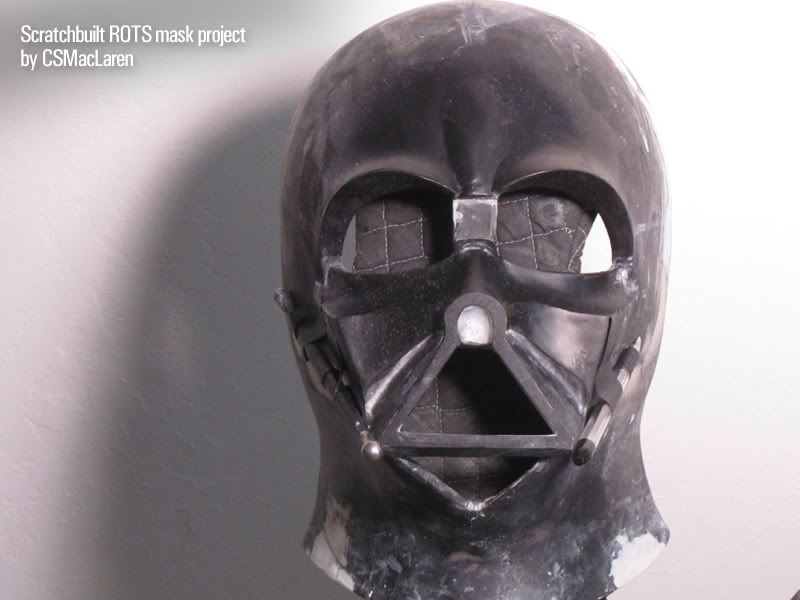 The dome has been a challenge. I was originally going to use a "Darth Ugly" dome I had worked on a while back, but the asymmetry proved to be to much to correct, so I discarded it. I happened to have a Don Post derived dome lying around that I never threw away. It was something I had modified significantly but erroneously. Waste not want not, so it became a modification candidate.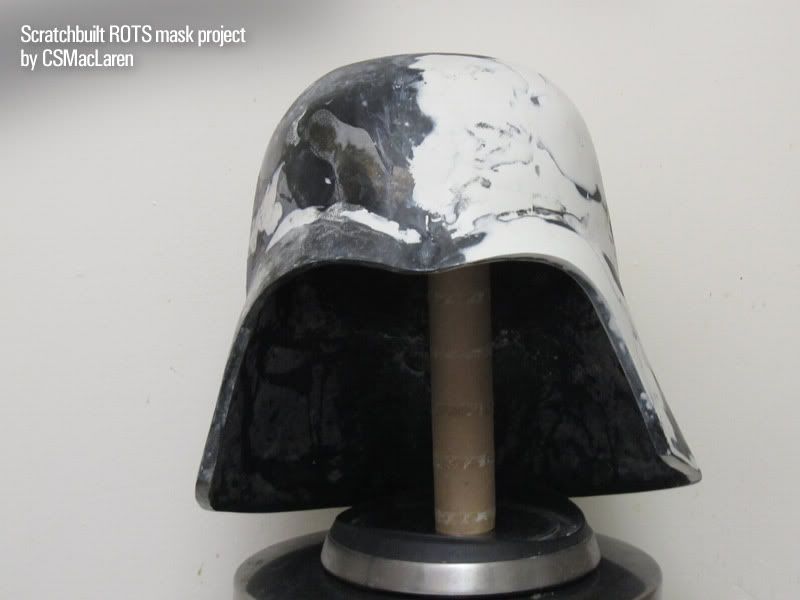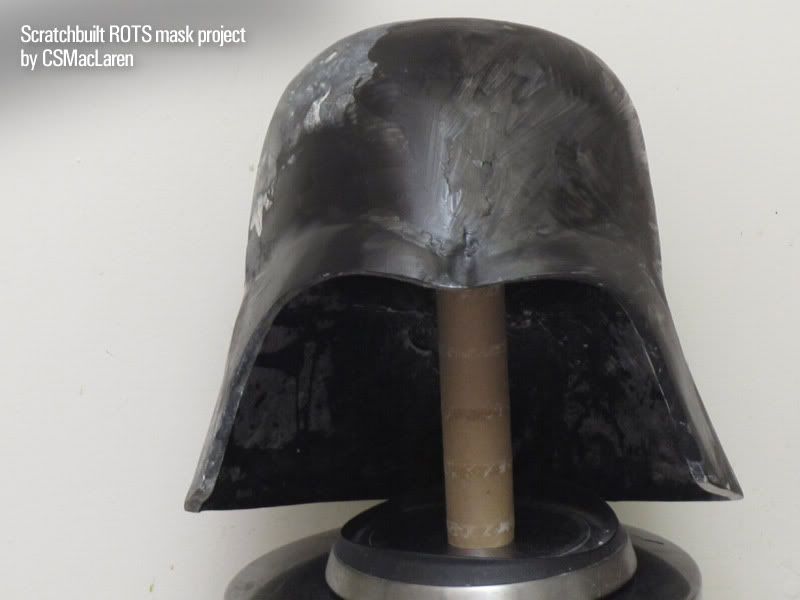 It's bee a great deal of resculpting so that the "M" of the facial opening looked more ROTS like. Also, it was fun softening the fold line between domecap and flange, as the helmet base was originally a project to sharpen that very fold line. Of course, the mids strip is blasted away and will have to be resculpted.
The silhouette is becoming more believable as a ROTS helmet. There are subtle asymmetries I will keep in. I'm not going to drive myself crazy making this computer-perfect since I'm not a computer, but even the screenused at elements of handwork and slight asymmetry despite popular belief.
So pair-up time. How does the dome and the mask compare? Well, I stuck a sculpting tool on one side of the face, and a ballpoint pen on the other side, to simulate the tusk tubes.
Here is an earlier stage of progress:
And here is the most recent stage of progress: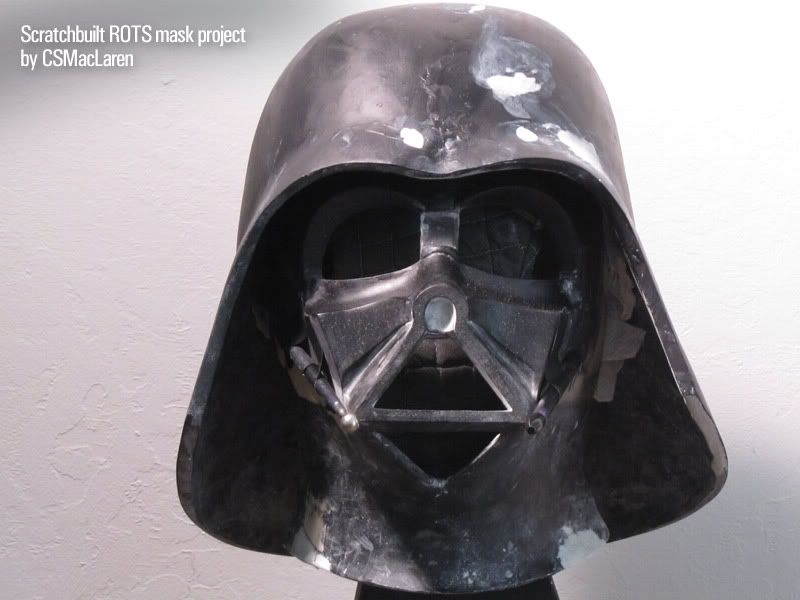 I'm currently keeping the neck short for manageability. The mask is extremely heavy thanks to the thick applications of taxidermy clay (and I didn't know any better all those years ago).
Wow, 5 years in the making...
And despite the possibility of people recasting a ROTS helmet and undermining this project, this sculpt is mine. It's something I feel I have to complete - and in that process, it will complete me.