So, despite my supposed "motivations" how about a general discussion?
I think the visor taper
was
caused by visor installation but not in the way Lee is describing. I think bottom was squeezed in too close together during an assembly either in a later production prototype, or due to the assembly system on the production helmets.
None of the prototypes seem to have it. And although many are shown without their visors, the paint masters are shown with visors installed in a different way than the final production method.
Here is the original paint master painted by Jason Eaton.
No discernible taper.
Here is the same helmet in Lee's garage next to one of his plug castings. (photo by Lee)
No taper.
Here the topical paintmaster by Lee. (same helmet as previous two pictures?)
No taper.
Here is the prototype casting identical to the one I owned until last year. Lee's helmet is on the right. (no bearing on the discussion but it was just being compared in the picture)
No taper on the MR yet but a slight bowing effect is easier to see here than in previous pictures.
Another prototype.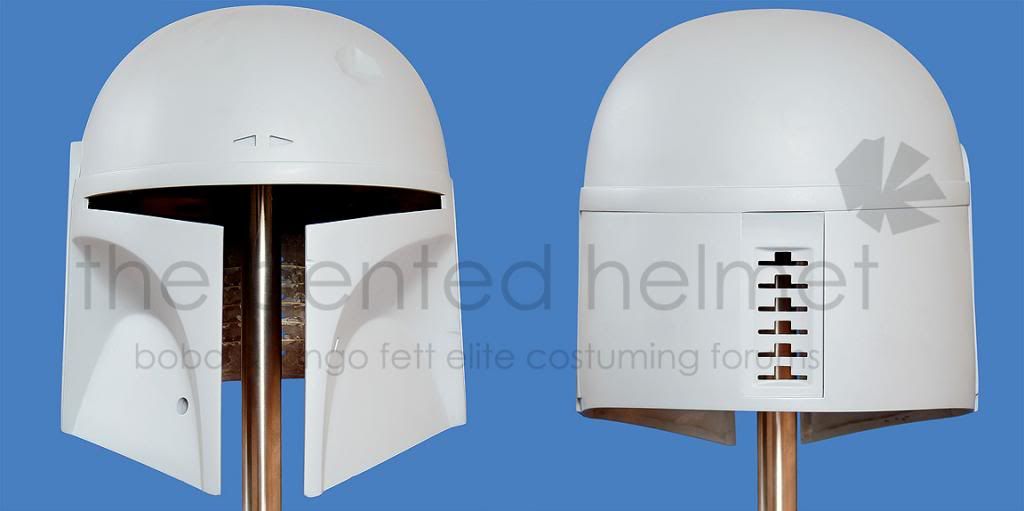 No taper.
SO I hope to have confirmed for you that the prototype helmets did not have this problem, even with the visor installed by whatever method used prior to production.
Now things get ugly.
Early production sample.
You can see a bit of taper starting. I assume this is Not the final visor assembly method because it doesnt have the lip inside.
Production helmet. (photo by Jez)
Taper is in full effect here.
Production helmet
Here a fan has corrected his helmet.
He notes that he couldn't spread the bottom apart any more because the screw holes in the visor would show on the front.
All this to simply clarify what I originally said "I think the taper problem occurred when they messed with the visor installation method."
Lee you said you think it was due to the shape of the upper part of that mandible.
I think it was because they made the visor too narrow at the bottom and had to pinch it together a bit to assemble it.
Not a big deal I think? Certainly not worth this mess I just had to post.
You could have just said something like "Could be. Nobody really knows do they?" Because neither of us know for sure. You even say you could be totally wrong. But you shared your opinion, I shared mine. Yay discussion forum!