Having rekindled my drive to build some Vader goodness I thought I'd head back over here. However, rather than give you another random introduction I thought I'd post my current TIE pilot project instead as the correct gloves which were also used on a NorCal/SoCal Vader tour suit were found during it.
Ultimately the idea is to get the level of accuracy as high as possible for CEII in July. Ideally I'd like a 1976 and a 1982 version rather than the generic TIE pilot I have at the moment. However, in my opinion there are a few differences between the two. Please note I've split these by filming date for clarity as it is very easy to blend versions due to the way the footage was used in the films.
1976
> Helmet cogs are black ink screen printed on off white vinyl.
> Ear greeblies are Michell turntable pulley wheels.
> Tap valve style code cylinders are used.
> The chestbox has a third hose, in most cases.
> Flightsuits always appear to have flat pocket flaps.
1982
> Helmet cogs are white ink screen printed on clear vinyl.
> Ear greeblies are the lower tier of the turntable wheel used in 1976 but with a door clip on the top.
> No code cylinders.
> The hole where the third hose went is covered by a cog.
> Flightsuits appear to have both chevron and flat pocket flaps (not together).
So on with some progress.
I ordered some new boots from Germany with the accurate strap and correct sole pattern, made by Continental. This type of boot was issued to the Bundeswehr from the early 60s to the late 70s.
Got some nice screen accurate gloves. I was lucky enough to find a vintage set of the correct style including the PVC cuff on eBay. However, upon posting this on the UKG forum Rob (geordietrooper) pointed out that they were very similar to some gloves he had looked at for his TIE pilot build. After having a look online the only external difference was the fingertips which were round instead of square-ish so I bought some to check out the materials and pattern and hopefully modify them in to a more accurate costume glove. When they came I was a little bit shocked as not only did they have square-ish fingertips but they were also made using the correct materials. Many thanks go out to Rob for finding these. I have compiled a comparison photo that some of you may have seen on the JRS but if not I have attached it to this post.
Attachment:
Holden real comp.jpg
Anyway, I had a few greeblies machined to be the same size as the Michell turntable wheel and got a Tandy buckle. However, the Tandy buckle is too large compared to the size of the greeblie.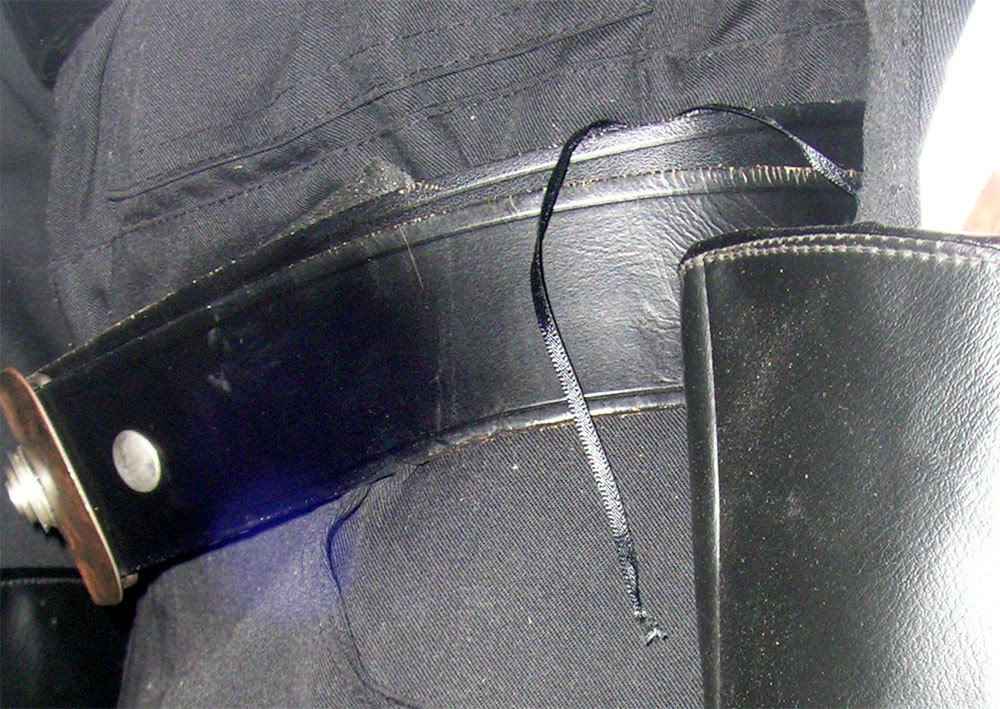 So I had to file down the buckle so I made a diagram and taped them together. A few hours filing and sanding later and I was in a position to rivet the greeblie on, which looks a lot better compared to my previous stuck on greeblie.
And finally compared to the Tandy blank.
Unfortunately, I do have a few reservations with the distance between the belt and the buckle face but I'll deal with this once the belt is done.
However, I have the attention span of a goldfish so that'll have to wait.
I
really
wanted some accurate silk screened cogs and sadly none are available so thought I'd make some. This has actually become my new obsession. The picture below is of what I hoped was the final draft printed on some inkjet vinyl and stuck on to a DA helmet half I had lying about. I've since made a couple more changes but nothing dramatic, the main one was to extend the 11 o'clock white section towards the middle by a couple of millimetres. I also ensured that all the
consistent
errors on the original ANH cogs were present but that they were all suitably subtle as the line between accurate and awful is a fine one.
As a side note I actually believe there were three screens used to produce cogs for TIE pilots; the ANH one which prints the black, a ROTJ one that prints the white but is the same pattern as the ANH one and the MoM one which appears to be or be related to the AT-AT pilot screen.
I also thought it would be fun to make a commpad so I drew some of the parts out to have them lasercut. More on this in the next couple of weeks.