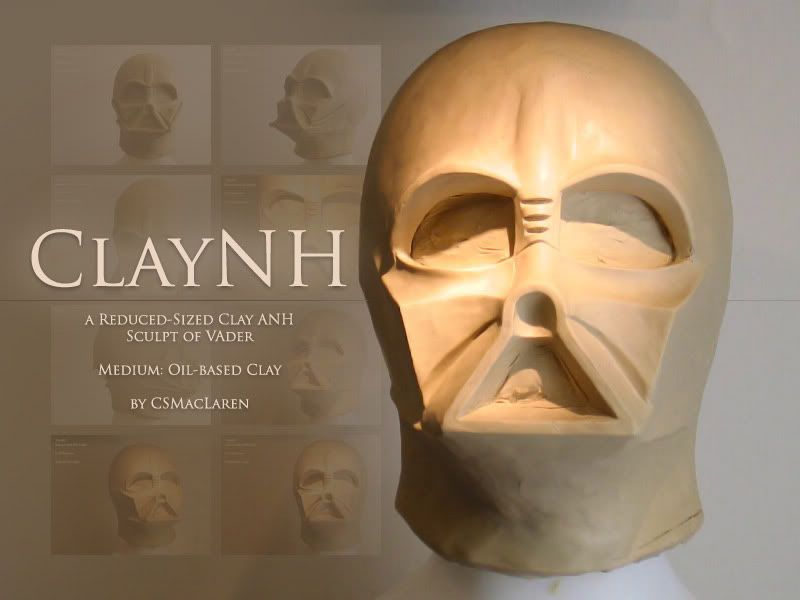 I haven't posted any progress pics for a while. Life happened. I've had to focus on some health and job issues. Not to worry - nothing life threatening, but enough for me to have to focus on what felt like both a physical and emotional handicap for a time.
I made a promise to Diana a.k.a. VaderNut that I would make her a reduced-sized Darth Vader helmet. For those of you who may not know, she is a very petite woman who has been fighting through challenges of her own. Her dream is to have a Darth Vader costume her size, inspired by a fan called Vaderkinde who measured 5'2".
After seeing all the politics, competition, recasting and crap in the hobby, I was disillusioned with the community for some time. But charity projects like this remind me that if you make a difference in just one person's life, it's worth it.
Some of you may recall that Diana's helmet was a Don Post Standard - a vintage $15-20 child sized novelty mask. I began a modification on it that grew into a total resculpt. I then sent it to my buddy, T-VIRUS, to sculpt the dome. Unfortunately, life happened with him, and I don't know when he will be up for air, but I hope we'll come back to us soon. At least I know what size-proportions to go for. A DPS works great with 5'1" - 5'2", so if I make something along those lines, I should be fine.
Brian Muir had suggested to me on more than one occasion to switched to clay, instead of all this use of epoxy clays that take up to 24 hours to cure, and whatever shaping you failed to do before the clay set, you'd have to sand... and sand... and sand. Although I suppose I was reasonably good with those methods, it was very time consuming, and projects would take a year or two (or even more) where the progress would fade over time.
I had previously tried clay and failed miserably. My skills were too oriented with epoxy clays and wasn't used to this medium. But this past Sunday, I decided to give it another go, and slapped some oil based Klean Klay onto a mannequin head and started sculpting.
I had the proportions off the first two times. The third time was the charm and an ANH look started really emerging.
I can take some liberties with the design and execution, the heart of these efforts being giving Diana the best movie look of Star Wars: A New Hope (ANH) that I can achieve. For example, I actually have to make this custom tailored for her. Eventually we will have to decide on neck length.
I have no idea how to mold this, let alone cast this, but I'm looking into it. The process of fitting this to her may require trial and error, as we're working with photos of her posture and we're in two geographical locations.
Sometimes dreams are worth keeping alive - if not your own then those of others. So let the journey begin....