Glad you like the pics guys!
Truth be told I'm lucky to have them. Here's why. Dark Lord is right: we weren't supposed to take pics in there. They did let us in before we suited up and before the museum opened, and some of us (myself included) took crappy pics with our cell phones before we had to go. I was prepared to live with those...
but while we we were trooping, my wife and kids showed up and went thru the exhibit. When they came out she found me and told me almost everyone in there was taking pics. So I said--in no uncertain terms--
GO BACK IN AND TAKE LOTS OF PICS OF THAT HELMET AND BLASTER!!!
So she did. Thanks dear =).A few more shots that the wife took...unfortunately she didnt get the Vader or the Imperial uniform =(
The Terminator's jacket...very cool: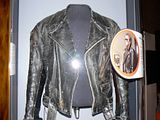 Luke's light saber from ANH:
The Batmobile and the Ghostbuster's car: